"Weekend Trading Portfolio Analysis" Progress Software (PRGS)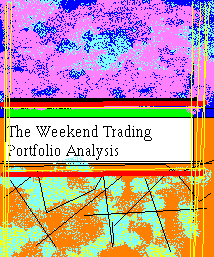 Hello Friends! Thank you so much for stopping by and visiting my blog,
Stock Picks Bob's Advice
. As always, please remember to consult with your professional investment advisors prior to making any investment decisions based on information on this website.
As I have related many times before, there are many different things that I like to present on this website. One thing is just philosophy; that is, what to look for in a stock, when to sell, how to respond to market activities, etc. Another thing I like to do is to discuss individual stocks that may fit into this philosophy of investing. And finally, I like to discuss some of the actual stocks that I own, what I have done with them, and how the company is currently doing. This entry is about a stock that I actually currently own! (I am skipping my Morningstar stock (MORN) which I just purchased and reviewed the past week. Next alphabetically is Progress (PRGS)).

I purchased 240 shares of Progress Software (PRGS) in my own actual trading portfolio on June 16, 2005. At that time, I purchased 240 shares for $31.00. PRGS closed at $30.58 on 11/25/05, for a loss of $(.42) or (1.4)%. I have not sold any shares of this stock since the purchase.
I also
wrote up Progress on Stock Picks Bob's Advice
on June 16, 2005, when the stock was trading at $30.33, just $(.25) below the closing price on 11/25/05. This stock has really gone nowhere since purchasing as well as since writing up the review here on the blog.
Let's take another look at this company!
According to the
Yahoo "Profile" on Progress Software
, the company:
"...engages in the development, marketing, and distribution of software and services for the development, deployment, integration, and management of business applications deployed in a distributed, Web-based or client/server environment. Its products include development tools, databases, application servers, messaging servers, application management tools, data connectivity products, and integration products for distributed and Web-based applications, as well as for client/server applications."
On September 20, 2005, Progress
reported 3rd quarter 2005 results
. Revenue came in at $99.5 million, up 11% from $89.3 million the prior year. Net income rose to $13.4 million, or $.31/share, up from $8.5 million or $.22/share the prior year. For the year, the company estimated earnings of $1.28/share on $402.9 million in revenue. Last year, the company had earnings of $.99/share on $363 million in revenue.
What about "longer-term"? Looking at the
"5-Yr Restated" financials on Morningstar.com
, we can see the steady growth in revenue (after a dip from $273 million in 2000 to $264 million in 2001) to the current $394 million in the trailing twelve months (TTM).
Earnings, also after dipping between 2000 when they were $.85/share, down to $.46/share in 2001, have risen steadily to the $1.13/share in the TTM.
Free cash flow has improved the last few years from $38 million in 2002 to $70 million in the TTM.
The balance sheet is solid with the cash alone at $252.8 million plenty to pay off both the $170.5 million in current liabilities and the $11.3 million in long-term liabilities. In addition, the company has $86.6 million in 'other current assets.'
What about the chart? Taking a look at a
"Point & Figure" chart on Progress from Stockcharts.com
: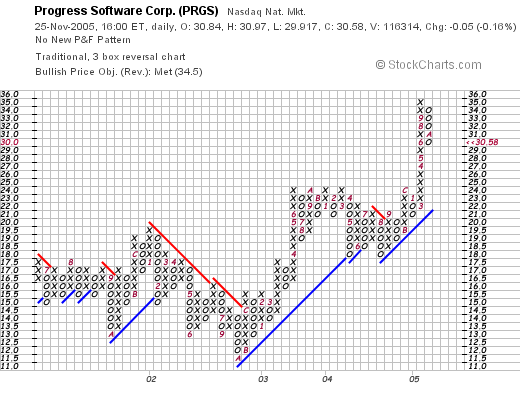 It appears that the upward movement in the stock appears intact. After dropping to a low of $11.50, in October, 2002, the stock has moved higher, staying above its resistance line, and while over the short-term has pulled back from its highs, the overall bullish character of the chart appears to be continuing.

So what do I think? Well, the stock had a reasonable quarterly report, the Morningstar.com numbers appear solid, and the chart looks fine. Looks like a hold for me at least until we get some news to indicate it is time to get out. Or if the stock moves down to an 8% loss, I shall be selling my shares.

Thanks again for visiting. Please feel free to leave your comments right on the blog or email me at bobsadviceforstocks@lycos.com if you have any comments or questions for me. I cannot answer every email I receive, but I try to respond to as many as possible, usually right on the blog!

Bob




Posted by bobsadviceforstocks at 11:41 AM CST |
Post Comment
|
Permalink
Updated: Saturday, 26 November 2005 5:04 PM CST