March 2, 2005 Pacific Sunwear (PSUN)
Hello Friends! Thanks so much for stopping by and visiting my blog,
Stock Picks Bob's Advice
. As always, please remember that I am an amateur investor, so please consult with your professional investment advisors before taking any action based on information on this website!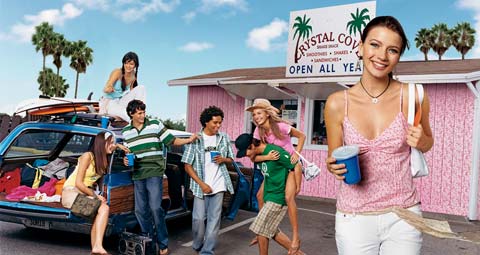 Lately, with my entries, I have been trying to explain my rationale for picking stocks...I hope that is helpful and that you feel free to comment or ask questions! My first place for looking for new stock ideas is the
list of top % gainers on the NASDAQ
. Today I noticed that Pacific Sunwear (PSUN) was on the list, and in fact, PSUN closed at $28.52, up $2.06 on the day or 7.79%. I do not own any shares nor do I have any options on this company.
It has been my impression over the years that stocks that are making a strong move upward on any particular day, may, if they have additional characteristics, be the stocks that move higher over the intermediate and longer-term.
According to the
Yahoo "Profile" on PSUN
, PacSun "...is a specialty retailer of everday casual apparel, accessories and footwear designed to meet the needs of active teens and young adults in the United States. The Company operates three primarily mall-based chains of retail stores under the names Pacific Sunwear (PacSun), Pacific Sunwear (PacSun) Outlet and d.e.m.o. PacSun and PacSun Outlet stores specialized in board-sport inspired casual apparel, footwear and related accessories...."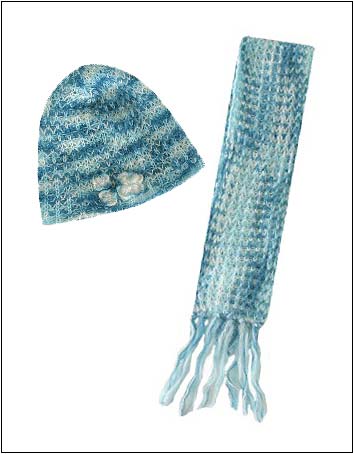 My next "screen" for a stock involves the latest quarterly result. I am looking for a strong report with both earnings and revenue increases. On March 1, 2005 (yesterday after the close of trading), PacSun
announced 4th quarter 2004 results
. It was this announcement that provided the impetus to move the stock higher today! Total sales for the quarter ended January 29, 2005, increased 16.2% to $379.7 million from $326.8 million last year. Company same store sales were up a solid 5.1% overall. Net income for the quarter increased 19% to $40.9 million, compared with $34.5 million the prior year. On a per share basis, this was a 26% increase to $.54/diluted share, from $.43/diluted share the prior year. Actually, for a retail investment, I am looking for three things: increase in sales, increase in "same-store" sales, and increase in earnings. PacSun passed this test with flying colors!
The next thing I look for is consistency of results. That is, was the latest quarter a "fluke" or has this company been performing like this over the last several years. A good friend of mine introduced me to the
Morningstar.com website
, and I haven't left since! Within this site, I like to look under "financials" and use the "5-Yr Restated" financials portion. For PSUN, this is located
here
.
On Morningstar.com, we can see the beautiful ramp-up of revenue from $.4 billion in 2000 to $1.2 billion in the trailing twelve months (TTM).
Earnings have been a bit more errratic, increasing from $.49/share in 2000 to $1.28/share in the TTM.
Next, I check the "Free Cash Flow". Think of this as the actual cash that is being generated by this business venture. For PSUN, this was a negative $(35) million in 2002, $36 million in 2003, $111 million in 2004, and $88 million in the TTM.
Finally, just below that portion is the Morningstar Balance Sheet assessment. Not being an accountant, I do know that assets are better than liabilities (!). And in addition, current assets are $'s that are available now or in the next 12 months, and need to be used to offset current liabilities. In this case, we can see that PSUN has $84.5 million in cash and $238.1 million in other current assets. This is plenty to cover both the $119.6 million in current liabilities and the smallish $37.0 million in long-term debt. Thus, this looks nice as well!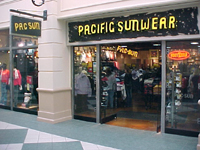 My next screen is to gather some basic information about "valuation". For this I turn to the
"Key Statistics" on PacSun
. Here we can see that this is a mid-cap stock with a market capitalization of $2.12 billion. The trailing p/e is great (imho) at 20.55 and the forward p/e is nice at 17.60 (fye 31-Jan-06).
Nicer yet is the PEG ratio, which compares the P/E to the growth rate. For PacSun, the 5-yr estimated PEG is 0.84...anything under 1.0 is a nice value! The price/sales also isn't too bad at 1.79.
Yahoo reports 74.24 million shares outstanding with 71.00 million of them that float. There are 3.35 million shares out short as of 2/8/05, representing 4.72% of the float or 2.255 trading days of volume. In my analysis, for what it is worth, I have been using 3.0 trading days of volume as significant. So this isn't (imho) a large factor for PSUN.
No dividend is paid and Yahoo reports a 3:2 stock split on 9/8/03.
How about "technicals"...that is what does the graph or chart look like? Is it "promising"? I have been using "Point & Figure" stock charts from
Stockcharts.com
. The
PSUN "point & figure" chart from Stockcharts
looks promising: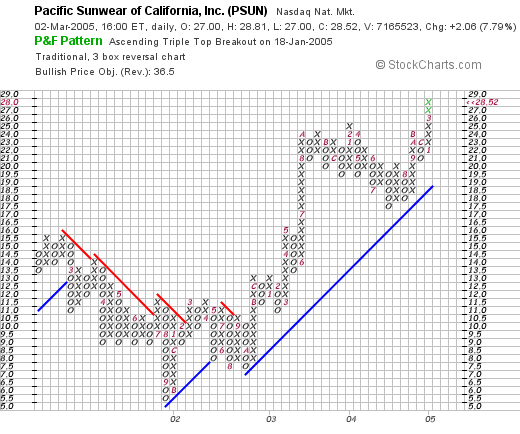 Here we can see a stock that was peaking in February, 2001, around $16.00, then dropped down to $6.00 in September, 2001, but since then has been climbing steadily and in a very strong fashion to its current level of $28.52. The chart looks wonderful to my amateur eyes!

So what do I think? Well this is a very pretty picture of a stock. The companty made a nice price move today on great earnings results and solid same-store sales numbers. The revenue has been growing especially steadily, and is often the occurrence, earnings have been a bit more erratic, yet the trend is still solidly higher. Free cash flow is positive, the balance sheet is solid, valuation is reasonable (imho), and the chart looks great! In fact, if I had some money (lol) or if my "system" indicated it was time to add a position, I might just be buying some PSUN right here. I think you could do far worse.

Thanks again for stopping by! If you have any questions, comments, or words of encouragement, please feel free to email me at bobsadviceforstocks@lycos.com.

Bob