March 7, 2005 Egl Inc. (EAGL)

Hello Friends! Thanks so much for stopping by and visiting my blog,
Stock Picks Bob's Advice
. As always, please remember that I am an amateur investor, so please remember to check with your professional investment advisors prior to making any investment decisions based on information on this website.
I have written some fairly in depth explanations about how I have been picking stocks so let me see if I can just get right to the important facts on this stock today!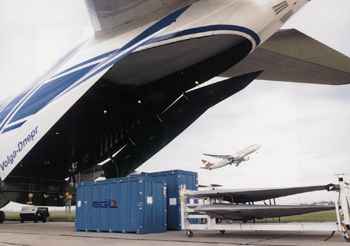 First of all, reviewing the
list of top % gainers on the NASDAQ today
, I came across Egl Inc. (EAGL) which closed at $26.97, up $2.30 on the day or 9.32%. I do not own any shares nor do I own any options on this stock.
According to the
Yahoo "Profile" on EAGL
, EGL "...is a global transportation, supply chain management and information services company that provides logistics solutions, such as air and ocean freight forwarding, customs brokerage, local pick up and delivery service, materials management, warehousing, trade facilitation and procurement and integrated logistics and supply chain management services." As noted on the
EGL website
, EGL "...was the first US transport and logistics company to establish a proven freight delivery system in Iraq." I am not sure how much this Iraq work has contributed to their growth.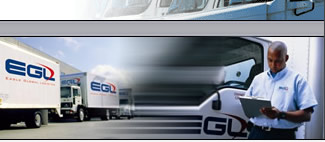 Looking for the latest quarterly report, I found that EGL
reported 4th quarter 2004 results on March 3, 2005
. Revenues for the quarter grew 16% to $230 million. Operating income for the quarter increased 66% to $27.6 million compared to the prior year same quarter. This worked out to $.26/diluted share, up from $.19/diluted share the prior year.
How about longer-term? Looking at
"5-Yr Restated" financials on EAGL from Morningstar
, we can see that revenue has grown fairly steadily from $1.4 billion in 1999 to $2.6 billion in the trailing twelve months (TTM).
Earnings have been rather erratic, dropping from $1.11/share in 1999 to a loss of $(.84)/share in 2001. Since that time, earnings have steadily increased to the $.94/share in the TTM.
Free cash flow has also not been perfect with $(41) million in negative free cash flow in 2001, improving to $23 million in 2002, but dropping to $(1) million in the TTM. This is a negative for this stock, but overall the rest of the numbers were fairly solid, so I decided to go ahead with the post.
The balance sheet is also fairly good with $97.3 million in cash and $633.4 million in other current assets, balanced against $488.8 million in current liabilities and $140.6 million in long-term liabilities.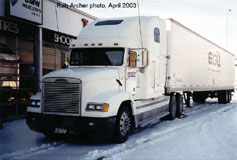 What about "valuation"? Looking at
"Key Statistics" on Yahoo for EAGL
, we can see that this is a mid cap stock with a market capitalization of $1.23 billion. The trailing p/e isn't too bad at 26.57 and the forward p/e (fye 31-Dec-05) is better at 16.86. Thus, the five-yr PEG is under 1.0 at 0.94. In addition, the Price/sales is also below 1.0 at 0.41. Valuation looks nice to me.
Yahoo reports 45.59 million shares outstanding with 35.60 million shares that float. Of these, 1.54 million were out short as of 2/8/05, representing 4.33% of the float or 3.3318 trading days. This is just above the significant level of 3.0 (which is my own level that I use to judge short interest), but doesn't look like it is a big factor for this particular stock at this time.
No cash dividend is paid and the last stock split reported on Yahoo was a 1999 3:2 stock split.
How about "technicals"? Taking a look at a
"Point & Figure" chart from Stockcharts.com
: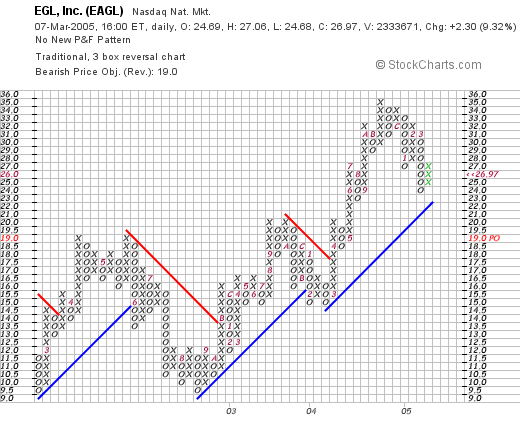 We can see that this stock which was trading lower between late May, 2002, when it was at $18.00, dropped to a low in September, 2002, at around $9.50. Since that time, except for momentary weakness in February, 2004, this stock has been trading strongly higher. The graph looks strong but not over-extended imho.

So what do I think? Well the latest quarterly report looks quite strong, the five year record is nice, free cash flow is NOT as strong as I would like, the balance sheet is solid, and valuation is quite reasonable. The chart looks solid as well. I am not sure what this Iraq business is all about, but it is clear this company has been in business before all of this developed.

Now if I just had some money :) I might be buying some stock. But I just SOLD some stock on questionable news, and thus, I shall be sitting on my hands once again!

Thanks so much for stopping by! If you have any questions, comments, or words of encouragement, please feel free to email me at bobsadviceforstocks@lycos.com.

Bob