"Looking Back One Year" A review of stock picks from the weeks of January 19, 2004 and January 26, 2004

Hello Friends! Thanks so much for stopping by and visiting my blog,
Stock Picks Bob's Advice
. As always, please remember that I am an amateur investor, so please consult with your professional investment advisors prior to making any investment decisions based on information on this website.

I was away from my computer the week of January 19, 2004, and did not post any stock picks. The next stock pick posted after that week was the
selection of Dendrite (DRTE) on Stock Picks
on January 30, 2004 at $16.99/share. DRTE closed at $14.92 on 3/11/05, for a loss of $(2.07) or (12.2)%.

On February 3, 2005, DRTE
reported 4th quarter 2004 results
. Revenue for the quarter ended December 31, 2004, grew 6% to $104.8 million. Net income came in at $8.8 million, up 51% from $5.8 million the prior year. On a diluted eps basis, this came in at $.20/share, up 47% from $.14/share the prior year.
Since I am only reviewing one stock, let's take a look at their
point and figure chart from Stockcharts.com
: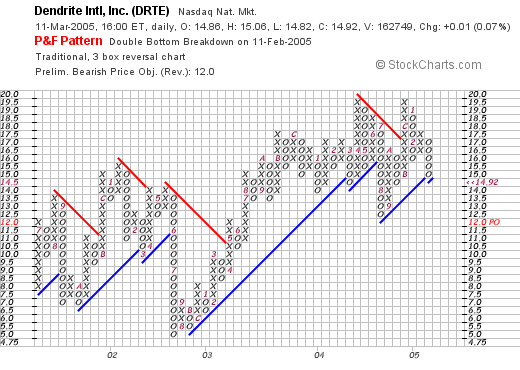 The chart actually looks pretty steady, with the stock dropping from a peak of $16.00 in January, 2002, down to $5.00/share in July, 2002, but then climbing steadily right back to its current level at $14.92. The stock has shown a little weakness, testing its support level at $15.00 at the moment.

Thus, for the week, I just had one selection :(. Dendrite (DRTE), that dropped (12.2)%. Of course, in practice, I aggressively use an 8% loss limit (manually executed) to limit my losses on the downside. For the sake of illustration, this review assumes a buy and hold strategy for determining the performance of stock picks.

Thanks so much for stopping by! If you have any questions, comments, or words of encouragement, please feel free to post them right here, or email me at bobsadviceforstocks@lycos.com.

Bob