A Reader Writes "...serious hits from investing in a large company?"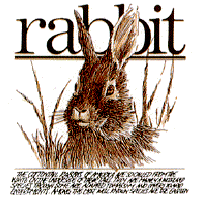 Hello Friends! Thanks so much for stopping by and visiting my blog,
Stock Picks Bob's Advice
. Wishing all of my friends who are celebrating Easter, a very Happy Easter! This great
rabbit drawing
is my seasonal attempt :).
As always, please remember that I am an amateur investor so please consult with your professional investment advisors prior to making any investment decisions based on information on this website!
Checking through the electronic mailbox, I had a nice note from Jeremy who wrote:
Hey Bob,

I'm new to the whole stock market game and have no money invested
outside of my IRA. However, from what I've been reading it seems like
Forest Laboratoies is posed to take off. An established company with
high cash flow and low liabilities.... My question is if you've seen
people take serious hits from investing in a large company like this?
I realize that the market is volatile and of course I could deal with
the price dropping if I invested in it. But have you ever seen the
bottom drop out of such an established company? I'm not actually
going to buy any of this stock, but I'm trying to learn as much as I
can before I do start. Thanks for your time.

Jeremy
Well first Jeremy, you are welcome here anytime and thank you for writing. First of all, is Forest Labs "poised to take off"? I really don't know. I agree with you that low liabilities and great cash flow and earnings growth are probably good indicators of the potential for future price appreciation. Anyhow, those are some of the factors I like to assess prior to making any investments or listing any stocks here.
Have I ever seen people take serious hits from investing in a large company like this? Well, do you remember ENRON??? Any company can implode unfortunately. It is the sad truth that one cannot trust any company completely. Therefore, I believe that when one invests, one should spread one's risk in a basket of stocks. For me, my goal is 25 different companies. Also, it is important to have some sell points on your investments, in case the stock you pick DOES start to decline, you don't have to feel cemented to that position!
I like to use an 8% stop on my losses, that is, if a stock declines 8% from my purchase price, REGARDLESS of how long I have held it, I sell the stock. That prevents you from losing too much money. Stocks however, do not always move lower in a linear fashion, unfortunately. Often on bad news, one can actually GAP to a lower price. That is, the stock can close at one price, and then open many points lower without actually trading at any of the intervening price levels. When that happens, you are indeed out of luck. Again, if it is in my own portfolio, I will sell if I find a stock at or lower to my sell point on the downside.
In practice, I don't see too many stocks that do implode like that. Thus, when you do your homework, imho, you probably are limiting your exposure to risk. Just by making sure that a company has real revenue and real earnings, you are already reducing that risk!
Good luck in your introduction to the whole "stock market game". Let me know if I may be of further assistance in helping you understand my own perspective. If you have any additional questions, or if anyone else does, please feel free to email me at bobsadviceforstocks@lycos.com.
Bob