April 27, 2005 Hologic (HOLX)
Hello Friends! Thanks so much for stopping by and visiting my blog,
Stock Picks Bob's Advice
. As always, please remember that I am an amateur investor, so please consult with your professional investment advisors prior to making any decisions based on information on this website!

It has been a few days since I posted something new around here so I thought it would be a good idea to find another stock prospect to discuss! I just purchased 25 shares of this stock for my son in his own account, so there are some shares that are owned in my family, although I currently do not personally own any Hologic shares or options.
What I hope that you, the reader, come away from this blog is not really a list of stocks that might be good purchases. I really do want to "teach you to fish" on your own! That is, hopefully what I write will stimulate your own thinking about how to look at stocks and help you develop your own particular investing strategy and portfolio management philosophy.
My first place I look, when researching a new name is the lists of top percentage gainers that are easily available on sites like CNN or USA Today online. It may sound like a strange place to look for a stock, but I have found that these stocks that are making good percentage gainers, often have enough momentum, if there is "fuel" behind the move, to continue to appreciate in price.
Today I reviewed the
list of top % gainers on the NASDAQ
and came across Hologic Inc. (HOLX). As I write, HOLX is trading at $35.85, up $4.77 or 15.35% on the day.
According to the
Yahoo "Profile" on HOLX
, Hologic "...is a developer, manufacturer and supplier of diagnostic and medical imaging systems primarily serving the healthcare needs of women. Its core women's healthcare business units are focused on bone densitometry and mammography. In addition, Hologic develops, manufactures and supplies other x-ray based products, such as general-purpose, directo-to-digital radiography detectors and mini C-arm imaging products."
My next step is to examine the latest quarterly result. The questions I like to ask include 'did the earnings increase year over year?' and 'did the revenue increase also year over year?'. Those two questions, if not answered in the affirmative, easily lead me to screen out dozens of possibilities.
In the case of HOLX, the
company announced 2nd quarter 2005 results
and the results were enough to power the stock price higher! In fact, second quarter revenues came in at $69.2 million, a 24% increase over the $55.6 million reported the prior year in the same quarter. Net income came in at $6.05 million or $.27/diluted share compared with net income of $2.6 million or $.12/diluted share the prior year. These were great results!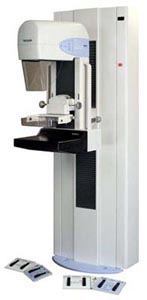 Having confirmed the latest quarter, I want to know about "longer-term" results. It is my belief, sort of a Newtonian principle of momentum investing, that a company in motion will stay in motion! Thus, I turn to Morningstar.com for more historic information on companies.
I personally have found the
"5-Yr Restated" financials on HOLX
the most useful place to learn about a company. Here we can see, looking at the bar graph, that HOLX has had a very steady history of revenue growth, growing from $94 million in revenue in 2000 to $245 million in the trailing twelve months (TTM).
Earnings have also been improving, with a loss of $(1.22) and $(1.35) in 2000 and 2001, but then improving to a profit of $.01 in 2002, and improving each subsequent year to $.73/share in the TTM.
Free cash flow has also been positive and improving in the latest years. 2002 found HOLX with $1 million in free cash flow, which dropped to $(4) million in 2003, but improved to $19 million in 2004 and $22 million in the TTM.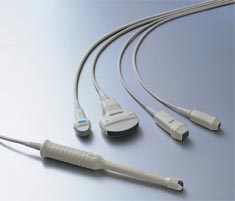 The balance sheet on Morningstar also looks quite solid. Simply put, I want to see lots of assets and very few liabilities. In this case, HOLX has $72.7 million in cash, which by itself can easily cover both the $42.3 million in current liabilities and the relatively small $400,000 of long-term debt, almost twice over. In addition, HOLX has a significant $95.9 million in other current assets.
What about valuation questions? As well as some statistics? Looking at
Yahoo "Key Statistics" on Hologic
, we find that the market cap is a mid-cap $774.92 million. The trailing p/e is a bit rich at 48.97, with a forward p/e of 37.19. The "5 Yr expected" PEG is 2.49, and Price/Sales is 2.65. This stock is no bargain!
However, looking at
relative
price/sales values gives us a different picture. Using my Fidelity account research to get me some competitor numbers, we can see that within the "Medical Appliances/Equipment" industry, HOLX has a very LOW Price/Sales ratio at 2.6. This is compared with Zimmer (ZMH) at 6.6, Medtronic (MDT) at 6.3, St. Jude (STJ) at 5.8, and Biomet (BMET) at 5.3. Even Edwards Lifesciences (EW) is higher at 2.8. Thus, it doesn't look that expensive at all from that parameter.
Yahoo reports 20.87 million shares outstanding with 20.60 million of them that float. As of 3/8/05 there were 917,000 shares out short, representing 4.45% of the float or 3.31 trading days of volume.
Yahoo also reports no cash dividend and the last stock split noted was a 2:1 on 3/26/96.
What about "technicals"? How does the chart look? For this, I turn to
the Stockcharts.com Point & Figure chart for HOLX
. This chart looks strong to me, with the stock price first declining from $18 in May, 2002, dropping to a low of $7.50 in February, 2003, however, climbing steadily and strongly above its suppport levels to the current $35.65/share level.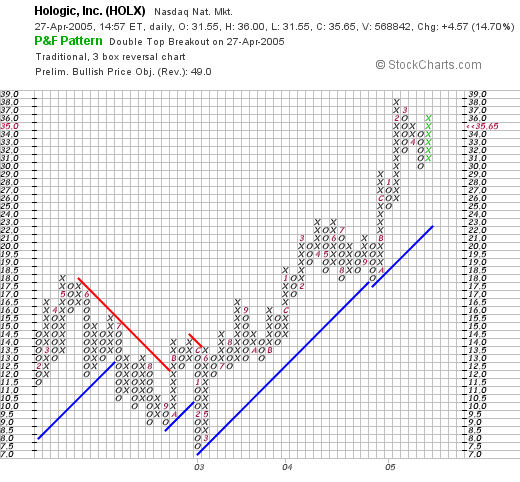 So what do I think? Well the latest quarterly report was great, the last five years have been solid, free cash flow is positive and growing, the balance sheet is gorgeous, valuation, especially when looking at the Price/Sales ratio is very good, although P/E and PEG aren't so cheap, and the graph is solid. This company looks great to me! In fact, I purchased 25 shares for my son....but as for me, I am sitting on my hands until I get a buy signal.

Thanks again for stopping by! Please feel free to comment here but if you have any other questions, please feel free to email me at bobsadviceforstocks@lycos.com.

Bob