A Reader Writes "HLEX, A Good Buy?"
Hello Friends! Thanks so much for stopping by and visiting my blog,
Stock Picks Bob's Advice
. As always, please remember that I am an amateur investor, so please consult with your professional investment advisors prior to making any investment decisions based on information on this website! I cannot ask for any credit for any gains you may accrue with your trading; nor can I share in any responsibility for any of your losses!
My good friend Scott B. dropped me a line yesterday and I thought I would take a look at HLEX and give him an answer right here! He wrote about HLEX, when I asked him if he bought any:
Yes 2 days ago.
A GOOD BUY????
Scott
(I am sure Scott never expected to get "blogged", but that is certainly the risk when you email me a question :)).
First of all, I believe I
do
own some shares of HLEX in a managed retirement account that I don't control, but none in my "trading account".
Healthextras (HLEX) closed at $16.55 today, down $.47 or 2.76% on the day.
1) Latest quarter:
1st quarter 2005 results
showed revenues at $169 million, up 53% over 2004 results of $110.5 million. Net income came in at $5.1 million or $.13/share, a 50% increase over first quarter 2004 earnings of $3.4 million or $.10/share. This looks good to me.
2) Morningstar:
"5-Yr Restated" financials
show continued revenue growth, earnings growth, free cash flow is positive but not growing, balance sheet looks solid. This appears intact!
3) Valuation:
Yahoo "Key Statistics" on HLEX
: Market cap only $624.17 million, virtually a small cap. Trailing P/E a bit rich at 34.19, but forward p/e better at 21.49. Both PEG at 1.16, and Price/Sales at 1.11, are cheap. 37.71 million shares outstanding, 29.00 million of them that float, 1.42 million shares out short (5.492 trading days as of 4/8/05)...this is positive if anything. No cash dividend, no stock dividend reported on Yahoo. Valuation looks fine.
4) Chart: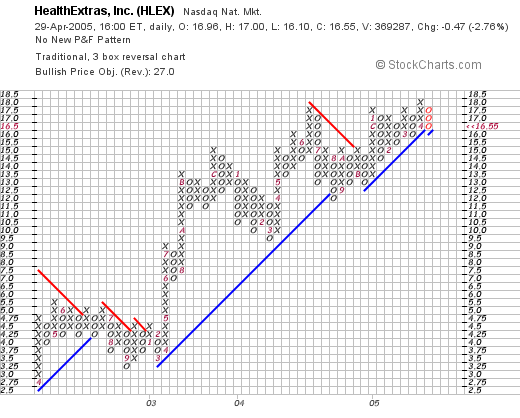 quite frankly, this looks pretty darn good too!

So what do I think? Well Scott, you know you are on your own, but the parameters I like to look at look very nice. It is a small stock but as you know, I own some shares as well in another account. Should you buy it? Will it appreciate further? Those questions I cannot predict and am not qualified to either. Probably should consult with your own advisor for that! But numbers wise, I don't see anything too bad!...be careful with the chart...does look a tad weak, and if it doesn't hold this $16.00 level...might wait for it to appreciate past $17 to buy again.

Bob