"Happy Birthday to Me!" Two Years Young!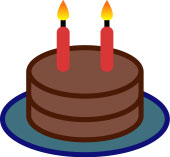 Hello Friends! Thanks so much for stopping by and visiting my blog, Stock Picks Bob's Advice. As always, please remember that I am an amateur investor, so PLEASE remember to consult with your professional investment advisors prior to making any investment decisions based on information on this website.

It is hard to believe that I have passed the two year mark around here, starting my third year writing "Stock Picks". I hope it has been a good couple of years for you all too! I appreciate your visits, and especially your emails and comments which let me know that you are all out there reading and thinking about what I write. Of course, please never forget that I truly am an amateur! So do your own investigations and consult with your professional advisors prior to acting on what I write.

Yesterday marked the two year anniversary of Stock Picks, and I would like to share with you my first pick on Stock Picks on 5/12/03 (St Jude STJ):
May 12, 2003 St Jude Medical
This is one I picked up today. STJ is the stock symbol. I do not as I write and publish this own any shares. Am thinking about suggesting this to my stock club. Company had a great day today with a nice move on the upside. Last Quarter was good and the past five years have been steady growth. Closed at $55.30 up $2.92. So the daily momentum helped it make the list.
It is my belief, that if we can assemble portfolios of stocks that consist of companies that are growing steadily and profitably, we have an above average chance of having a profitable investing strategy.
The stocks that I write up are all stocks that I might consider buying. Of course I cannot own them all and in fact own just a small portion of the many issues that I discuss on this blog.
I also believe that some sort of portfolio management system is appropriate that lets you move more towards stocks when times are good and more towards cash when the market is retreating.
In addition, at all costs, I avoid "falling in love" with any particular stock. I sell my losing stocks quickly and my winning stocks slowly. Thus, the bias is to keep profitable stocks in the portfolio.
Does all of this work? Time will tell. In my own trading portfolio, it is not 100%, but it appears to be a profitable strategy!
I would love to hear from all of you readers as to what your own investment strategy is working, how what I write affects your own thinking, and ways that I can improve this blog. You can email me at bobsadviceforstocks@lycos.com or leave your comments right here on the website.
Thanks so much for stopping by and visiting!
Bob