"Revisiting a Stock Pick" American Healthways (AMHC)
Hello Friends! Thanks so much for visiting my blog,
Stock Picks Bob's Advice
. I have written that line so many times, that I am sure there are some of you who suspect I just say it. :) But I really
do
mean it! Thank you for visiting!
I also do really mean it when I say that I am an amateur investor. I am an amateur not a professional and you really do need to check with your professional investment advisors prior to making any investment decisions based on information on this website. I am not qualified to decide whether any particular investment is a good idea for you! So please follow that advice as well!
I am now starting my third year posting here on Stock Picks! And I find it helpful to revisit some prior picks that show up in the lists of top percentage gainers.

I first
posted American Healthways (AMHC) on Stock Picks on 6/18/04
when it was trading at $24.11. I own shares of AMHC in my
"Current Trading Portfolio"
and recently I introduced it to my stock club and they bought a few shares as well. The numbers are pretty compelling imho.
AMHC made the
list of top % gainers on the NASDAQ
today, closing at $39.42, up $3.40 on the day or 9.44%.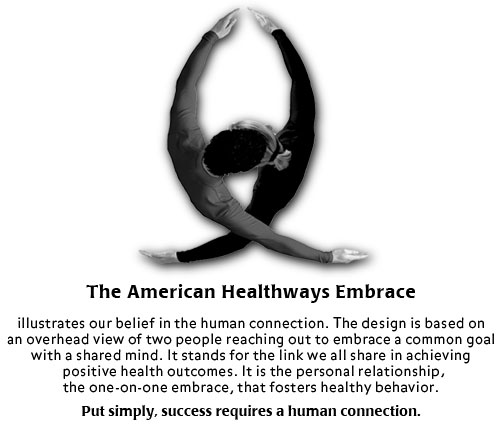 According to the
Yahoo "Profile" on AMHC
, American Healthways "...provides specialized comprehensive care enhancement and disease management services to health plans and hospitals in all 50 states, the District of Columbia, Puerto Rico and Guam."
What drove the stock higher today was an
announcement
of an arrangement with Cigna regarding management of diabetes and congestive heart failure patients in Maryland and Washington D.C. This resulted in the
lowering
of guidance for the third quarter 2005 but was viewed favorably by the "street".
On March 17, 2005, AMHC reported
2nd quarter 2005 financial results
. Revenue for the second quarter ending February 28, 2005, came in at $75.3 million, a 32% increase over the $57.1 million in the same quarter the prior year. Net income climbed 59% to $8.4 million from $5.3 million the year earlier. On a diluted per share basis this came in at $.24/share up 60% from $.15/share the prior year. These were solid results!
How about longer-term? Taking a look at the
"5-Yr Restated" financials on Morningstar.com
, we can see a
beautiful
ramp-up of revenue from $53 million in 2000 to $283.7 million in the trailing twelve months (TTM).
Earnings have also shown an absolutely gorgeous (am I being overboard here?) progression of growth from $.01/share in 2000 to $.94 in the TTM.
Free cash flow has also been positive and growing with $10 million in 2002 growing steadily to $42 million in the TTM.
As for the balance sheet, AMHC has $35.6 million in cash, plenty to cover the current liabilities of $26.4 million and an additional $55.3 million in other current assets, easily covering the $36.9 million as well in long-term liabilities. This is solid if not spectacular.
What about valuation questions? Looking at
"Key Statistics" from Yahoo on AMHC
, we can see that this is a mid-cap stock with a market capitalization of $1.3 billion. The trailing p/e
is
a bit rich at 41.98, but the forward p/e at 29.86 (fye 31-Aug-06) isn't too bad at 29.86. Thus, the PEG is nice at 1.34. (5 yr expected).
Price/sales is 4.21. Using the relative valuation of the group, in this case, per Fidelity, the "Specialized Health Services" industry, we can see that AMHC
is
in fact a bit pricey in here with a Price/Sales of 4.2. Other stocks include United Surgical Partners (USPI) at 2.9, Renal Care Group (RCI) at 2.1, DaVita (DVA) at 1.8, Caremark Rx (CMX) at 0.6, and Express Scripts (ESRX) at 0.5. Thus, it isn't a bargain on this particular measurement, but those numbers are
still
compelling!
Going back to the Yahoo page, we can see that there are 33.17 million shares outstanding, with 31.10 million that float. Currently there are a
lot
of shares out short at 6.05 million, representing 19.47% of the float (as of 4/8/05). This amounts to 6.05 trading days of volume, and if the price movement remains strong, there could be a bit of a "squeeze" on these short-sellers which would only add to the buying pressure on this stock.
The company does not pay a dividend and the last stock split reported on Yahoo was a 2:1 split on December 22, 2003.
How about "technicals"? Taking a look at a
"Point & Figure" chart from Stockcharts.com
, we can see that this stock has been quite strong since breaking through a resistance level in April, 2003, at around $11.00 and has traded steadily higher since. The graph looks strong to me!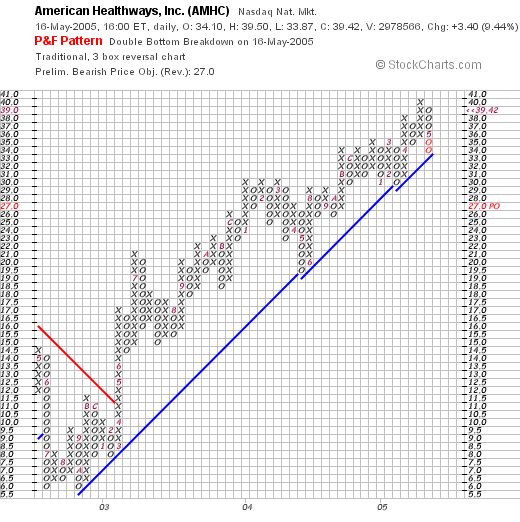 Well what do I think? Well, I like this stock to own it :), so that makes me a biased observer. However, I also liked this stock before I owned it as well! The latest story about more trial management programs today is bullish, the latest quarter was extremely strong, the Morningstar.com financials are beautiful and steady, and valuation-wise, the PEG isn't too bad, the short-interest is "interesting", and the graph looks great!

On the downside, the P/E is certainly rich at its current price and the Price/Sales is also a bit rich compared to other stocks in its "industry". No bargain, but I like that Morningstar report!

Thanks so much for stopping by! If you have any questions, comments, or words of encouragement, please feel free to email me at bobsadviceforstocks@lycos.com.

Bob