"Revisiting a Stock Pick" FactSet Research (FDS)
Hello Friends! Thanks so much for stopping by and visiting my blog,
Stock Picks Bob's Advice
. As I always remind you, you should consult with a professional investment advisor prior to making any investment decisions based on information on this website because I truly am an amateur! Not all investments discussed here will be appropriate, timely, or even profitable for you!
The market truly came out with a roar today, with the Dow moving up strongly along with the NASDAQ! We have had a very strong week and my investment in my trading account certainly have participated.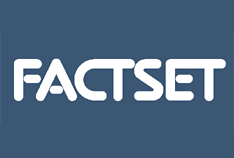 I was reviewin the
list of top % gainers on the NYSE today
, and saw a familiar name show up on the list! FactSet Research Systems (FDS), closed at $31.53, up $2.39 or 8.20% on the day. I do not own any shares or options of FDS.
I
first posted FactSet on Stock Picks
on June 17, 2003, when it was trading at $40.39. FDS had a 3:2 split 2/7/05, making the effective stock pick price $26.93. Thus, the stock hasn't really gotten away from us :) since the pick price.
According to the
Yahoo "Profile" on FDS
, FactSet "...supplies financial intelligence to the global investment community. The Company combines more that 200 databases, including content regarding tens of thousands of companies from multiple stock markets, research firms, governments and other sources into a single online source of information and analytics."
On March 22, 2005, FDS
reported 2nd quarter 2005 results
. For the quarter ended February 28, 2005, revenue jumped 24.6% to $76.5 million, net income was up 16.5% to $17.2 million, and on a diluted per share basis, climbed 17.2% to $.34/share.
How about longer-term? Reviewing the
"5-Yr Restated" financials
, we can see the steady "ramp-up" of revenue from $134.2 million in 2000 to $281.8 million in the trailing twelve months (TTM).
Earnings have also grown nicely during this period, increasing
steadily
from $.49/share in 2000 to $1.27 in the TTM.
Free cash flow has been positive, although it has declined since 2002 when it was $57 million to $21 million in the TTM. This reduction of free cash flow is due to an increase in Capital Spending from $10 million in 2002 to $40 million in the TTM.
How about the balance sheet? Again, reviewing the same Morningstar.com page, we can see that assets, particularly
current
assets handily outnumber the liabilities. In fact, FDS has $63.4 million in cash and $75.8 million in other current assets, balanced against $49.2 million in current liabilities and only $16.4 million in long-term liabilities reported.
What about "valuation" questions? As I like to do, let's review some of the numbers on
Yahoo "Key Statistics" on FDS
. Here we can see that the market cap is a mid-cap $1.52 billion. The trailing p/e isn't bad at 24.83, and the forward p/e (fye 31-Aug-06) is even better at 20.47. The PEG is thus reasonable at 1.26.
What about the Price/Sales ratio? As I have discussed elsewhere, and as analyst Paul Sturm has written, one of the important valuation questions of a number like this is what the other stocks in the same industry have...in other words, is this "valuation" reasonable relative to similar stocks?
FDS has a Price/Sales ratio of 4.97. In the "Information Delivery Services" industry, this is actually a bit pricey, with DST Systems (DST) at 1.6, Proquest (PQE) at 2, Alliance Data Systems (ADS) at 2.5, and only Jupitermedia (JUPM) higher at 7.2.
Other data from Yahoo reveal that there are 48.07 million shares outstanding with 35.20 million that float. Currently there are a
lot
of shares out short, actually 4.33 million as of 4/8/05, representing 12.30% of the float, or 8.625 trading days of volume. Today's upward price action might be supported by short-sellers scrambling to cover to buy back shares (?) to replace their 'pre-sold' holdings. Just a thought :).
FDS pays a small dividend of $.20/share yielding 0.69%. The last stock split, as noted above, was a 3:2 split on 2/7/05.
What does a chart look like? Looking at a
Stockcharts.com "Point & Figure" chart on FDS
: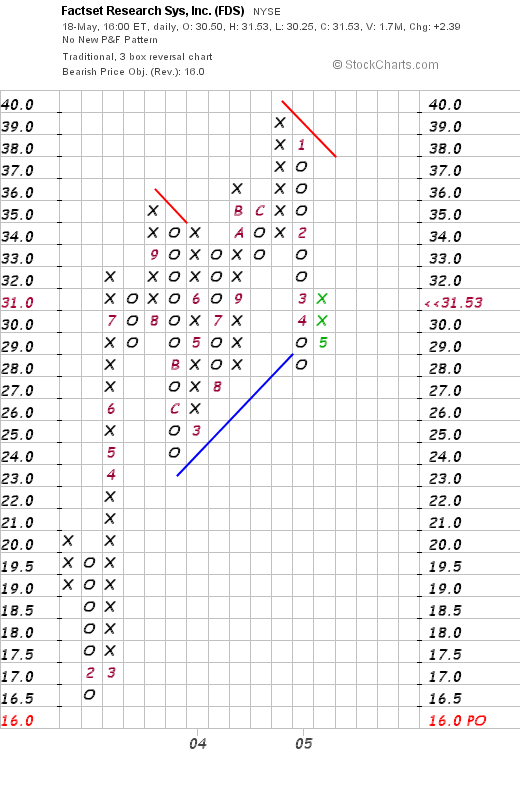 We can see that the chart actually looks pretty strong, with a move from $16.50 in February, 2003, to a peak of $39 in December, 2004. The stock recently traded lower but is now moving higher again.

What do I think about FDS? Well, I like the move today, I liked the stock two years ago, the latest quarter report was solid, the Morningstar numbers are impeccable, the valuation a la Price/Sales is a bit rich but the PEG isn't bad. The chart also looks nice to me.

I am not currently "in the market" for a new stock, although if I were, I might be nibbling on this stock.

Thanks again for stopping by! If you have any questions or comments, please feel free to email me at bobsadviceforstocks@lycos.com.

Bob