"Revisiting a Stock Pick" Coach (COH)
Hello Friends! Thanks so much for visiting my blog,
Stock Picks Bob's Advice
. As always, please remember that I am an amateur investor so please consult with your professional investment advisors prior to making any investment decisions based on information on this website. Only they are qualified to know if investments for you are appropriate, timely, and likely to be profitable!

Looking through the
list of top % gainers on the NYSE today
, I was hoping to find a new name for you, but the best stock I could see was an old favorite of mine, Coach (COH), which closed $30.67, up $1.63 on the day or 5.61%. I own shares of COH in my trading portfolio.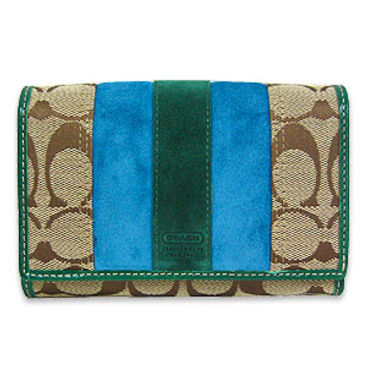 I first
posted COH on Stock Picks on June 2, 2003
, at a price of $51.53. COH declared a 2:1 split on 10/2/03, and another 2:1 split on 4/5/05. Thus, our pick price was actually $12.88 adjusted for the splits. Thus, the stock has appreciated $17.79 or 138.1% since posting!
According to the
Yahoo "Profile" on COH
, Coach "...engages in the design and marketing of American classic accessories in the United States and worldwide. Its primary product offerings include handbags, women's and men's small leather goods, business cases, weekend and travel accessories, outerwear, and related accessories."
On April 26, 2005, COH
reported 3rd quarter 2005 results
. Quarterly income grew by 53% to $89.2 million or $.23/share, up from $58.3 million, or $.15/share the prior year. Revenue for the quarter increased 33% to $415.9 million from $313.1 million last year. More amazing, same store sales for the quarter climbed 19.3% (!) with factory store sales up 28.5%, and retail stores climbing 12.9%. The company also guided higher for the quarter increasing revenue targets to $415 million from analysts expectations of $405.7 million and earnings of $.23/share, ahead of analysts expectations of $.22/share for the quarter. This was a beautiful report imho.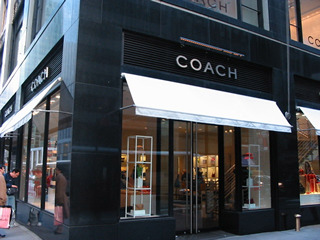 How about longer-term? Taking a look at the
"5-Yr Restated" financials from Morningstar.com
, we can see what again looks gorgeous to me! First of all, check out the beautiful ramp-up of revenue growth from $.5 billion in sales in 2000 to $1.5 billion in the trailing twelve months (TTM).
Earnings have also consistently been growing from $.24/share in 2002 to $.84/share in the TTM.
Free cash flow has been positive and has been dramatically increasing from $65 million in 2002 to $454 million (!) in the TTM.
Thus, the balance sheet looks gorgeous as well with $526.6 million in cash alone, enough to cover both the $338 million in current liabilities AND the $81.7 million in long-term liabilities combined. In addition, Morningstar.com reports an additional $384.2 million in other current assets.
What about "valuation"? Reviewing
"Key Statistics" for COH on Yahoo
, we can see that this is a "large Cap" stock with a market capitalization of $11.57 billion.
The trailing p/e is a bit rich at 33.56 but the forward p/e isn't quite as bad at 25.77 (fye 03-Jul-06). Thus, the 5-yr expected PEG isn't too bad at 1.31.
The Price/Sales ratio is 6.72. On this parameter, Coach is very expensive relative to other companies in the "Textile-Apparel Footwr/Ac" industry group. Nike (NKE) is at 1.6, Timberland (TBL) is at 1.6, Deckers Outdoor (DECK) is at 1.3, and Reebok (RBK) comes in at 0.6.
Other key statistics from Yahoo include the fact that there are 377.12 million shares outstanding with 371.13 million of them that float. Currently there are, as of 5/10/05, 7.89 million shares out short with a short ratio of 2.6 trading days of volume. This represents 2.10% of the float.
No dividend is reported, and as noted above, the last stock split was a 2:1 split just about two months ago on 4/5/05.
What about the chart? Taking a look at the
"Point & Figure" chart from Stockcharts.com
: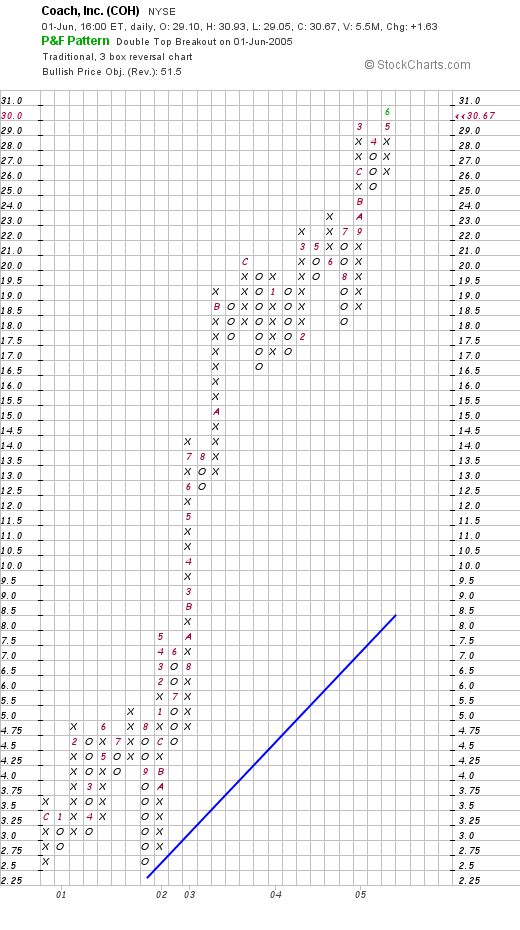 , we can see an absolutely spectacular run from a low of $2.50 in September,2001, to the recent high of $30.67, where it closed today! If anything, the stock looks a bit overextended, trading high above its "support line".

So what do I think? Well, I own the stock at a much lower price and have sold portions of the stock already multiple times for gains. The last earnings report was spectacular with same store sales growth in the high teens (!), the five year Morningstar report is beautiful, with steady earnings and revenue growth, rapidly expanding free cash flow, and a very nice balance sheet.

The valuation questions show that the p/e is just a bit rich, but the Price/Sales puts it way ahead of its peers. The chart is strong but the price is no bargain. I love Coach, but this is not a bargain. But then again, I never claimed to be a value investor!

Thanks again for stopping by and visiting! If you have any questions or comments, please feel free to leave them right here on the blog or email me at bobsadviceforstocks@lycos.com.

Bob