June 27, 2005 Quanex (NX)
Hello Friends! Thanks so much for stopping by and visiting my blog,
Stock Picks Bob's Advice
. As always, please remember that I am an amateur investor, so please consult with your professional investment advisors prior to making any investment decisions based on information on this website.

This evening, browsing through the
list of top % gainers on the NYSE
today, I came across Quanex (NX) which closed at $50.75, up $1.85 or 3.78% on the day. I do not own any shares of Quanex nor do I have any options.

According to the
Yahoo "Profile" on NX
, the company "...manufactures engineered materials and components for the vehicular products and building products markets."
On May 26, 2005,
Quanex reported 2nd quarter 2005 results
. For the three months ended April 30, 2005, revenue climbed 43% to $533.8 million from $372.9 million. Earnings came in at $51 million, or $1.93/share, up sharply from $11.5 million, or $.46/share in the prior year same quarter. The company beat expectations with this report and also raised guidance for the full year. Both were bullish events for this stock!
Longer term, looking at the
"5-Yr Restated" financials from Morningstar.com
, we can see that revenue was slightly lower between 2000 when sales were $806 million, dropping to $777 million in 2001. Revenue has grown steadily since that time, reaching $1.8 billion in the trailing twelve months (TTM).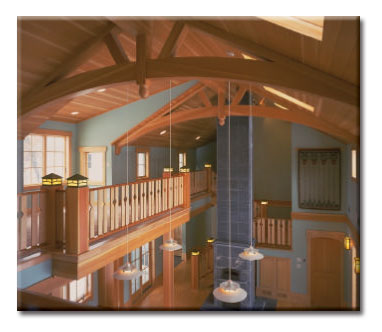 Earnings have been a bit erratic, climbing from a loss of ($.70)/share in 2000 to $3.52 in 2002, dropping to $1.75 in 2003 then climbing further in 2004 and 2005.
The company does pay a dividend, which has climbed from $.43/share in 2000 to $.51/share in the TTM.
NX has also been increasing its free cash flow steadily the past few years with $50 million reported in 2002, growing to $158 million in the TTM.
Checking
Yahoo "Key Statistics" for NX
, we can see that NX is a mid-cap stock with a market capitalization of $1.26 billion. The trailing p/e is downright cheap at 11.17, with a forward p/e (fye 31-Oct 06) of 10.25. The (5 yr expected) PEG comes in at 0.56, one of the lowest PEGS I have seen since I started Stock Picks over two years ago.
While NX's Price/Sales ratio is very cheap at 0.7, looking at the "Steel & Iron" Industry group, we can see that
all
of the stocks in this particular group sport very low Price/Sales ratio. Specifically, Precision Casparts (PCP) tops off the list at 1.8, Quanex (NX) and Allegheny Technologies (ATI) are next at 0.7 each, Nucor (NUE) follows at 0.6, Steel Dynamics (STLD) is next at 0.5 tied with Worthington Industries (WOR) also at 0.5. Thus, Quanex is on the low end of the range, but still in the middle of the "pack".
Other statistics from Yahoo include 25.32 million shares outstanding with 24.96 million of them that float. Currently, there are 674,860 shares out short as of 5/10/05, representing 2.7% of the float, or 1.7 trading days of volume.
As indicated above, the company
does
pay a small dividend of $.53/share yielding 1.09%. The last stock split was a 3:2 split this year on 1/3/05.
And how does the chart look? Taking a look at a
"Point & Figure Chart" for NX on Stockcharts.com
: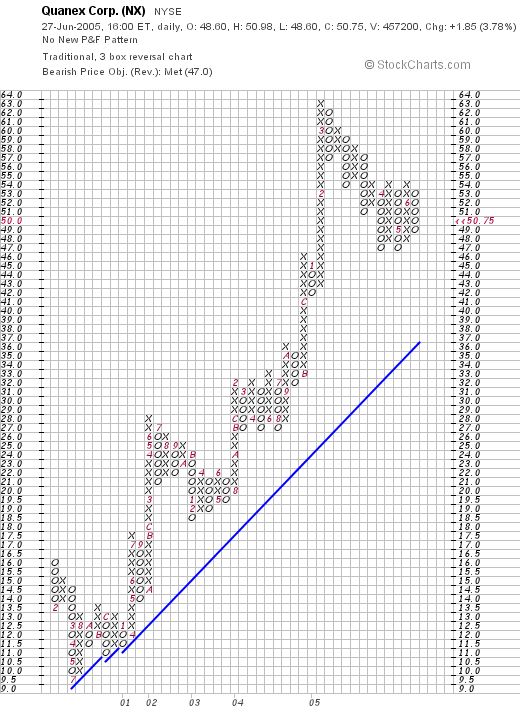 We can see that this has been an exceptionally strong stock since it bottomed at $9.50 in July, 2000, and has climbed steadily since, currently trading at the $50.75 level. The graph looks nice to me!

So what do I think? Well the company did make a nice move higher today in an otherwise sloppy market. The latest quarter was impressive, with the company posting stronger earnings and revenue growth, exceeding expectations for the quarter, and raising guidance for the rest of the year.

The last five years, except for the erratic earnings, which recently have been climbing, were solid results. Free cash flow has been growing, and the balance sheet is solid.

The valuation figures are nice with a very low P/E, a PEG just over 0.5, and a Price/Sales under 1.0. This looks good as well. Finally, the chart is strong.

My biggest concern is that this might yet be a bit cyclical, tied to big-ticket items like trucks for the company to stay on its trajectory. Now, if I just had some cash to invest :).

Thanks so much for stopping by! Please feel free to email me at bobsadviceforstocks@lycos.com if you have any questions or comments. Of course, please feel right at home to post some notes right in the blog itself!

Bob