"Revisiting a Stock Pick" Millipore (MIL)
Hello Friends! Thanks so much for stopping by and visiting my blog,
Stock Picks Bob's Advice
. As always, please remember that I am an amateur investor, so please consult with your professional investment advisors prior to making any investment decisions based on information on this website.
As the number of stock picks discussed on this blog grows, I find it helpful to revisit prior stock picks when they once again meet the criteria that I use to pick stocks on this website. In fact, one can think of this as a "reconfirmation" of a stock pick, that is, the stock once
again
is identified in the screens that I use. In general, I prefer to allow a year to pass by before re-discussing any of the stock selections on the blog.
On January 27, 2004, I
posted Millipore (MIL) on Stock Picks
at a price of $50.87. MIL is currently trading at $57.40, up $3.05 or 5.61% on the day. The stock has appreciated $6.53 or 12.8% since posting in 2004.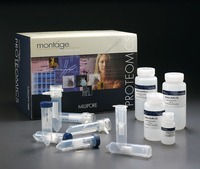 I identified Milliopore (MIL) on the
list of top % gainers on the NYSE
today, and on review, the story is intact. I do not own any shares or options in Millipore.
As I like to do when examining a possible stock for inclusion on this blog, is to check the latest quarterly results. On April 21, 2005, MIL
reported 1st quarter 2005 results
. First quarter sales came in at $250 million, up 12% from $222 million in the same quarter last year. Earnings came in at $32.3 million or $.64/diluted share, up 16% from the $27.2 million or $.55/diluted share reported in the same quarter in the 2004 fiscal year.
For a longer-term perspective, let's take a look at the
"5-Yr Restated" financials from Morningstar.com
. Here we can see a very nice picture of steady revenue growth from $600 million in sales in 2000, steadily growing to the $911 million reported in the trailing twelve months (TTM).
Earnings have been a little less steady, dropping from $2.53/share in 2000 to $.65/share in 2001, but increasing each year thereafter to the current $2.19 in the TTM.
Free cash flow has also been steadily growing in the last several years from $28 million in 2002 to $116 million in the TTM.
Morningstar.com shows the balance sheet for MIL to be solid with $141.3 million in cash and $393.2 million in other current assets, plenty to cover both the $149.9 million in current liabilities and the $196.4 million in long-term liabilities.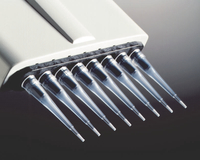 Considering "valuation" issues on this stock,
"Key Statistics" from Yahoo
shows that Millipore (MIL) is a large cap stock with a market capitalization of $2.85 billion. The trailing p/e is moderate at 25.93, and the forward p/e (fye 31-Dec-06) is nicer at 20.67. Thus, the "5 yr expected" PEG is 1.57. (with a PEG of 1.0 considered an ideal valuation for a stock with the Price/earnings ratio commensurate with the growth rate).
Yahoo reports the Price/Sales ratio as being 2.98. Referring to my Fidelity brokerage research, we can see that MIL is priced midway, insofar as the Price/Sales ratio is concerned, in the "Scientific/Tech Instruments" Industry. At the top is Garmin (GRMN) with P/S ratio of 5.7, Flir (FLIR) at 4.3, followed by MIL at 3.0, Applied Biosystems (ABI) is lower at 2.2, Beckman Coulter (BEC) at 1.6, and Agilent (A) at 1.6.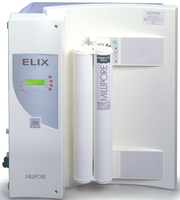 Other statistics from Yahoo on MIL reveal that this company has 49.94 million shares outstanding with 49.83 million of them that float. As of 5/10/05, there were 1.45 million shares out short representing 2.90% of the float or 2.1 trading days of volume (the "short ratio"). No cash dividend is paid, and the last stock split was a 2:1 in July, 1995.
So what does the chart look like? Taking a look at a
"Point & Figure" chart from Stockcharts.com on MIL
, we can see that this stock has had broad price swings the last few years, with a downward move from $54 to $28 between January, 2002 and July, 2002, followed by some consolidation and a move higher to $57 in June, 2004, and more recently, a breakdown in price to the $42 level in April, 2005. The stock has now broken through resistance at the $49 level, and has traded higher to the $57 range. The stock looks bullish to me, but does not appear overextended.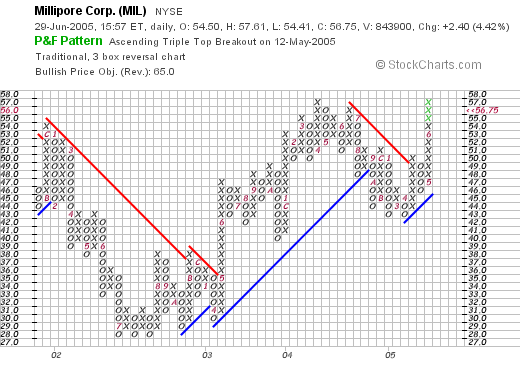 So what do I think? Well the stock looks attractive to me if not the strongest growth record I have reviewed here. Let's review: the stock made a nice move higher today, last quarter was a solid report with growth in the mid teens both in terms of revenue expansion and earnings growth. The last five years have been strong years with steady revenue growth, albeit with a bit of weakness in earnings several years ago. The company is spinning off increasing amounts of free cash to be added to an already solid balance sheet. Valuation appears reasonable if not cheap, and the chart looks positive but not over-extended.

Of course, I don't have any money to be buying any stock. But if I did....well enough hypotheticals! Thanks so much for stopping by. If you have any questions or comments, please feel free to leave them right here on the bloc, or feel free to email me at bobsadviceforstocks@lycos.com.

Bob