A Reader Writes "Can I get your opinion on the company EZPW?"
Hello Friends! Thanks so much for stopping by and visiting my blog,
Stock Picks Bob's Advice
. As always, please remember that I am an amateur investor, so please consult with your professional investment advisors prior to making any investment decisions based on information on this website.

Looking through my mail, I found a question from S.Y.L., who was interested in learning about a company EXPW. SYL wrote:
Hi,

Can I get your opinion on the company: EZPW? I completely understand that you are not a professional, but I'm still interested in getting an opinion from a more seasoned investor than me. I found this one doing some basic screening and it looks quite good. Good earnings growth, low debt, and very very low valuation ratios. Am I missing anything or is this stock as good as it seems to me? Please be as open as possible. I'm interested in hearing about how you would go about researching this company further.

I'm looking forward to your reply.

Regards,

SYL
Thanks so much for writing again SYL! I will tell you how I go about looking at a stock, but this is certainly not the only way!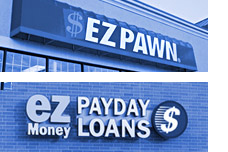 EZPW stands for Ezcorp, Inc. EZPW closed at $11.03, up $.28 or 2.60% on 7/1/05. According to the
Yahoo "profile" on EZPW
, the company "...operates pawnshops and payday loan stores in the United States."
My first step is to check the latest quarterly report. On April 20, 2005, EZCORP (EZPW)
announced 2nd quarter 2005 results
. Some of the basic things I look at are: revenue growth and earnings. For the quarter ended March 31, 2005, EZPW reported revenue growth of 8% to $63.1 million compared with $58.3 million the prior year. Net income jumped 32% to $4.0 million ($.29/share) compared with $3.0 million ($.23/share) the prior year same period. These appeared to me to be fairly solid results.
Generally, my next step in the process is to go over to Morningstar.com, in particular the "5-Yr Restated" financials, which for EZPW is located
here
. By the way, I do not own any shares or options in EZPW, nor am I "picking" this stock for my blog. I just want to answer a question from a reader!
The financials show some good information and are also deficient for this particular stock. We can see on the Morningstar page that revenue, except for a small drop between 2000 and 2001, has been steadily increasing. $197.4 million was reported in revenue in 2000, dropping to $186.2 million in 2001, but has increased each year to the $235.9 million in the trailing twelve months (TTM).
Earnings have also steadily improved, increasing from a loss of ($2.71) in 2000 to a net positive income of $.90/share in the TTM.
Free cash flow appears to be positive if we can apply a mathematical subtraction of capital spending from operating cash flow, however, I don't extrapolate anything on these financial reports on my blog. In fact, the balance sheet is also absent from Morningstar. You might be able to get this information elsewhere, but relying on Morningstar, I generally avoid stocks completely with incomplete financial reports. There are plenty with complete numbers to choose from!
My next step is to review some basic parameters of this company. For this purpose, I like to use
Yahoo "Key Statistics" on EZPW
. Here we can see that this company is virtually a "micro-cap" stock with a market capitalization of only $137.07 million.
As you noted in your question, the P/E is certainly cheap at 12.21, with a forward p/e of 8.48. Thus the company has a PEG ratio of only 0.52. Price/sales is also cheap at 0.56.
EZPW has only 12.43 million shares outstanding with 11.10 million that float. Currently there are only 183,010 shares out short, representing 1.70% of the float or only 1.1 trading days of volume. No cash dividends and no stock dividends are noted on Yahoo.
Finally, I like to take a look at a "Point & Figure" chart from Stockcharts.com. For EZPW, this is located
here
.
Here we can see that the stock bottomed at around $.75/share in late 2000. The stock has been moving higher recently, with a peak at $22 recorded in February, 2005. The stock has actually been looking weaker recently, with a breakdown, decline below the "support" line at $11.50 in May, 2005. The stock appears to be still trading weakly.

So what do I think of this stock? I like the recent quarterly report, the five year growth in revenue in earnings, and the valuation. Things I am uncomfortable with regarding this stock is the tiny nature of the company, the fact that possibly because of the size, I do not have any reported free cash flow, nor is the balance sheet specified. With the graph looking weak, I would not be inclined to be buying any of these shares. In addition, I suspect that the stock might be looking weak due to concerns over tightening of credit market with the repeated increases in the interest rates by the "Fed". But I frankly don't know!

In conclusion, this stock is an interesting candidate but I just don't have enough information to recommend this stock. I am unable to get all of the information that would help me make an investment.

Thanks again for stopping by and taking the time to write me a question! If you or anyone else have questions regarding a stock or one of my posts, please feel free to email me at bobsadviceforstocks@gmail.com.

Bob