July 5, 2005 Bausch & Lomb (BOL)
Hello Friends! Thanks so much for stopping by and visiting my blog,
Stock Picks Bob's Advice
. As always, please remember that I am an amateur investor so please consult with your professional investment advisors prior to making any investment decisions based on information on this website.

I was looking through the
list of top % gainers on the NYSE
today and came across Bausch & Lomb (BOL) which closed at $87.50, up $5.72 or 6.99% on the day. I do not own any shares nor do I have any options on this stock.
According to the
Yahoo "Profile" on BOL
, the company "engages in the development, manufacture, and marketing of eye health products. The company offers its products in five product categories: contact lens, lens care, pharmaceuticals, cataract and vitreoretinal, and refractive."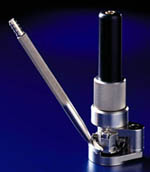 What drove the stock higher today, in addition to the strong overall tone of the market, was the
news report
that Bausch & Lomb was acquiring a "55-percent controlling interest in the Shangdong Chia Tai Freda Pharmaceutical Group (CTF), the leading ophthalmic pharmaceutical group in China..." This will cost BOL $200 million in cash and accelerate BOL's penetration into the Chinese market.
On April 19, 2005, Bausch & Lomb
reported 1st quarter 2005 results
. First quarter sales came in at $554.3 million, a 9% increase over last year's $510.3 million (a 6% increase when currency adjustments are made), and earnings per share rose 47% to $.63 from $.43/share in the same quarter a year ago.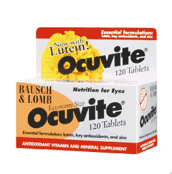 If we look at a bit of a longer-term financial picture, using the
"5-Yr Restated" financials from Morningstar.com
, we can see a fairly steady picture of revenue growth except for a slight dip from $1.72 billion in sales in 2000 to $1.67 billion in 2001. However, since 2001, revenue has grown steadily with $2.28 billion reported in the trailing twelve months (TTM).
Earnings have also increased, except for a dip from $1.52 in 2000 to $.39/share in 2001, earnings have otherwise grown steadily from that $.39/share level in 2001 to $3.13 in the trailing twelve months (TTM).
Free cash flow, per Morningstar, has been solid with $145 million in 2002 growing to $160 million in the TTM.
The balance sheet is also pretty solid with $483 million in cash and $900.4 million in other current assets, easily covering the $794.2 million in current liabilities and "making a dent" in the $758.3 million in long-term liabilities as well.
Looking at
"Key Statistics" on BOL from Yahoo
, we can see that this is a large cap stock with a market capitalization of $4.69 billion. The trailing p/e isn't too highat 28.04, and the forwar p/e (fye 25-Dec-06) is even lower at 21.77. The "5 yr expected) PEG is 1.57.
Within the "Medical Instruments/Supplies" Industrial group, Bausch & Lomb is very reasonably valued with a Price/Sales ratio of 1.9. Other companies in the same group include Alcon (ACL) with a ratio of 8.3, Guidant (GDT) at 5.6, Stryker (SYK) at 4.3, Boston Scientific (BSX) at 3.6, and Baxter (BAX) at 2.4. Bausch & Lomb (BOL) is the cheapest with a Price/Sales ratio of only 1.9.
Other "Key Statistics" from the same Yahoo page reveal that BOL has 53.45 million shares outstanding with 52.32 million of them that float. Of these, 1.82 million shares are out short, representing 3.40% of the float or 3.6 trading days of volume. This is just over my own level of 3 trading days for significance.
The company does pay a small dividend of $.52/share yielding 0.64%. The last stock split was a 2:1 split in July, 1991.
What about a chart? If we take a look at the
Stockcharts.com "Point & Figure" chart on B&L
, we can see that the stock was trading "sideways" between late 2001 through May, 2003, with a range of $27 to $42. The stock broke through resistance and then trading strongly higher through the last half of 2003, until the present time, when it now is testing new highs in the $87 range.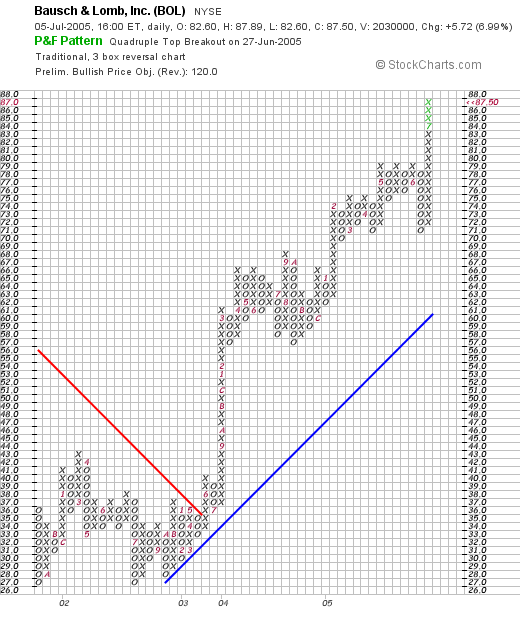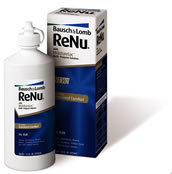 So what do I think? I do find it intriguing that the company is entering the Chinese market with its acquisition. In summary, the last quarter was strong, the past five years have shown steady growth in both revenue and earnings, free cash flow is positive and slowly growing, and the balance sheet is solid. Valuation is a bit steep insofar as the PEG is concerned, but the Price/Sales puts BOL as the most reasonable of its industrial group in terms of valuation. And the chart looks strong!

This is the kind of stock I probably would enjoy owning long-term. (I already own Cooper (COO) which is at least partly a competitor to BOL). I do not have any cash to invest, and more important am fully invested, so no matter what the "signal", I shall not be buying any new stocks until I drop back to 24 positions.

Thanks again for stopping by! If you have any questions or comments, please feel free to leave them right here on the blog or email me at bobsadviceforstocks@lycos.com.

Bob
Posted by bobsadviceforstocks at 11:26 PM CDT |
Post Comment
|
Permalink
Updated: Tuesday, 5 July 2005 11:32 PM CDT