July 15, 2005 Cintas (CTAS)
Hello Friends! Thanks so much for stopping by and visiting my blog,
Stock Picks Bob's Advice
. As ALWAYS, please remember that I am an amateur investor, so please consult with your professional investment advisors prior to making any investment decisions based on information on this website.
The first place I go to find a new stock pick is the top % gainers list. I use the Cnn.money site, but the USA Today site, or other internet sources are certainly workable. This afternoon, looking through the
list of top % gainers on the NASDAQ
, I came across Cintas (CTAS) which closed at $44.00, up $4.20 or 10.55% on the day. I do not own any shares or options in this company.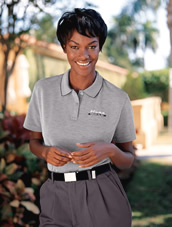 According to the
Yahoo "Profile" on CTAS
, this company "...engages in the manufacture and provision of corporate identity uniform programs, entrance mats, restroom supplies, promotional products, first aid and safety products and services, and document management services."
What drove the stock higher today, was the
4th quarter 2005 earnings report
which was released after the close of trading yesterday. For the quarter ended May 31, 2005, revenue climbed 9.6% to $809.2 million, and earnings jumped 14% to $83 million or $.48/share from $72.7 million, or $.42/share in the 4th quarter of 2004. The company also guided revenue estimates for the upcoming year slightly higher.
Looking a bit longer-term, reviewing the
"5-Yr Restated" financials for CTAS
on Morningstar.com, we can see a very steady improvement in revenue, with growth from $1.9 billion in 2000 to $3.0 billion in the trailing twelve months (TTM).
Earnings have also progressed in a remarkably steady fashion from $1.14 in 2000 to $1.68 in the TTM.
As a BONUS, the company also has been steadily increasing its DIVIDEND...raising it each year from $.19/share in 2000 to $.32 in the TTM.
Free cash flow has also been solid with $270 million in 2002 reported, increasing to $309 million in the TTM.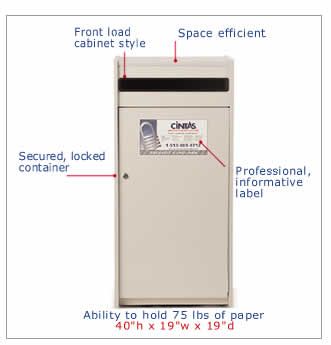 Looking at the balance sheet, we can see that CTAS has $367.8 million in cash according to Morningstar.com, and $824.5 million in other current assets. This is plenty to cover both the $385.4 million in current liabilities and the $385.4 million in long-term liabilities combined.
Reviewing
"Key Statistics" from Yahoo on CTAS
, we can see that this is a large cap stock with a market capitalization of $7.57 billion. The trailing p/e isn't bad at 26.17, with a forwar p/e (fye 31-May-06) at 19.47. thus, the PEG is just a bit over 1.0 at 1.25.
Looking at the Price/Sales ratio in the context of a
Paul Sturm perspective
, that is in the context of other companies in the same "industry group", we can see that Cintas is fairly reasonably valued as well. Cintas is in the "Business Services" group per Fidelity, and the steepest Price/Sales ratio in that group is Equifax (EFX) at 3.7 Price/Sales, Global Payment (GPN) at 3.3, Cintas (CTAS) at 2.3, Certegy (CEY) at 2.2, and IPAYMENT (IPMT) at 1.4. Thus, CTAS is in the middle of this group in regards to this particular valuation parameter.
Other "numbers" from Yahoo, show that there are 172.09 million shares outstanding with 140.68 million that float. As of 6/10/05, there were 5.29 million shares out short, up slightly from the prior month. This represents 3.70% of the float, or a significant (imho) 6.7 trading days of volume.
The company, as noted, does pay a small dividend of $.32/share yielding 0.80%. The last stock split was a 3:2 split in March, 2000, per Yahoo.
What about a chart? Taking a look at the
"Point & Figure" CTAS chart from Stockcharts.com
: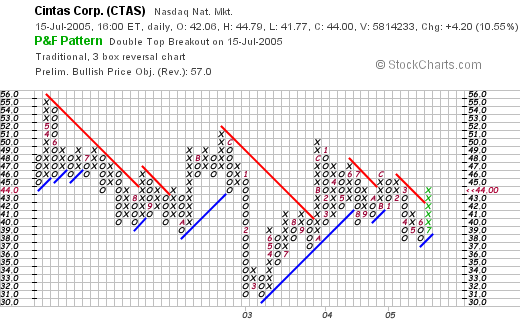 I see what looks like a long-term declining trend in stock price from $56, all the way back in May, 2002, to the $44 level where it closed today. What concerns me is what appears to be a series of declining highs, but the recent move breaking through a resistance level is moderately encouraging. Certainly the stock chart is not ahead of itself, and I wouldn't call this one over-extended. Yet the question remains whether this shows any significant upward momentum at all!

So in summary, the stock moved higher today on a positive earnings report and guidance yesterday. Other positives include the steady growth in revenue the past five years, the steady growth in earnings, and even the growth in dividends each and every year! Free cash flow is solidly positive and the balance sheet looks healthy. Valuation numbers are reasonable and there are even a lot of shares out short that need to be covered. In fact, my only particular concern is the less-than-convincing point and figure graph. But over the short-term, the chart does show the stock breaking past resistance levels....but can is sustain this advance?

In any case, I don't have any cash or a market signal to be investing! Thanks again for stopping by. I hope you all have a wonderful weekend. As always, please feel free to leave comments right here on the blog or feel free to email me at bobsadviceforstocks@lycos.com.

Bob