"Revisiting a Stock Pick" Advanced Neuromodulation Systems (ANSI)
Hello Friends! Thanks so much for stopping by and visiting my blog,
Stock Picks Bob's Advice
. As always, please remember that I am an amateur investor, so please consult with your professional investment advisors prior to making any investment decisions based on information on this website.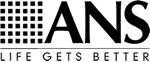 I was looking through the list of
top % gainers on the NASDAQ
today and came across an old pick of mine, Advanced Neuromodulation Systems (ANSI) which closed today at $48.40, up $7.00 or 16.91% on the day.
I first
posted ANSI on Stock Picks on 5/19/04
when it was trading at $33.03. Thus, in the little more than a year that I have looked at ANSI, this stock has appreciated by $15.37 or 46.5%.
According to the
Yahoo "Profile" on ANSI
, the company "...engages in the design, development, manufacture, and marketing of implantable neuromodulation devices, which are used to manage chronic intractable pain and other disorders of the central nervous system through the delivery of electrical current or drugs directly to targeted nerve fibers." I do not own any shares or options in ANSI.
What drove the stock higher today was the release prior to the opening of trading of the
2nd quarter 2005 earnings results
. Revenue for the quarter ended June 30, 2005, grew 26.9% to a record $38.7 million from $30.5 million in the same quarter last year. Net income for the quarter jumped 17.6% to $5.1 million or $.25/diluted share, up from $4.3 million or $.21/diluted share for the same quarter in 2004.
Taking a look at the
"5-Yr Restated" financials on Morningstar.com
, we can see the beautiful progression of the purple bars showing the revenue growth from $31.8 million in 2000 to $126.4 million in the trailing twelve months (TTM).
Earnings have also grown steadily from $.06/share to $3.43 in the TTM. (I am not sure of the significance of the last number, earnings were $.86/share in 2004.)
Free cash flow has also been growing steadily from $1 million in 2002 to $18 million in the TTM.
The balance sheet is impeccable with $180.7 million in cash alone, enough to cover both the $40.3 million in current liabilities and the $6.7 million in long-term debt almost four times over! In addition, ANSI is shown by Morningstar to have an additional $54.8 million in other current assets.
Looking at
Yahoo "Key Statistics" on ANSI
, we can see that the Market Cap is a mid-cap-sized $959.92 million. The trailing P/E is cheap at 14.06 (this must include some one-time income as the forward P/E is steeper at 40.00).
Insofar as the Price/Sales figure is concerned, ANSI is relatively expensive in its group of "Medical Instruments/Supplies". Topping off the list is Alcon (ACL) at 8.6 P/S, however ANSI is next at 6.5, Guidant (GDT) is next at 5.9, Stryker (SYK) at 4.8, Boston Scientific (BSX) at 3.8, and Baxter (BAX) at 2.5.
Other "Key Statistics" show that ANSI has 19.83 million shares outstanding with 19.59 million of them that float. Currently, there are 3.22 million shares out short representing 16.50% of the float as of 6/10/05, or 9.2 trading days of volume. This is a bit of a significant short interest outstanding, and some of the shares purchased might be due to a "squeeze" of short-sellers.
Yahoo reports no cash dividend and the last stock split was a 3:2 split in July, 2003.
Looking at a
"Point & Figure" chart on ANSI from Stockcharts.com
: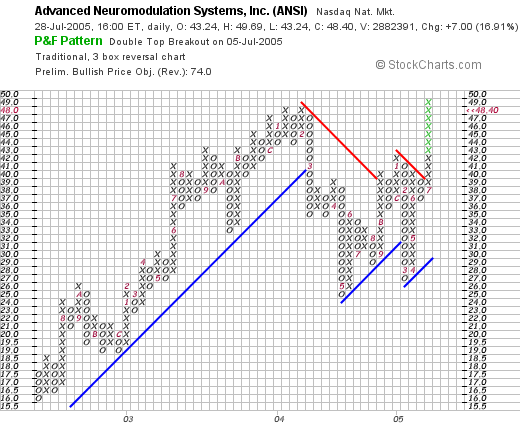 We can see that the stock was trading strongly higher between July, 2002, and February, 2004, when the stock moved from $16 to the $48 level. The stock then sold off and consolidated between the $26 to $48 level, before breaking through resistance this month at $39. The graph looks strong yet not overvalued to me.

So let's review: the stock has traded strongly higher since posting here last year. The stock made a nice move on a strong earnings report. The earnings and revenue have grown nicely the past five years. Free cash flow is positive and the balance sheet is perfect. Even the graph is reassuring.

Of course I have 25 positions already in my portfolio so I am not in the market to buy anything. However, this stock sure is interesting! If you have any questions or comments, please feel free to email me at bobsadviceforstocks@lycos.com.

Bob
Posted by bobsadviceforstocks at 8:23 PM CDT |
Post Comment
|
Permalink
Updated: Friday, 29 July 2005 5:23 AM CDT