July 29, 2005 Middleby Corp (MIDD)
Hello Friends! Thanks so much for stopping by and visiting my blog,
Stock Picks Bob's Advice
. As always, please remember that I am an amateur investor and that prior to making any investment decisions based on information on this website you should consult with professional investment advisors.

I was looking through the list of
top % gainers on the NASDAQ today
, and came across Middleby Corporation (MIDD), a mid cap stock with an interesting record! I do not own any shares nor do I own any options on this company.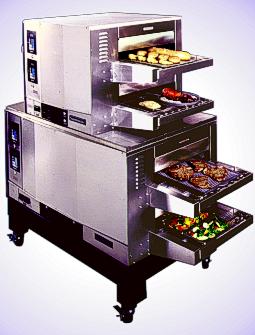 MIDD closed today at $69.86, up $7.86 or 12.86% on the day. According to the
Yahoo "Profile" on MIDD
, the company "...through its subsidiaries, engages in the design, manufacture, and sale of commercial and institutional foodservice equipment."
What drove the stock higher today, was an outstanding earnings report released yesterday after the close of trading. Middleby reported
2nd quarter 2005 results
for the quarter ended July 2, 2005. Net sales rose 15.1% in the quarter to $83.9 million, from $72.9 million in the same quarter the prior year. Net earnings (on a per share basis) jumped 35% to $9.0 million or $1.11/share, from $8.2 million, or $.82/share. Interestingly, there were actually 20% less fully diluted shares this year than last! (8.05 million shares this year vs. 10.0 million shares last year.)
Looking at the
Morningstar.com "5-Yr Restated" financials
, we can see a bit of an erratic growth in revenue, dropping from $129.6 million in 2000 to $103.6 million in 2001. However, since 2001, the revenue has grown nicely to $283.5 million in the trailing twelve months (TTM).
Morningstar also shows a similar drop in earnings between 2000 at $.35/share to $.18/share in 2001. Since that year, earnings have also steadily been rising to the $2.61 in the trailing twelve months.
The company also has paid a dividend, $.10/share in 2000, dropping it in 2001 and 2002, reinstating at
$.25 in 2003, and $.40 in the TTM.
Free cash flow has remained positive, with $18 million reported in 2002, but has dropped to $11 million in the TTM.
The balance sheet shows an excess of current assets over current liabilities at $2.6 million in cash and $86.8 million in other current assets balanced against $68.2 million in current liabilities and $140.4 million in long-term debt.
Reviewing
"Key Statistics" from Yahoo
, we find that the market cap is a small mid-cap stock at $541.97 million. The trailing p/e is moderate at 27.10, and the forward p/e (fye 01-Jan-07) is even nicer at 16.79. Thus, due to the fast growth, the PEG (5 yr expected) comes in under 1.0 at 0.92.
Looking at the Price/Sales ratio, relative to its industrial group of "Diversified Machinery", we can see, according to my Fidelity brokerage research, that this company is valued midway between other members of this group. Topping out the group in valuation is Roper Industries (ROP) with a Price/Sales of 2.8, next is Pall (PLL) at 2.1, and Illinois Tool Works (ITW) at 2.0. Middleby (MIDD) comes at 1.7, followed by Ingersoll-Rand (IR) at 1.3 and Eaton (ETN) at 0.9.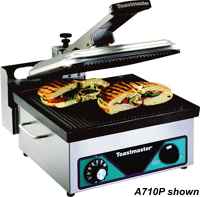 Reviewing the rest of the Yahoo "Key Statistics" information, we find that the company has only 7.76 million shares outstanding with 4.06 million of them that float. There are quite a few shares out short, 649,000 as of 7/12/05, representing 14% of the float or 9.9 trading days of volume. The sharp rise today might be due to some "squeezing" of the shorts in the face of good earnings. But that is of course just a guess :).
Yahoo does not show a dividend, while Morningstar shows a $.40/share dividend this past year. No stock splits are reported on Yahoo.
Looking at a
"Point & Figure" chart from Stockcharts.com
: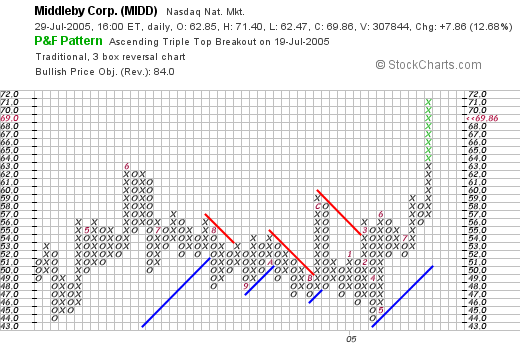 We can see that the stock was pretty much trading sideways and declining slowly from a high of $63 in June, 2004, to the low of $44 in April, 2005. Since April, the stock has been trading quite strongly to the upside.

So what do I think? Well this is certainly a different sort of stock! Not a biotech, not even high tech at all. Just cooking equipment (I really should never say "just"!).

Reviewing, the stock moved strongly higher today on a very strong earnings report. The last 4 years have been solid with just a small glitch in performance between 2000 and 2001. Although not growing, free cash is positive. And the balance sheet is solid if not overwhelming. Valuation looks good with a p/e in the low 20's, a PEG under 1.0, and a Price/Sales that is the middle of its industrial group.

Thanks again for stopping by and visiting my blog! If you have any questions or comments, please feel free to email me at bobsadviceforstocks@lycos.com. (Or leave your comments right here on the blog.)

Bob


Posted by bobsadviceforstocks at 9:34 PM CDT |
Post Comment
|
Permalink
Updated: Friday, 29 July 2005 9:35 PM CDT