A Reader Writes "Amedisys (AMED)...What do you think?"
Hello Friends! Thanks so much for stopping by and visiting my blog,
Stock Picks Bob's Advice
. As always please remember that I am an amateur investor, so please consult with your professional investment advisors prior to making any investment decisions based on information on this website.

I was browsing through my mailbox, (spending a lot of time deleting SPAM!), and came across a nice letter from Lisa who writes:
Hi Bob,

I've been lurking on your website for awhile now. I find it pretty interesting how many very good stocks you've uncovered. I like your sell discipline.

I've been screening for stocks that move 2% or more on a given day with the following additional criteria:
EPS qtr vs qtr >10%
EPS yr vs yr >10%
Rev qtr vs qtr >10%
Rev yr vs yr >10%
Expected EPS growth next yr >10%
Avg daily volume >150K
Mkt Cap > $500M (I'm not that comfortable trading smaller co's)

It's amazing how many stocks this simple screen turns up each day! From there I perform alot of the same steps you review - rev, cash flow, PE, chart, etc.

Recently, Amedisys (AMED) has turned up on my radar screen 2x this month. What do you think? I've already put my toe in the water with an initial position today @ $41.

Keep up the great work!

Lisa G
Lisa, thanks so much for visiting and now contributing to my blog. I look forward to more questions and comments from you and your ideas about picking stocks.
First of all, let me comment on your "system". I think that it makes just as much sense as what I am doing here. You are looking at, if I understand right, stocks making a nice upward move ("2% or more"), growing earnings (both sequential and year over year), growing revenue (both sequential and year over year), estimated growth over 10%, and significant daily volume and at least mid-cap size. In addition, you state you do a lot of the same stuff I do, like revenue, cash flow, chart, etc.
I was once accused of "due diligence". I think you are suffering from the same disease :). In other words, I think that we are, as you might say, reading from the same page! I believe that your approach makes sense, is indeed a bit different than what I am doing, but on the other hand, we are placing emphasis on many of the same criteria.
Now the second part of your question, "Amedisys?". What do I think?
I first
posted Amedisys (AMED) on Stock Picks
on June 21, 2004, when it was trading at $30.74. I do not currently own any shares or options on this stock. But let's take a quick look and see what is "cooking".
AMED closed today at $41, up $1.00 or 2.50% on the day.
What about the latest quarter? On August 2, 2005, AMED reported
2nd quarter 2005 earnings results
. This is the gist of what was reported: for the quarter ended 6/30/05, "net service revenue" climbed 41% to $80.1 million from $56.9 million last year. Net income grew from $5.0 million to $7.9 million this year, and on a per share diluted basis, increased from $.39/share to $.50/share in 2005. So far so good :).
To top off this strong report, AMED "increases guidance for 2005" as noted in the same article. Great earnings with raised guidance is about as "good as it gets"....well not as good as the Jack Nicholson movie by the same name :), but you know what I mean.
Looking at the
"5-Yr Restated" financials from Morningstar.com
, we can see that revenue growth has been uninterrupted, increasing from $88.2 million in 2000 to $250.2 million in the trailing twelve months (TTM).
Earnings, which dropped from $.87 in 2000 to a low of $.08 in 2002, have improved sequentially since then to a $1.62 reported in the TTM.
On a negative note, the company has been using stock apparently to finance this growth with the company growing from 4 million shares in 2000 to 15 million in the TTM. Apparently the company has been issuing shares every year since 2000, at least that is what it appears to be doing on the balance sheet.
Free cash flow is solidly positive with $12 million reported in 2002, increasing to $20 million in the trailing twelve months.
The balance sheet still looks nice with $78.9 million in cash and $31.3 million in other current assets which is plenty to cover both the $48.1 million in current liabilities and the $10.8 million in long-term liabilities combined.
Finally, let's look at the
"Point & Figure" chart from Stockcharts.com
: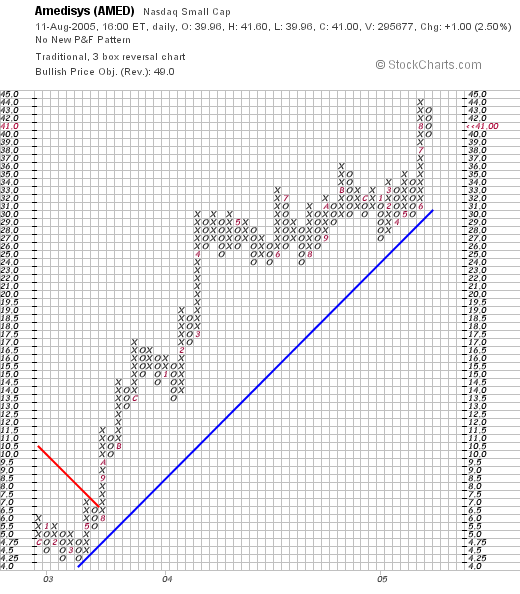 Again, please rember that I am NOT a technician, nor a professional chart reader, etc. But looking at the graph, the stock looks like it was starting to run into the support level, then once again broke out to the upside. It looks strong to me.

What do I think? Well, I think you know the answer to that. Let's review. First of all, I posted this stock last year at about 30% lower price! The latest stock report was solid. And the company management raised guidance! The Morningstar.com report looks nice and the chart is solid. Looks pretty strong to me.

I would advise to have a plan established about selling as well as buying....know when, according to your system, you will sell on the downside or on the upside! Good luck and keep me posted!

If you have any questions or comments about this or any other stocks, please feel free to leave them right on the blog or email me at bobsadviceforstocks@lycos.com .

Bob