"Revisiting a Stock Pick" Giant Industries (GI)
Hello Friends! Thanks so much for stopping by and visiting my blog,
Stock Picks Bob's Advice
. As always, please remember that I am an amateur investor, so please consult with your professional investment advisors prior to making any investment decisions based on information on this website.

I was looking through the list of
top % gainers on the NYSE
this morning and came across Giant Industries (GI), a stock that I had
posted on Stock Picks on 2/11/04
when it was trading at $15.94/share. GI is currently trading, as I write, at $41.72/share, up $2.42 on the day for a gain of 6.16%. This is up $25.78 or 161.7% since posting! Unfortunately, I don't own any shares or options on this stock at this time.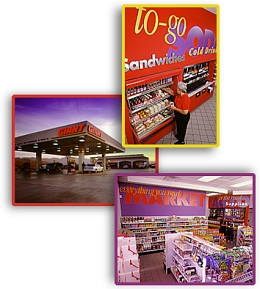 According to the
Yahoo "Profile"
, Giant "...engages in the refining and sale of petroleum products in the United States. The company operates in three groups: Refining, Retail, and Phoenix Fuel."
On August 3, 2005, Giant
reported 2nd quarter 2005 earnings results
. Net revenue for the three months ended June 30, 2005, grew 32% to $863.4 million from $654.0 million the prior year same period. Net earnings were $20.6 million or $1.51/diluted share, up from $5.0 million or $.44/diluted share the prior year.
If we look longer-term at a
"5-Yr Restated" financials from Morningstar.com
, we can see a steady picture of revenue growth from $1 billion in 2000 (with a slight dip to $900,000 in 2001) increasing to $2.9 billion in the trailing twelve months (TTM).
Earnings have improved rapidly from a loss of $(1.08) in 2002 to $2.83/share in the TTM.
Free cash flow has been strong with $25 million reported in 2002 and $40 million in the TTM.
The balance sheet, as reported on Morningstar, looks good with $59.9 million in cash and $265.0 million in other current assets, balanced against $176.9 million in current liabilities and $355.0 million in long-term liabilities.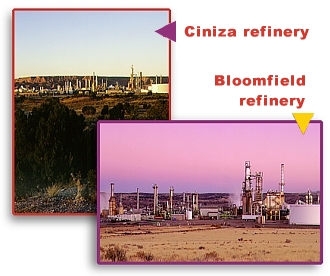 Looking at some
"Key Statistics" on GI from Yahoo
, we can see that this is a small mid-cap stock with a market capitalization of $558.71 million. The trailing p/e is downright reasonable at 14.28 and the PEG ratio is one of our lowest on the website at 0.38, once again suggesting reasonable valuation.
Taking a look at the price/sales ratio, in relation to other stocks in the same industrial group "Oil & Gas Refining/Marketing", we can see that this stock is also a good value by this measurement. All of these stocks sell at low multiples to sales, with Murphy Oil (MUR) toppping the list at 1.0, followed by Amerada Hess (AHC) at 0.6, Marathon Oil (MRO) and Valero (VLO) are at 0.4, Tesoro (TSO) is at 0.3, and at the bottom of the list is Giant Industries (GI), the stock we are currently reviewing, at 0.2.
Looking at some other numbers from Yahoo, we can see that there are only 13.42 million shares outstanding. As of 5/10/05 there were 705,800 shares out short, a bit of a 'stale' statistic, representing 4.4 trading days of volume or 5.30% of the float. No dividend and no stock splits are reported on Yahoo.
Checking a
"Point & Figure" chart on GI from Stockcharts.com
: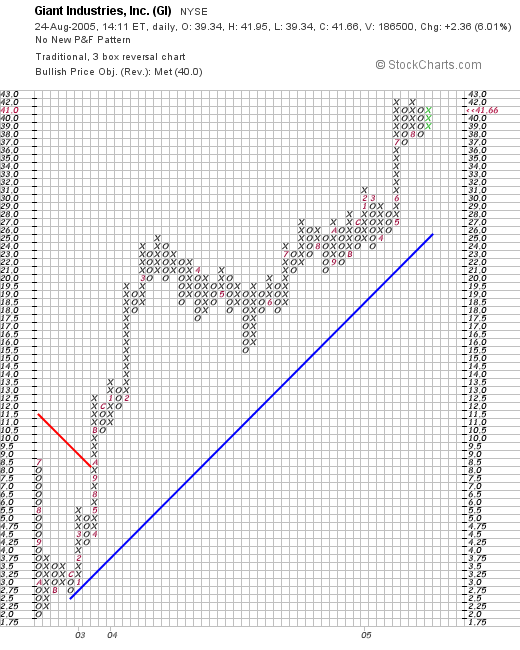 We can see what looks like a very strong chart to me with the price bereaking through resistance (the red declining line) in September, 2004, when the stock price passed $8.00/share. The stock has been climbing steadily since and appears poised (imho) to advance further.

So what do I think? Well, I really like this company, but of course, like any energy stock, this will depend on continued strength in the oil market. Let's review a few findings: stock is moving nicely higher today, the latest quarterly report was superb with a tremendous growth in both revenue and earnings, the past five years have also been quite strong, free cash flow is solidly positive, and the balance sheet is strong. Valuation is excellent with a p/e under 15, a PEG under 1.0, and a price/sales under 1.0 and furthermore, the lowest in its group! Topping it off, the chart looks strong!

Now, if only I was in the market to buy a stock :). Oh well. Thanks again for stopping by and visiting. I hope that my approach is helpful to you in looking at stocks! Please feel free to drop me a line with your comments, questions, or suggestions, at bobsadviceforstocks@lycos.com or leave your messages right here in the blog!

Bob