August 31, 2005 Building Materials Holding (BMHC)
Hello Friends! Thanks so much for stopping by and visiting my blog,
Stock Picks Bob's Advice
. As always, please remember that I am an amateur investor, so please remember to consult with your professional investment advisors prior to making any investment decisions based on information on this website.
Before writing anything about stocks today, let me take the time to express my personal sympathy to all of you who might have lost friends, family, property, or your way of life in the disaster called the Katrina hurricane. My wife's family is from New Orleans. Her parents got out but likely lost their home. We are still waiting to hear whether her brother, who stayed due to medical problems, is alive and well. Please keep him in your prayers.
New Orleans shall return, the water shall be drained, and there will be more Mardi Gras parades, beignets, and Crawfish etouffee. But it shall be a difficult time for many people.
Let us remember the positive things about New Orleans and work to generate a new enthusiasm that will bring businesses, tourists, and conventioneers once again to the tourist destination of America.
Here is a picture from
Cafe Du Monde
, one of my favorite places to get beignets and cafe du lait. We shall all be visiting once again, hopefully in the not too distant future, dusting off our over-powdered-sugared doughnuts from our clothes!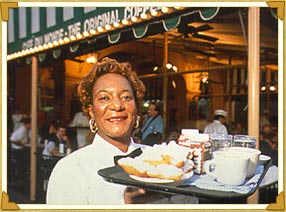 Back to stocks! It seems that many of the stocks moving higher today included building materials and roofers including lumber and cement. On today's list of top % gainers of the NASDAQ was Building Materials Holding Corporation (BMHC) which closed at $93.48, up $11.68 or 14.28% on the day. I do not own any shares or options in this stock.

On July 26, 2005, BMHC announced 2nd quarter 2005 results


For the quarter ended June 30, 2005, sales increased 33% to $1.27 billion, compared to $.96 billion in the prior year same quarter. Net income was $33.3 million or $2.28/share up from $12.6 million or $.92/share last year.

Looking a bit longer-term at the Morningstar.com "5-Yr Restated" financials, we can see a nice picture of revenue growth from $1.0 billion in 2000 to $2.4 billion in the trailing twelve months (TTM).

Earnings during this period have been a bit erratic, dropping to $.53/share in 2002, but have increased steadily since that time to $6.39/share in the TTM.

BMHC started paying dividends in 2002 when $.05/share was paid. This has increased to $.34/share in the TTM.

Free cash flow, except for a $(3) million in 2003, has been positive and growing from $16 million in 2002 to $105 million in the TTM.

The balance sheet looks solid with $37.8 million in cash and $528.7 million in other current assets according to Morningstar, balanced against $263.1 million in current liabilities and $225.3 million in long-term liabilities.

What about valuation? Taking a look at Yahoo "Key Statistics" on BMHC, we can see that this is a mid-cap stock with a market capitalization of $1.33 billion. The trailing p/e is very reasonable (imho) at 14.65, with a forward p/e even nicer at 14.38 (fye 31-Dec-06). Thus the PEG ratio is under 1.0 at 0.88.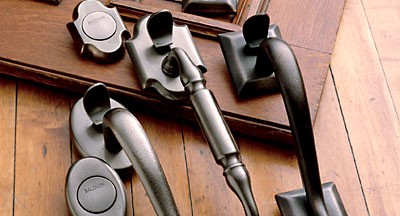 Using my Fidelity account for research, I found that BMHC is sitting in the "Home Improvement Stores" Industry Group and the price/sales is reasonable relative to the other stocks in the group.

Fastenal (FAST) tops the list at 3.3, Lowe's (LOW) is next at 1.3 and Home Depot (HD) at 1.1. BMHC is next to last in the group with a price/sales ratio of 0.5, with Builders Firstsource (BLDR) the most reasonable with a price/sales of 0.3.

Looking at other Yahoo "key statistics" we can see that there are only 14.24 million shares outstanding. As of 8/10/05, there were 634,910 shares out short, representing 4.50% of the float or 1.7 trading days. This does not look significant to me.

The company does pay a small dividend of $.40/share yielding 0.50%. The last stock split was a 3:2 split in March, 1994.

What about a chart? Looking at a "Point & Figure" chart on BMHC from Stockcharts.com: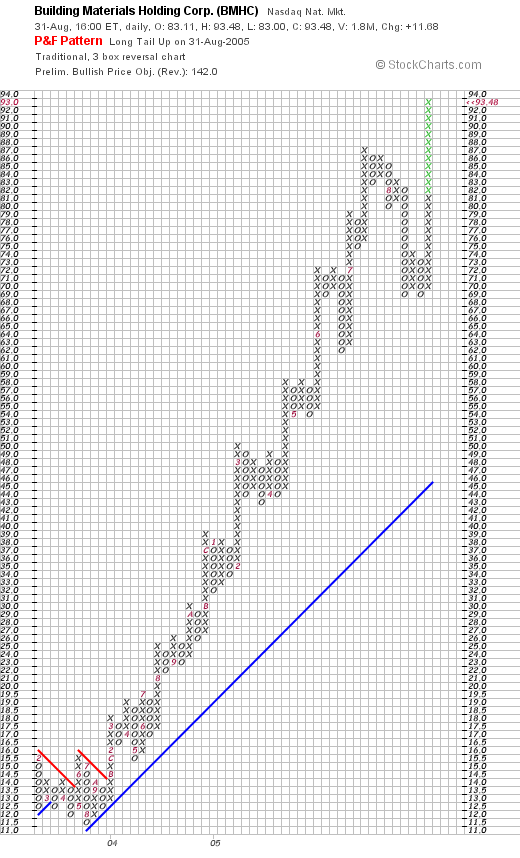 We can see what looks like an extremely strong stock graph that appears to be showing increased volatility. Since late July, 2004, when the stock broke through resistance at $14.00, the stock has moved almost perfectly higher to its current level of $93.

So what do I think? Well, even though this sounds something like profiteering on disaster, a building stock adds an air of optimism about the New Orleans catastrophe. The latest quarter was very strong, the past five years have been growing steadily, value is great with a PEG under 1.0, a price/sales low in its industrial group, and even the P/E being under 20 is pretty reasonable. The balance sheet looks nice, and the company even pays a growing dividend.

On the downside, there is some small softness in the housing market, and notwithstanding the Hurricane, this building cycle may be late. However, consider the size of the building effort in New Orleans! Boggles the mind.

On top of all of this, the chart looks great!

Now, if I only could sell a bit of Cal Dive (CDIS) or my Mentor (MNT) which is flirting with a sale at a gain....hmmm....anyhow, please feel free to comment on what I write here on the blog, or email me at bobsadviceforstocks@lycos.com.

We opened with beignets and let us close with Jazz! This is a photo I found on a Neurosciences Meetin Website of the Preservation Hall Jazz Band! Enjoy!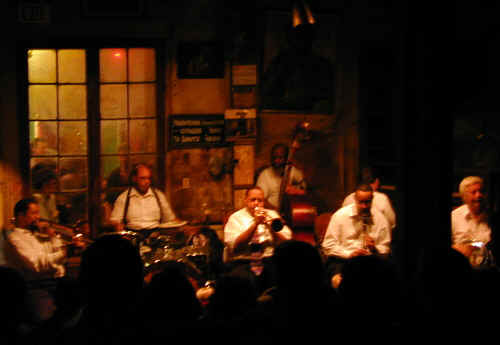 Bob

P.S.: My niece just called and my brother-in-law just showed up in Baton Rouge. Hospitalized for dehydration, he should be fine. Let us pray for so many other victims of this disaster!
Posted by bobsadviceforstocks at 6:52 PM CDT |
Post Comment
|
Permalink
Updated: Wednesday, 31 August 2005 8:01 PM CDT