September 1, 2005 Cavco Industries (CVCO)
Hello Friends! Thanks so much for stopping by and visiting my blog,
Stock Picks Bob's Advice
. As always, please remember that I am an amateur investor, so please consult with your professional investment advisors prior to making any investment decisions based on information on this website.
Before I post, I wanted again to express my concern and prayers for all of those who have been impacted by the catastrophe called Katrina.
One of the fun things to do in New Orleans is to ride the steamboat. Here is an
image
of the Steamboat Natchez.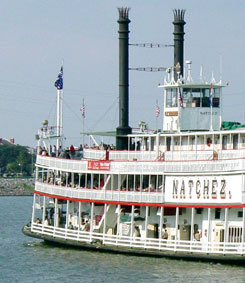 Anyhow, back to stocks! Scanning through the list of top % gainers on the NASDAQ, you can see what I would call "Katrina-related" stocks. These are companies that investors, or speculators, believe may benefit from the eventual massive investment in rebuilding and repair of the hurricane disaster region.



One company that made the list today is Cavco Industries Inc. (CVCO) which, as I write, is trading at $36.00 (in an otherwise weak market), up $2.46 on the day for a 7.33% gain. I do not own any shares nor have any options on this stock.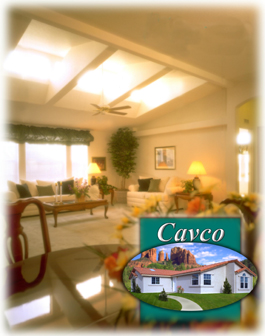 According to the Yahoo "Profile" on Cavco, the company "...engages in the design and production of manufactured homes primarily in the southwestern United States." I would expect that this type of business may well be in great demand with the damage to housing from the hurricane!

On July 20, 2005, Cavco reported 1st quarter 2006 results. For the quarter ended June 30, 2005, net sales grew 28% to $45.9 million from $35.9 million the prior year. Net income was up 107% to $3.5 million, compared with $1.7 million the prior year, and on a per share basis this worked out to $.56/diluted share, up from $.27/diluted share last year same period.

What about longer-term results? Looking at the Morningstar.com "5-Yr Restated" financials on CVCO, we can see that revenue has been steadily growing from $95.5 million in 2001 to $167.4 million in the trailing twelve months.

Earnings reports actually start in 2005 with $1.54 reported and $1.81 in the trailing twelve months (TTM).

Free cash flow is positive and appears to be growing with $2 million reported in 2003, expanding to $16 million in the TTM.

The balance sheet is very strong with $50.4 million in cash and $26.2 million in other current assets, enough to cover both the $29.9 million in current liabilities and the $9.6 million in long-term liabilities more than 2x over.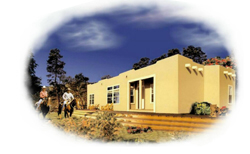 Reviewing Yahoo "Key Statistics" on CVCO, we can see that this is a very small company with a market cap of only $226.37 million. The trailing p/e is 19.82 and the forward p/e (fye 31-Mar-07) is even nicer at 15.0. With this excellent valuation (imho), it is no surprise that the PEG is 0.71. Anything under 1.0 is a good value in general.

Insofar as the price/sales ratio is concerned, CVCO appears moderately priced. That is, within its industrial group of "Manufactured Housing" it is not a screaming steal! Topping this list is Nobility Homes (NOBH) with a price/sales ratio of 2.1. This is followed by CAVCO (CVCO) at 1.3, Champion Enterprises (CHB) at 0.9, Palm Harbor Homes (PHHM) at 0.7, MODTECH Holdings (MODT) at 0.6, and Cavalier Homes (CAV) at the bottom of the pack with a price/sales ratio of 0.4.

Other statistics from Yahoo show that the company has 6.29 million shares outstanding. As of 8/10/05 there were 31,610 shares out short representing 0.50% of the float or 2.9 trading days of volume. This doesn't look significant to me.

No cash dividend is reported. The stock did split 2:1 this year, on 2/1/05. (an appropriate date for the split don't you think!)

What about a chart? Taking a look at a "Point & Figure" chart on CVCO from Stockcharts.com: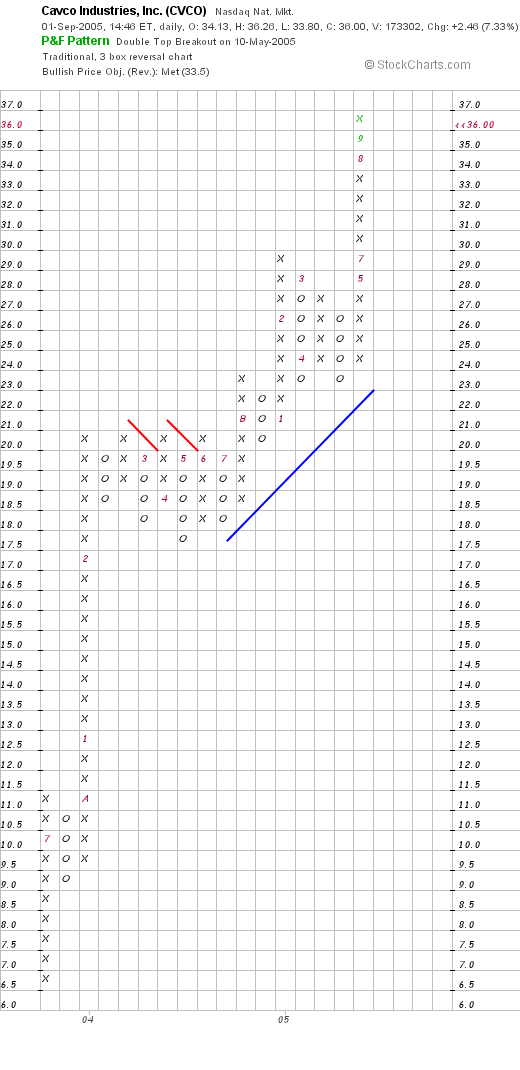 We can see what looks like an explosive chart with a shart rise from $6.50 in June, 2003, to its current level at around $36. The stock is trading above its support line and does not appear to have found much resistance at this time.

So what do I think? Well, I just bought some GI so I am not in the market for a stock at this time. However, I like what I see on this stock. Let's review some of the things I have written: the stock is making a nice move higher today and has a bit of a "story" associated with the hurricane. Underlying this move, was a strong quarter just reported, a five year record of steady growth, free cash flow is positive and growing, the balance sheet is excellent, and valuation is reasonable with a p/e under 20 and a PEG under 1.0. The stock is not the cheapest in its group by the price/sales analysis, but still not really that overpriced either. Finally, the chart looks nice!

On the downside, the threat of continued increases in the interest rates may put a damper on housing sales and all of the companies associated with construction or manufacture of housing. However, with the Katrina disaster, I don't believe the FED is going to aggressively push rates higher for the time being. Just a hunch!

Anyhow, I hope you enjoyed that stock. It is fun to find stocks that have all their "ducks in a row"! If you have any comments or questions, please leave them on the blog or feel free to email me at bobsadviceforstocks@lycos.com.

Bob