"Revisiting a Stock Pick" Thor Industries (THO)
Hello Friends! Thanks so much for stopping by and visiting my blog,
Stock Picks Bob's Advice
. As always, please remember that I am an amateur investor, so please remember to consult with your professional investment advisors prior to making any investment decisions based on information on this website.

Looking through the
list of top % gainers on the NYSE
this afternoon, I came across Thor Industries (THO), which closed at $33.41, up $1.58 or 4.96% on the day.
I do not own any shares of Thor (THO) nor do I own any options. In fact, I first
posted Thor on Stock Picks
on February 10, 2004, when it was trading at $33.86. Thor is actually $(.45) lower than when I posted the stock for a loss of (1.3)% since posting. The stock has really gone nowhere since I first posted it a year-and-a-half ago!
According to the
Yahoo "Profile" on Thor
, the company "...engages in the production and sale of recreation vehicles, and small and midsize buses in the United States and Canada. The company opoerates in three segments: Towable Recreation Vehicles, Motorized Recreation Vehicles, and Bus."
What drove the stock higher today was the
report by Thor
, that the company had received orders for more than $210 million in towable recreation vehicles amounting to 13,000 vehicles, in September alone. As the report comments:
The maker of recreation vehicles and mid-size buses said many of the orders came from dealers who are selling to Hurricane Katrina evacuees.

Thor posted towable orders of $83 million in September last year, and reported total sales of $2.19 billion for 2004.
Clearly, THO and other similar RV manufacturers may end up being beneficiaries of the tragedy befalling many Americans in Texas, Louisiana, Mississippi and Alabama; Americans in desperate need for housing. Many of you have come to this website in search of a Katrina stock pick, or a Rita stock pick, or just for a hurricane stock pick. This company may well fit the bill!
On June 2, 2005, Thor Industries (THO) reported
reported 3rd quarter 2005 results
.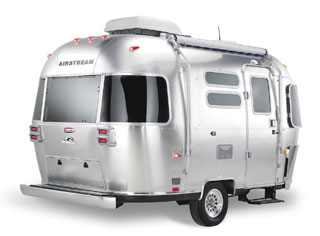 For the third quarter ended April 30, 2005, Net Sales increased to $728.7 million, up from $645.7 million the prior year same quarter. Net income for the quarter grew 4.5% to $33.0 million, up from $32.8 million the prior year. On a diluted eps basis, earnings increased only $.01 to $.58/share up from $.57/share in the same quarter last year.
Looking at the
Morningstar.com "5-Yr Restated" financials
, we can see that except for a small dip in revenue from $900 million in 2000, to $800 million in 2001, revenue has grown steadily to $2.5 billion in the trailing twelve months (TTM).
Again, except for a dip in earnings from $.74/share in 2000 to $.56/share in 2001, earnings have also been steadily growing to the $2.11 level reported in the trailing twelve months.
The company pays a small dividend which has increased from $.02/share in 2000 to $.12/share in the TTM.
Free cash flow which dipped from $126 million in 2002 to $18 million in 2003, has increased to $67 million in the TTM.
The balance sheet, as reported by Morningstar, looks strong with $127.5 million in cash and $389.8 million in other current assets. Balanced against this is the $246.9 million in current liabilities and the 'smallish' $11.0 million in long-term liabilities.
Looking at
Yahoo "Key Statistics" for THO
, we find that the market cap is a mid cap sized $1.89 billion. The trailing p/e is downright reasonable at 15.84 with a forward p/e (fye 31-Jul-06) of 13.42. The PEG (5 yr expected) is 0.93.
Within the Recreational Vehicles Industrial Group, according to
Fidelity.com website
, we can see that Thor is reasonably priced in terms of price/sales ratios within its industrial group.
Topping off the list of stocks ranked by price/sales, is Harley Davidson (HDI) at 2.7, then Polaris Industries (PII) at 1.1, Winnebago (WGO) at 0.9, followed by Thor (THO) at 0.7, and Monaco Coach (MNC) at 0.3.
Checking other Yahoo statistics, we can see that there are 56.61 million shares outstanding. Currently, as of 7/12/05, there were 4.88 million shares of stock out short, representing 15.4 trading days of volume. As noted above, THO does pay a small dividend of $.20/share yielding 0.60%. The last stock dividend was a 2:1 split on 1/27/04.
Looking at a
Thor "Point & Figure" chart
:
We can see what actually a fairly strong chart of a stock that climbed from $5.00/share in February, 2001, to an intermediate high at $21/share in August, 2002. The stock broke down to a new support level at $10.00, only to resume its climb to the $33.41 level.

So what do I think? Well, let's review: latest earnings was strong, the past five years have been solid performers for this stock, valuation is reasonable, free cash flow is positive and the chart looks strong.

Again, this might be a good hurricane pick with the massive damage to housing throught the four state region. Now, if I only had some available cash to buy something! In fact, I am at my 25 position goal, and shall not be buying any additional shares until I sell a stock to get back down to 24 positions, then make another purchase on the back of a partial sale of one of my holdings in my trading account at a gain.

Thanks again for stopping by! Please be sure to leave a comment right on the blog or email me at bobsadviceforstocks@lycos.com.

Bob