A Reader Writes "I wanted to get your opinion on it (JDSU)"

Hello Friends! Thanks so much for stopping by and visiting my blog,
Stock Picks Bob's Advice
. As always, please remember that I am an amateur investor, so please remember to consult with your professional investment advisors prior to making any investment decisions based on information on this website.
Checking the mail yesterday, I was pleased to see a letter from Matt P. who wrote:
Hey, I'm considering a JDSU play. I've been looking for a low priced
growth stock and I'm about to pull the trigger on this one. They're
going to do a reverse split of 1:8 or 1:10 in the next few months.
Jim Cramer raved about it yesterday on his radio show, and it made
quite a bit of sense. I wanted to get your opinion on it.

Thanks,

Matt
First of all, I am not really qualified to tell you whether or not JDSU is a good investment for you. I truly
am
an amateur investor. On top of this, I would not argue with Jim Cramer, who is bright and well-informed about stocks, on a pick he has made.
All I can tell you is whether a stock more or less "fits" into what I use to pick stocks. That doesn't mean it won't climb higher and it doesn't mean that I am always correct. This is just my idiosyncratic method of looking at stocks. It appears to be working for me, so I shall be keeping it for the time being!
But let's take a look at JDSU. By the way, I don't own any shares of JDSU, but several years ago, I was a shareholder of SDL which was later acquired by JDSU and for a period of time
did
own some of this stock. The things I like to review when picking stocks include the latest price move, the latest quarterly report, the Morningstar.com financials and a "point & figure" chart from Stockcharts.com. Please bear with me as I go through this review. Please remember, this is just an assessment on how this stock either "fits" or not in my scheme of things :).
First of all, JDSU closed at $2.13 today, down $.05 or 2.29% on the day. In general, I have taken to avoiding stocks under $10. Simply too volatile for my approach, and generally of 'lower quality'.
Latest quarter? On September 1, 2005, JDSU
reported 4th quarter 2005 results
. Net revenues came in at $170.9 million, compared with revenues of $166.3 million the prior year. Growing revenue passes the test for that part of the report.
What about earnings? The company is
losing
money, in fact the net loss was $(145.7) million compared with a net loss of $(21.7) million last year, or $(.10)/diluted share this quarter this year, vs. a loss of $(.02)/share in the same quarter the year earlier. Not only does the company pass my requirement that they be profitable, showing earnings and not losses, but the losses are mounting.
Again, this doesn't mean that Jim Cramer is wrong. It simply means that it doesn't fit into the subset of stocks that fulfill my own particular criteria!
What about Morningstar.com? Looking at the
"5-Yr Restated" financials on Morningstar.com
, we can see the following: revenue peaked in 2001 at $3.2 billion, and has been falling each and every year since, except for a slight pick-up in revenue from $636 million in 2004 to $716 million in the trailing twelve months (TTM).
Since 2001, the company has lost money each and every year. It appears that losses have generally been shrinking which is a plus, but I am looking for
profits
and not losses!
Free cash flow? Again, this company is
burning
up its free cash flow with $(47) million in 2002, and $(179) million in the trailing twelve months. Again, not exactly what I am looking for in a stock!
Balance sheet? Fortunately, this company is LOADED with cash, with $1.38 billion in cash and $306.7 million in other current assets. This is compared with $269.4 million in current liabilities and $474.7 million in long-term liabilities per Morningstar.
How about a chart? Looking at a
JDSU "Point & Figure" chart from Stockcharts.com
: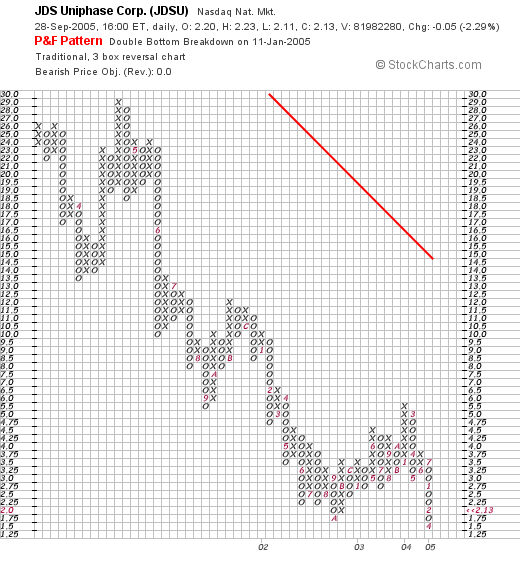 I see what appears to be no let-up of an awful chart! The company has declined from the $28 level in March, 2001, to the current $2.00 level. All of the time trading below the red resistance line.

So what do I think? Well Cramer may be brilliant, I just try to be successful. He is speculating that the price level is way overdone and the stock is a fabulous buy. He may be right. And you might make a load of money by buying the stock in here.

But let me tell you what I don't like about JDSU. I want a stock of a company that is profitable, that is first growing both the revenue (JDSU does), and earnings (JDSU isn't), with a steady 5 year revenue growth (not JDSU), growth in profits (JDSU is reducing losses), positive free cash flow (JDSU is burning up its cash), and a nice balance sheet (JDSU has a solid balance sheet).

Furthermore, I am not a technician, but I like to see a graph that is generally appreciating in price before jumping in. JDSU is continuing to decline on the chart I examined. Simply put, JDSU might be the greatest investment since sliced bread right in here at this price. But it is far too speculative for my style of investing. Give me the steady and profitable gainer any day!

I hope that this discussion was helpful. Cramer might turn out to be brilliant on this stock. Hit himself a home run right out in the bleachers. As for me, I will take my "base hits" any day. Just how I like to invest!

Thanks so much for stopping by and participating on the blog. If you or any other reader has questions or comments, please feel free to leave them on the blog or email me at bobsadviceforstocks@lycos.com.

By the way, here is an Ida Kohlmeyer painting to enjoy. She was one of New Orleans most famous artists and is a favorite of mine!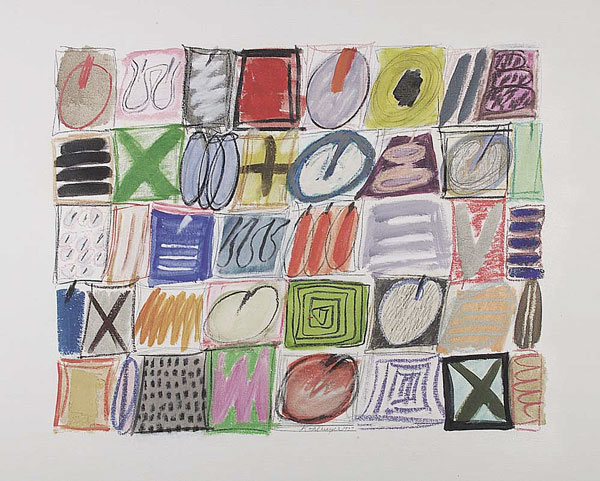 Bob