"Weekend Trading Portfolio Analysis" Cooper (COO)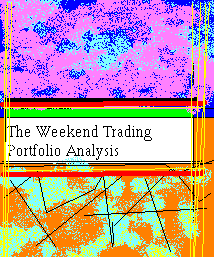 Hello Friends! Thanks so much for stopping by and visiting my blog,
Stock Picks Bob's Advice
. As always, please remember that I am an amateur investor, so please remember to consult with your professional investment advisors prior to making any investment decisions based on information on this website.
I had a busy weekend, and am just getting around to a bit of 'housework' here on the blog! Last week, I sold my Dell stock when it hit a sell point on the downside in the face of continued Bearish trading activity on all of the markets. Thus, I am now down to 24 positions and am in a position to add a position if I sell a portion of one of my holdings at a targeted gain. On top of this, I just pulled $5k out of my portfolio as a downpayment on a new (slightly used) car! Thus, I shall be working hard to get that margin once more under control.
One thing I don't talk about, is my cash additions/withdrawals from the account. This doesn't affect my gains but it sure can cause problems for margin! Currently, I have been adding $200/month on a regular basis. With my margin level, the account is paying about $465/month just in interest expenses! I shall need to add a bit more to the monthly payment to at least offset more of the interest, continue paying down the margin with sales (hopefully on the upside), and may yet start making payments on my new vehicle from the account which shall confound all of you as well.
But let's get back to talking about stocks, shall we? One thing I have started doing on this website is to review positions in my actual trading account, that I follow along with my "picks" on this blog. I call that account my "Trading Portfolio", and when I make a trade in there, I try to post as soon as possible for you, the reader, and call it "Trading Transparency". This review of my holdings, started about a month ago, is a weekly stock in my actual account, and with 24 positions, it will take me about six months, going alphabetically through my list, reviewing one each week!

Last week I
reviewed Coach (COO) from my "Trading Portfolio"
. Next alphabetically is Cooper (COO).
I first purchased 200 shares of Cooper Companies (COO) at $26.98 on 2/25/03. This was actually before my first entry on this blog, which was initiated back on
May 12, 2003, when I "picked" St Jude Medical
. My first formal
discussion of Cooper on Stock Picks was on 9/1/04
when Cooper was trading at $63.33.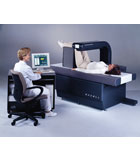 COO closed on October 7, 2005, at $72.08, giving me a gain of $45.10 or 167.2% on my original shares! I have sold portions of my Cooper shares four times: 50 shares were sold 6/2/03 at $34.46, for a gain of $7.48 or 27.7% (a little shy of my goal of 30%...back in 2003 I was still refining my strategy and working on my selling discipline); another 50 shares 9/4/03 at $41.00, for a gain of $14.02, or 52.0% (again a bit shy of that 60% target for my second sale today); a third sale of 25 shares on 12/31/03 at $46.92, for a gain of $19.94 or 73.9% (again shy of my 90% third sale target today); a fourth sale of 15 shares on 7/7/04 at $60.14, for a gain of 122.9% (
at
my goal of 120% for my fourth sale); and a
fifth
sale of 15 shares at $76.13 on 1/27/05 for a gain of $49.15 or 182.2% (with my goal of 180% you can see that my discipline and stragegy in selling is getting more refined!).
Thus, I made a purchase of $5,396 of Cooper (COO) in early 2003. Since then I have sold portions of this holding five times for proceeds totalling $7,034.98, and still own 45 shares of Cooper at $72.08, for a current value of $3,243.60.
When do I sell next, since I have sold 5 times with the last sale at the 180% gain point, my next sale will be either at the 240% gain point on the upside or 3.4 x $26.98 = $91.73 or at the 90% gain point on the downside, 1.9 x $26.98 = $51.26.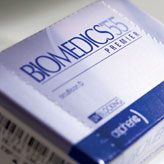 Let's take another look at the Cooper stock story! According to the
Yahoo "Profile" on COO
, the company "...engages in the development, manufacture, and marketing of healthcare products worldwide. It operates in two segments, CooperVision and CooperSurgical."
On September 7, 2005,
Cooper reported 3rd quarter 2005 results
. Due to the acquisition of Ocular Sciences, revenue climbed from $129 million to $222 million, Net Income jumped to $37.3 million from $24.0 million last year same quarter, and diluted earnings per share climbed to $.79/share from $.67/share the prior year same period.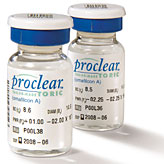 Reviewing the
Morningstar.com "5-Yr Restated" financials
, we can see the steady revenue growth from $201.2 million in 2000 to $716.6 million in the trailing twelve months (TTM).
Earnings during this period grew steadily from $1.00/share in 2000 to $2.71/share in the TTM. The company also pays a small dividend which has increased from $.04/share in 2000 to $.06/share in the TTM.
Free cash flow has also been growing steadily from $33 million in 2002, to $69 million in the TTM.
The balance sheet is strong with $18 million in cash and $420.3 million in other current assets, enough to pay off all of the current liabilities of $217.4 million, and make a dent in the long-term liabilities of $703.2 million. This long-term debt, while not excessive, was the only 'negative' on this page. Even that didn't look that bad!
What about the chart? Taking a look at the
Stockcharts.com "Point and Figure" chart on COO
: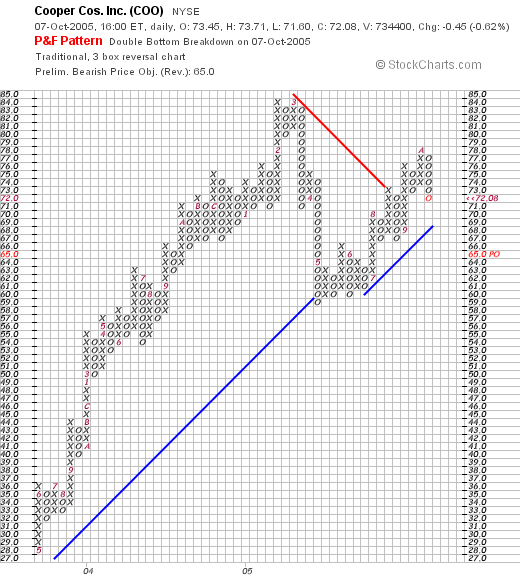 This is an interesting chart, showing how the stock showed incredible strength between May, 2003, shortly after my purchase, and March, 2005, when the stock peaked at $84. At that point, weakness developed and the stock tested its support level at around $60 (the blue line), the stock held that level, and now has started moving higher once again. The stock chart looks fairly strong to me!

Anyhow, that was avery long-winded discussion. Please let me know if you think this is helpful. I like to share with you both actual holdings as well as just stocks that look attractive! I hope the rest of your weekend goes well. Please remember that I am truly an amateur and that past performance in no means guarantees future performance both for my methods, my blog, my stock holdings, my picks, and any of the ideas you may see on the internet! If you have any comments or questions, please feel free to leave them right here on the blog or email me at bobsadviceforstocks@lycos.com.

Bob