A Reader Writes, "I wanted to bring to your attention...."
Hello Friends! Thanks so much for stopping by and visiting my blog,
Stock Picks Bob's Advice
. As always, please rmemember that I am an amateur investor so please remember to consult with your professional investment advisors prior to making any decisions based on information on this website.
Checking my mail a couple of days ago, I saw that Matt P. had written me another nice note. I would like to share it with you here:
Bob,

Hey, thanks for the direction on the stock club. It was very useful.
I'm hoping to go to one of the meetings here in Boise soon. I'm
excited about that. One stock that I wanted to bring to your
attention is Aqua American, WTR. I've only held it for a month or
two, but it has been a great position for me. An article was
released on them recently in Kiplinger's.

http://www.kiplinger.com/personalfinance/columns/picks/archive/2005/pick1007.htm

This article excited me about the stock. I bought at $32, and saw it
go to nearly $40 but has been declining for the past few days. I
think its a very interesting play.

have a great day, and don't let the bears get ya down!

Matt
Thanks again for writing Matt! The bears haven't gotten me down yet but they are chasing me up a tree!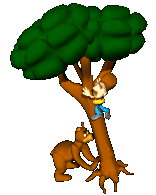 Image from "A Bear's Story"

But seriously, let's take a look at WTR! It is a bit late here, but let's look at the latest quarterly result, a Morningstar.com review, and the latest "Point & Figure" chart.

First of all, Aqua America (WTR) closed at $34.53 on 10/11/05 down $1.00 or 2.81% on the day. WTR reported 2nd quarter 2005 results on August 3, 2005. Operating revenue increased 16% to $123.1 million for the second quarter, from $106.5 million last year. Net income was up 24% to $22.2 million from $17.9 million for the same period last year. Finally, diluted earnings per share grew 21% to $.23, up from $.19 the same quarter the prior year.

Looking at the "5-Yr Restated" financials, we can see the steady and very nice series of bar graphs symbolizing corporate revenue. Earnings have also steadily growth from $.65 in 2000 to $.91 in the trailing twelve months TTM.

Here's where things break down a bit. The company has had negative free cash flow since at least 2002 when the company reported $(24) million in free cash flow. This has fluctuated but has stayed negative the last yew years.

The balance sheet as reported by Morningstar.com also shows the effect of the persistently negative free cash flow. Morningstar shows WTR with $5.4 million in cash and $77.4 million in other current assets, not onough to cover the $230.6 million in current liabilities and the $1.4 billion in long-term liabilities. I prefer to see lots of cash and current assets and very little of the current and long-term liabilities that I do see today.

What about a graph? Taking a look at a Point & Figer chart, we can see some of the strength of this stock which has been trading higher the past 6 months. align="left">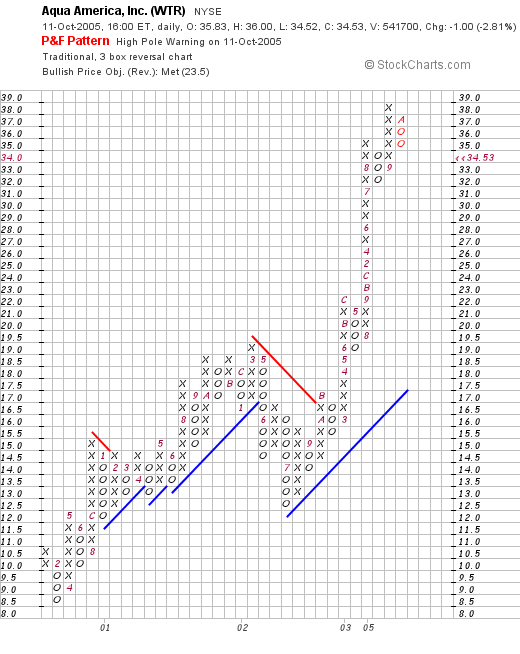 In a nutshell, the last quarter was terrific. Earnings growth is solid, but the company is free cash flow negative and has been the last few years. In addition, the balance sheet is not as robust as might be hoped for.

If you have any other questions or comments, please feel free to leave them on the website, or email me at bobsadviceforstocks@lycos.com.

Bob
Posted by bobsadviceforstocks at 11:17 PM CDT |
Post Comment
|
Permalink
Updated: Tuesday, 11 October 2005 11:20 PM CDT