"Revisiting a Stock Pick" Johnson Controls (JCI)
Hello Friends! Thanks so much for stopping by and visiting my blog,
Stock Picks Bob's Advice
. As always, please remember that I am an amateur investor, so please remember to consult with your professional investment advisors prior to making any investment decisions based on information on this website.

Looking at the
list of top % gainers on the NYSE
today, I came across a familiar name, Johnson Controls (JCI), which closed at $63.60, up $2.75 or 4.52% on the day. My son owns about 20 shares of JCI, otherwise I do not own any shares nor do I have any options.
I first
posted JCI on Stock Picks on 7/9/04
when it was trading at $53.24. Thus, this stock has appreciated $10.36 or 19.5% since posting on the blog.
There were two stories that were released yesterday that appear to be contributing to the strength of this stock in the midst of a rather pessimistic trading environment. JCI
announced a joint venture for hybrid vehicle batteries
and also
reassured the "street" on 2006 and 2007
promising continued double-digit growth in the next two years. These stories in themselves appear to have added support to the stock price!
Looking at a few additional supporting facts on this stock, the
3rd quarter 2005 earnings
were announced on July 21, 2005. Sales for the quarter grew 9% to $7.1 billion from $6.5 billion in the same quarter the prior year. Net income came in at $254.7 million, up from $222.2 million the prior year, and on a diluted eps basis, this was $1.31/share, yup from $1.15/share the prior year.
Looking at the
Morningstar.com "5-Yr Restated" financials
, we can see a beautiful picture of steady revenue growth from $17.2 billion in 2000 to $28.6 billion in the trailing twelve months (TTM).
Earnings have also grown steadily from $2.55/share in 2000 to $4.63/share in the TTM. At the same time, the company has been paying a dividend and increasing it each year as well, with $.56/share paid in 2000, increasing to $.98/share in the TTM.
Free cash flow has been a bit erratic but has stayed positive with $563 million reported in 2002, increasing to $673 million in the TTM.
The balance sheet is adequate if not fabulous, with $385.2 million in cash and $6.3 billion in other current assets, balanced against $6.3 billion in current liabilities and $3.1 billion in long-term debt.
Looking at Yahoo
"Key Statistics" for JCI
, we find that the company is a large cap stock with a market capitalization of $12.25 billion. The trailing p/e is downright cheap at 13.72, with a PEG of only 1.12 and a Price/Sales of 0.41. There are as of 9/12/05, 1.75 million shares out short representing only 0.9% of the float or 1.8 trading days of volume. The short interest doesn't look too significant to me.
If we look at a
Johnson Controls "Point & Figure" chart
: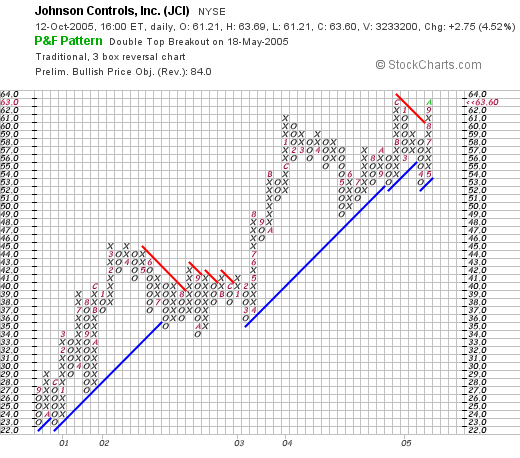 We can see what looks to me as a very strong and steady appreciation in stock price from the $23 level in September, 2000, to the $63 level in September, 2005. There have been periods of consolidation in the stock price, yet the stock has not broken down the past five years, nor does it appear over-extended.

What do I think? I think this is a great stock. Of course, I am not buying anything until I sell a portion at a gain, but the latest quarter, the past five years, the record of increasing dividends, the steady free cash flow, the solid balance sheet, reasonable valuation, and steady chart looks very attractive to me!

Thanks so much for stopping by! Hope that you all survive this bear market correction intact. Remember to stick to whatever trading rules you might have....I shall be monitoring my own stock prices closely. If you have any questions or comments, please feel free to leave them right here on the blog or email me at bobsadviceforstocks@lycos.com.

Bob