"Revisiting a Stock Pick" SanDisk (SNDK)
Hello Friends! Thanks so much for stopping by and visiting my blog,
Stock Picks Bob's Advice
. As always, please remember that I am an amateur investor, so please remember to consult with your professional investment advisors prior to making any investment decisions based on information on this website.

As you know if you are a regular reader on this blog, I like to identify stocks that show potential to appreciate in price based on momentum and fundamental evaluation. After listing a stock, I try very hard to avoid "revisiting" the same name for at least a year! It is time to take another look at SanDisk (SNDK).
According to the
Yahoo "Profile" on SanDisk
, the company "...engages in the design, development, and market of flash storage card products used in various consumer electronics worldwide. Its products include flash cards, Universal Serial Bus, flash drives, and digital audio players."
I first
posted SanDisk (SNDK) on Stock Picks Bob's Advice
on July 15, 2004, when the stock was trading at $24.96. Unfortunately, I didn't buy any shares, nor do I own any shares or options at this time. Today, SanDisk made the
list of top % gainers on the NASDAQ
, closing at $56.45, up $10.07 or 21.71% on the gain. Today's close is an appreciation of $31.49 or 126% since posting a little over a year ago on this blog!
What drove the stock higher today, was the announcement of
3rd quarter 2005 earnings results
. For the quarter ended October 2, 2005, revenues climbed 45% to a record $590 million. Net income was up approximately 100% at $107.5 million, up from $54.1 million in the same quarter last year. Fully diluted EPS came in at $.55, up 90% over the prior year's results. These were great results, and the market reacted as expected pushing the stock price higher.
How about longer-term? Reviewing the
Morningstar.com "5-Yr Restated" financials
, we can see that revenue declined from $600 million in 2000 to $400 million in 2001. Since that time, revenue growth has been robust, growing to $1.9 billion in the trailing twelve months (TTM).
Earnings also dipped that same year from $2.06 in 2000 to $(2.19)/share in 2001. However, the next year the company was profitable earning $.25/share in 2002 and has increased earnings dramatically to $1.48/share in the TTM.
Free cash flow has been positive and generally growing from $90 million reported in 2002 to $184 million in the TTM.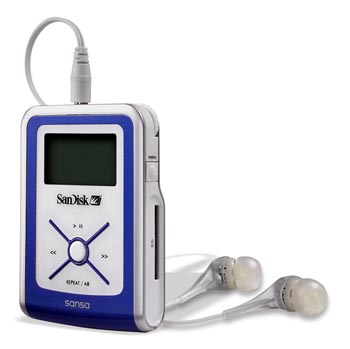 Looking at the balance sheet on Morningstar, we find that the company is loaded with cash, with $1.45 billion in cash and $663 million in other current assets. This dwarfs the $461.4 million in current liabilities and the $22.2 million in long-term liabilities reported. This is a very strong balance sheet!
Looking at
Yahoo "Key Statistics" on SNDK
, we can see that the company is a large cap stock with a market capitalization of $10.26 billion. The trailing p/e is a bit rich at 38.12, but the forward p/e (fye 02-Jan-07) is much better at 29.10.
Reviewing
Fidelity.com eResearch website
, we can see that SanDisk is the most expensive stock in the "Semiconductor-Memory Chips" industrial group. SNDK tops out the list with a price/sales of 4.6, followed by Silicon Image (SIMG) at 3.5, M-Systems Flash Disk Pioneers (FLSH) at 3, Micron Technology (MU) at 1.7, and Lexar (LEXR) at 0.7.
Looking back at Yahoo for additional statistics, we find that there are 181.75 million shares outstanding and currently 11.75 million shares out short. This represents 6.605 of the float or a short interest ratio of only 2.2. This doesn't look like a lot of shares out short (imho) using my own cut-off of 3 days of short interest.
SanDisk does not pay a cash dividend according to Yahoo and the last stock split was a 2:1 split on February 19, 2004.
What about a chart? Looking at the
Stockcharts.com "Point & Figure" chart on SNDK
: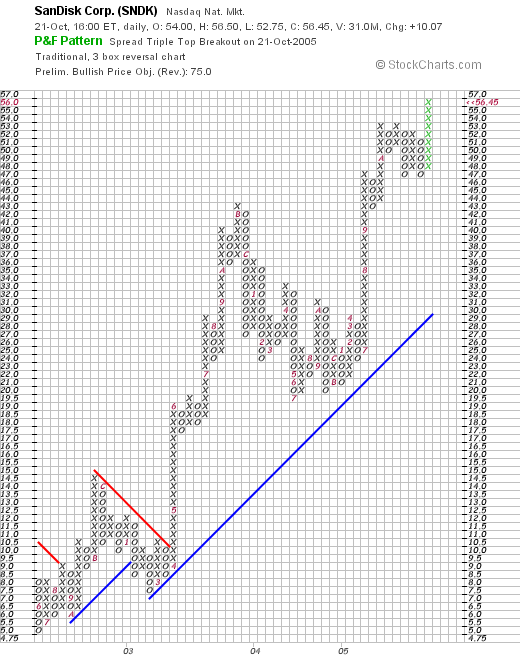 We can see that ever since the stock broke through resistance at about $9.00 in April, 2003, the stock has traded higher, even though it has been a bit erratic. In my humble opinion, the stock chart looks strong.

So what do I think? Well, on the positives, the latest quarter was absolutely superb. The last five years have shown strong growth in revenue and earnings, the free cash flow is positive and the balance sheet is exceptionally strong. In addition the chart looks great!

What do I not like? Well, all things considered, I like a bargain rather than a fully priced stock. This stock sports a p/e in the high 30's, a PEG at 1.52 (with 1.0 being 'fairly' valued) and a Price/Sales at the top of the group. In spite of all that, the latest quarterly report is so spectacular, that I would dare say the company is still a reasonable value!

Thanks again for stopping by! Have a great weekend! If you have any questions or comments, please feel free to post them right here on the blog, or email me at bobsadviceforstocks@lycos.com and I will try to get back to you, either by email or right on the blog itself!

Bob