"Weekend Trading Portfolio Analysis" Cytyc (CYTC)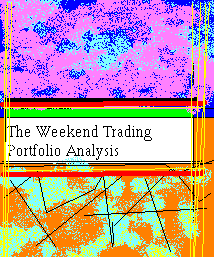 Hello Friends! Thanks so much for stopping by and visiting my blog,
Stock Picks Bob's Advice
. As always, please remember that I am an amateur investor, so please remember to consult with your professional investment advisors prior to making any investment decisions based on information on this website.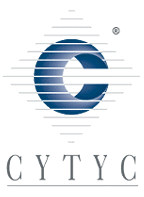 I must first apologize for missing this post last weekend. I was away from my computer and I am sure I suffered more from separation anxiety than any of my readers :).
With the ongoing correction in the market, I have hit sale points on the downside for additional holdings in my trading account and am now down to 21 positions with my maximum number being 25. As you probably know, when I sell a stock on "bad news", which I consider anything other than selling on a gain, I do not reinvest those funds. Thus, to add a new position, I shall be awaiting for a sale on "good news" which will 'entitle' me to investigate, and purchase another name for the portfolio.

What I have started doing around here, besides just talking about stock market possibilities, is to take the time and share with you each of my holdings, the history of my purchases and sales, and my current 'take' on that stock.
Two weeks ago, I
discussed Cooper (COO) on Stock Picks Bob's Advice
. Going alphabetically, I am now up to my Cytyc position (CYTC). According to the
Yahoo "Profile" on Cytyc
, this company "...engages in the design, development, manufacture, and marketing of clinical products primarily focused on women's health. Its products cover a range of women's health applications, including cervical cancer screening, breast cancer risk assessment, and treatment of excessive menstrual bleeding."
In my trading account, I purchased 500 shares of Cytyc (CYTC) at a cost basis of $14.86 on 1/29/04. I made my first sale of CYTC on 3/1/04, selling 100 shares, at a price of $18.63 for a gain of $3.77 or 25.4% (a little earlier than my usual first target today of 30%). My second sale of CYTC was a 100 share sale on 4/2/04 at a price of $22.61, for a gain of $7.75/share or 52.2% (again a bit early as I currently wait for a 60% appreciation level to make my second partial sale). My third sale was 75 shares of my remaining 300 shares on 6/2/04 at a price of $22.79, representing a gain of $7.93 or 53.4%. (I actually remember realizing I had sold this stock earlier than I should have :(...shows what happens when you do things manually I guess...normally, my third sale would be at a 90% gain point!). Currently, I have 225 shares remaining of CYTC which closed 10/21/05 at $25.86, representing an unrealized gain of $11.00 or 74%. Since I have made three sales already, my next targeted sale will be at a 120% gain level or to calculate, $14.86 x 2.20 = $32.69. On the downside, even though I made mistakes on my third sale especially, I shall still act as if it were at 90% and thus, on the downside, I anticipate selling the remaining shares at $14.86 x 1.45 = $21.55. (at a 45% gain level).
Well, let's take a quick look at the stock.
On July 27, 2005, Cytyc
reported 2nd quarter 2005 results
. Revenues for the quarter climbed 26% to $125.4 million, up from $99.5 million for the same quarter the prior year. Net income grew 28% to $28 million, up from $21.9 million the prior year. On a diluted eps basis, earnings grew 21% from $.23 vs. $.19/share the prior year. These were solid results!
Taking a look at the
Morningstar.com "5-Yr Restated" financials
, we can see a beautiful picture of growing revenue from 2000 at $142.1 million, increasing to $452.2 million in the trailing twelve months (TTM).
Earnings have been a tad erratic, increasing from $.32/share in 2000 to $.83/share in the TTM, with small declines in 2001, and 2004.
Free cash flow remains solidly positive with $91 million in 2002 growing to $118 million in the TTM. The balance sheet shows plenty of current assets with $97 million in cash and $100.7 million in other current assets vs. $54.4 million in current liabilities. The excess in current assets is enough to cover about half of the long-term liabilities of $315.4 million.
What about a chart? Taking a look at the
"Point & Figure" chart on CYTC from Stockcharts.com
: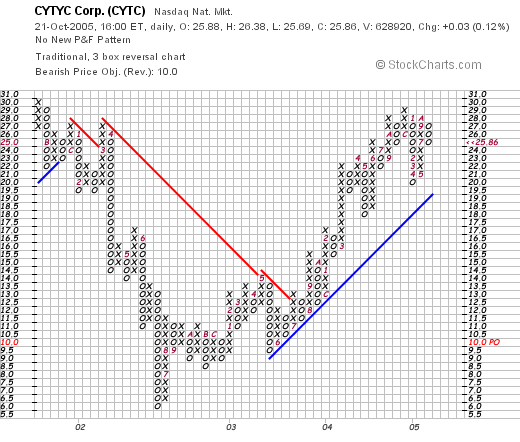 We can see that the stock actually was declining between 2001 when it was trading at $30, and then declining to a bottom of $6 in June, 2002. Since then the stock has been climbing, breaking through resistance in July, 2003, and climbing to its current level at around $25.86 today. The graph looks solid imho, and does not appear to have gotten ahead of itself.

So what do I think? Well, I do own the stock :), and I have done well with it so far. The stock is a very small company, and appears to have plenty of room to grow!

Thanks so much for stopping by! If you have any comments or questions, please feel free to leave them on the blog or email me at bobsadviceforstocks@lycos.com.

Bob