"Revisiting a Stock Pick" ASV (ASVI)
Hello Friends! Thanks so much for stopping by and visiting my blog,
Stock Picks Bob's Advice
. As always, please remember that I am an amateur investor, so please consult with your professional investment advisors prior to making any investment decisions based on information on this website.

The market is weak this morning. However, that doesn't mean we cannot find stocks that might eventually be worth investing money in! But it does mean, that we should exercise caution adding money to our portfolio in the midst of corrections. Better to buy on the way up imho.
Looking through the
list of top % gainers on the NASDAQ
today, I came across A.S.V., Inc. (ASVI), which as I write is trading at $23.02, up $3.10 or 15.56% on the day. I have owned shares of ASV in a managed account (that I am not consulted about) but I believe those shares have been sold and I am not currently a shareholder. (You can see how closely I follow
that
account!).
According to the
Yahoo "Profile" on ASVI
, the company "...engages in the design, manufacture, and sale of track-driven all-season vehicles."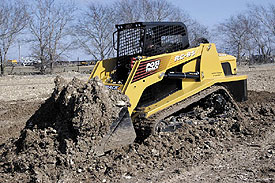 I first
posted ASVI on Stock Picks Bob's Advice
just about a year ago, on November 10, 2004, when the stock was trading at $44.07. The stock split 2:1 on 8/25/05, resulting in our "pick price" actually being $22.04. Thus, the stock is only currently trading $.98 ahead of our pick price last year or ahead by 4.4%. This pick certainly has not gotten away from us!
Earnings are one of the major determinants of stock prices both short-term and long-term imho. And it is not surprising to me that what drove the stock higher was the release of
3rd quarter 2005 results
this morning just before the opening of trading.
For the quarter ended September 30, 2005, sales increased 70% (!) to $69.2 million from $40.6 million in the same period last year. Net earnings were also up sharply with $8.0 million reported vs. $4.4 million reported in the same period the prior year. On a diluted per share basis, earnings came in at $.29/share, a 71% increase from $.17/share last year same period. In addition, to top it off, for the so called icing on the cake, the company
raised
guidance on both sales and earnings for the full year.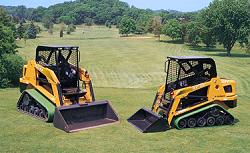 How about longer-term? Looking at the
Morningstar.com "5-Yr Restated" financials
, we can see a steady rate of sales between 2000 when $43.9 million was reported and 2002 when $44.2 million was noted. However, since then there has been a steady and strong growth in revenue to $198.6 million reported in the trailing twelve months (TTM).
Earnings have followed a similar pattern with $.08/share reported in 2000 dropping to $.07/share in 2002. Again, since 2002, there has been a sharp rise in earnings to $.78 reported/share in the TTM.
Free cash flow isn't quite as nice, with $0 reported in 2002, dropping to $(8) million in the TTM. With everything else in line, I have chosen to overlook this free cash flow number. As you probably know, all things being the same, I much prefer to see strong and steady growth in free cash flow in the stocks I "pick".
The balance sheet, as reported by Morningstar, looks fabulous allowing me to justify overlooking the latest twelve month
negative
free cash flow. The company is reported to have $25.6 million in cash, enough to cover both the $20.6 million in current liabilities
and
the $2.5 million in long-term liabilities combined. In addition, the company is reported to have a substantial $91.6 million in other current assets.
Looking at
Yahoo "Key Statistics" on ASVI
, we can see that this is a small cap stock with a market capitalization of only $615.23 million. The trailing p/e isn't too bad at 29.52, with a forward (fye 31-Dec-06) p/e of 20.64. With the nice growth, and I don't believe this statistic has been adjusted for today's numbers, the PEG is still a reasonable 1.14. I suspect the PEG is likely to be under 1.0 in light of the superb report today.
Using
Fidelity.com eresearch website
, to try to get a handle on valuation in terms of the price/sales figure (I like to compare, a la Paul Sturm, the price/sales numbers to other companies in the same industrial grouping), we find that ASVI is tops in the group "Farm/Construction Machinery" with a price/sales ratio of 2.8. Following ASV is Joy Global (JOYG) at 2.1, Caterpillar (CAT) at 1.1, Deere (DE) at 0.7, AGCO (AG) at 0.3 and CNH Global (CNH) at 0.3. Certainly from this particular perspective, ASVI is not a screaming bargain!
Returning to Yahoo for some additional parameters, we note that there are only 26.85 million shares outstanding. Currently, 2.96 million are out short, which is 16.50% of the float! This amounts to 10.1 trading days of volume. Using my own 3 day rule, this appears quite significant, and we may be seeing a bit of a short squeeze as all of these short-sellers may be rushing to cover on this relatively lightly traded stock!
No cash dividend is paid, and as I noted earlier, the company did split its stock on August 25, 2005.
What about a chart? Looking at a
"Point & Figure" chart on ASVI from Stockcharts.com
:

We can see that the stock traded sideways between 2000 and early 2003 when, as we have noted, the company also performed in a relatively 'flat' fashion. In early 2003, the stock climbed from $4.00/share in March, 2003, to $20/share in January, 2004. Since then, the stock has traded basically sideways, has developed new support levels at this price point, and appears to be poised for another upward move assuming it can get through about $24 on the upside imho. The chart looks fine to me!

So what do I think? Well, the latest quarterly report was absolutely superb. The revenue was great, the earnings were strong, and guidance was revised higher! In addition, except for a period between 2000 and 2002, the company has been growing its revenue and earnings steadily and in a strong fashion. In addition, the balance sheet looks great.

On a negative, the free cash flow is negative, the price/sales is a bit rich, although the p/e isn't bad and I suspect that the PEG would also be close to or under 1.0 if estimates took into consideration the current quarter. The chart looks fine to me as well.

Thus, if I were in the market to buy some shares, this stock, especially with that latest quarterly report, might well be on my short list. But meanwhile, I shall be sitting on my hands, trying to wait out this correction, awaiting either additional sales as my stocks decline or perhaps a purchase, if prices can turn around and I can get a buy signal with a sale of a portion of one of my holdings at a gain!

Thanks so much for stopping by. If you have any questions or comments, please feel free to leave them on the blog or email me at bobsadviceforstocks@lycos.com.

Bob