"Weekend Trading Portfolio Analysis" Genesco (GCO)
Hello Friends! Thanks so much for stopping by and visiting my blog,
Stock Picks Bob's Advice
. As always, please remember that I am an amateur investor, so please remember to consult with your professional investment advisors prior to making any investment decisions based on information on this website.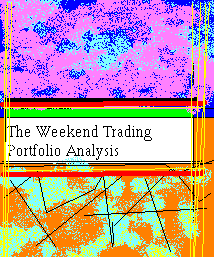 For those of you who are new to this blog, I enjoy "picking" stocks and discussing possible investments that look attractive to me. Something else I do, is to share with you my actual trading portfolio and give you my view on the stocks I hold in my own actual portfolio. When I buy a stock, I post this on the blog, when I sell a stock, I post it on the blog. Usually under the subtitle "Trading Transparency". And lately, I have been trying to go through my holdings, one issue each week, and review again my history with the stock and whether the stock still looks attractive to me.
Last weekend I
discussed Cytyc (CYTC) on Stock Picks Bob's Advice
. Going alphabetically through my list of 19 stocks I currently hold, the next to be reviewed is Genesco (GCO).
I first
discussed Genesco (GCO) on Stock Picks Bob's Advice
on November 18, 2004, when the stock was trading at $28.35. On May 26, 2005, I made my initial purchase of GCO in my trading account, purchasing 200 shares at a cost basis of $34.40. GCO closed at $35.85 on 10/28/05, for a gain of $1.45 or 4.22% since purchasing these shares. I plan on either selling all my shares when the stock hits an 8% loss or .92 x $34.40 = $31.65, or sell 1/4 of my position if the stock should appreciate to a 30% gain or 1.30 x $34.40 = $44.72.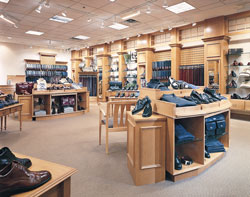 According to the
Yahoo "Profile" on Genesco
, the company "...engages in the design, marketing, and distribution of footwear, headwear, and accessories. The company distributes footwear under its own Johnston & Murphy brand and under the licensed Dockers brand to retail accounts, including various department, discount, and specialty stores. It operates through five segments: Journeys, Underground Station Group, Hat World, Johnston & Murphy, and Dockers Footwear."
On August 24, 2005, Genesco
reported 2nd quarter 2005 results
and also raised guidance for 2006. For the three months ended July 30, 2005, net sales increased 12% to $275.2 million from $245.9 million the prior year. Net earnings grew 41% to $6.7 million from $4.8 million the prior year. On a diluted share basis, this came in as a 35% increase to $.27/share, up from $.20/share the prior year same period.
Checking the
Morningstar.com "5-Yr Restated" financials
, we can see the steady increase in revenue from $.7 billion to $1.2 billion in the trailing twelve months (TTM).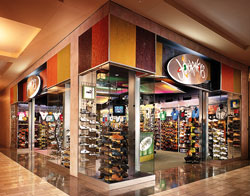 Earnings during this period have grown fairly steadily, except for a drop in 2004, from $1.21 in 2001 to $2.07 in the TTM.
Free cash flow has increased from $6 million in 2003 to $67 million in the TTM.
In addition, the balance sheet looks good with $38.8 million in cash and $312.2 million in other current assets, plenty to cover the $168.8 million in current liabilities, with enough 'left over' to pay off most of the $229.1 million in long-term liabilities.
What about the chart? Taking a look at the
"Point & Figure" chart from Stockcharts.com on GCO
, we can see how the stock had been trading at flat to lower between July, 2001, when the stock was trading as high as $32 to a low of $11 in July, 2002. The stock broke through resistance at around $18.50 in February, 2004, and hasn't looked back since, closing as noted on $35.85 on Friday.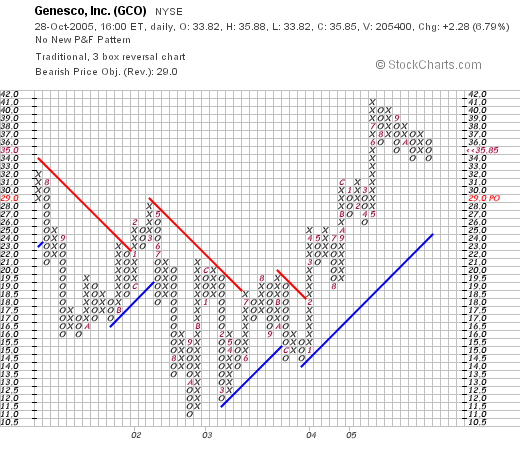 So what do I think? I like the stock. In fact, I own the stock! However, I was and am prepared to sell all of the shares if the stock hits an 8% loss, no matter how much I think the stock is a good investment. The latest earnings were solid. Revenue and earnings have been great long-term, and solid the past few years. And the balance sheet looks reasonable, especially with the growing free cash flow.

Thanks so much for stopping by! If you have any questions or comments, please feel free to leave them on the blog or email me at bobsadviceforstocks@lycos.com.

Bob