A Reader Writes, "I was wondering if you might take a look...."
Hello Friends! Thanks so much for stopping by and visiting my blog,
Stock Picks Bob's Advice
. As always, please remember that I am an amateur investor, so please remember to consult with your professional investment advisors prior to making any investment decisions based on information on this website.
I received a comment over on my Xanga "shadow site" as I call it, and thought I would share it with all of you.
"Moneyundercover" wrote:
Bob,
just started reading your site, but you seem to be suscribed to by many.
I was wondering if you might take a look at MCZ and ATVI for this upcoming holiday season/ xbox release time.
Posted 11/13/2005 at 6:31 PM by moneyundercover
First of all, I cannot be a reviewer of every stock that people have. But in this case, let me take a peek at these two issues and see if they have the kind of characteristics that I find compelling when evaluating investments.
Let's take these one at a time :).

First MCZ. I have never even heard of this stock. But apparently this is the symbol for Mad Catz Interactive. The stock closed today at $.91, up $.07 or 8.33% on the day.
First of all, I avoid like the plague these penny stocks under $1.00. They are generally quite volatile and of lower quality than stocks $10 or higher. But let's proceed with as open a mind as possible :).
According to the
Yahoo "Profile" on Mad Catz
, the company "...engages in the manufacture, distribution, and marketing of peripherals for the interactive entertainment industry. Its video game accessories and software are marketed under the Mad Catz and GameShark brnad names. The company produces aftermarket peripherals and accessories for the Nintendo Game Boy Color and Game Boy Advance, Nintendo 64, Sony PlayStation and PlayStation 2, Sega Dreamcast, and the Xbox."
Next, what about the latest quarter? MCZ
reported 2nd quarter 2006 results
on November 3, 2005. For the three month ended September 30, 2005, net sales were $23.7 million, a 14.9% increase from the $20.7 million reported last year. The company reported a net loss of $(1.2) million or $(.02)/diluted share, compared to a net income of $.3 million or $.01/diluted share in the same period last year. Thus, even though revenue is growing, earnings are off and the company is not currently profitable.
Interestingly, the company
does
have a
"5-Yr Restated" financials on Morningstar.com
. During the past few years, revenue has grown from $58 million in 2001 to $112 million in 2005. Earnings have improved from a loss of $(.53)/share in 2001 to $.08 in 2005, but as noted above, have turned back to a loss in the latest quarter.
Free cash flow has also been a bit more optimistic with $(8) million in 2003, improving to $2 million in the trailing twelve months (TTM).
The balance sheet is also reasonable with $1.6 million in cash and $43.1 million in other current assets, balanced against $31.4 million in current liabilities and
no
long-term debt.
And what about a chart? Looking at the
"Point & Figure" chart on MCZ from Stockcharts.com
: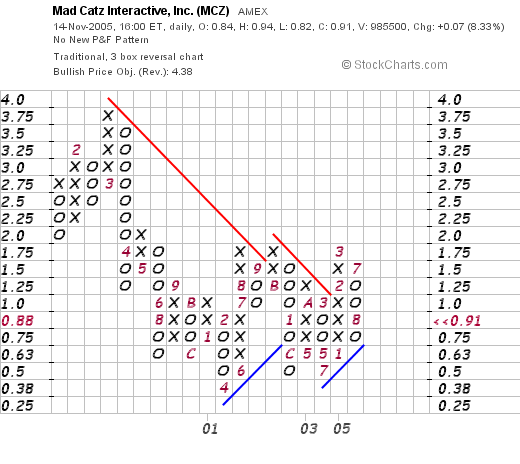 I can't tell you much as the current technical piture looks rather bearish although the stock did break through resistance at $1.00. This is not a convincing graph suggesting a strong upward move.

In summary, I don't like stocks under $10, or at least close to $10 anyhow. The latest quarter shows strong revenue growth but the company turned to a loss, instead of growing its profits as I would prefer. Otherwise, the Morningstar.com doesn't look bad. The chart looks mediocre at best. You might make a lot of money on this stock if Xbox 360, etc., turns out great. That would be your speculation and could be a wonderful stock pick. But as for me, it doesn't fit into my rather rigid approach. Hope that was helpful!

Let's look at the other name you gave me to check.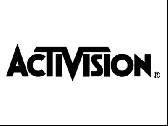 ATVI is the symbol for Activision, a company that I at least recognize. I do not have any shares in either of these concerns.

According to the Yahoo "Profile" on ATVI, the company "...publishes interactive entertainment software products. It maintains a portfolio of products that spans various categories and markets, and is used on various game hardward platforms and operating systems." ATVI closed at $17.09 today, up $.40 or 2.40% on the day. At least this stock trades over $10 :).

On November 2, 2005, Activision reported 2nd quarter 2006 results. Net revenues came in at $222.5 million, down from $310.6 million. Net loss for the quarter was $(13.2) million or $(.05)/share compared with net income of $25.5 million last year or $.09/diluted share last year in the same period. Thus, not only did revenue drop significantly from the prior year, but the company also turned from a profit to a loss. However, the company did increase FY2006 revenue outlook and did beat already lowered expectations for the quarter.

Looking at the Morningstar.com "5-Yr Restated" financials on ATVI, we can see the steady growth in revenue from $.6 billion in 2001 to $1.4 billion in 2005. Except for the latest quarter, the company has been fairly steadily increasing both revenue and earnings.

Free cash flow has also been strong, with $79 million in 2003 reported expanding to $195 million in the trailing twelve months (TTM). Also, the balance sheet looks strong with $785.9 million in cash and $283.9 million in other current assets balanced against $154.0 million in current liabilities and only $.1 million in long-term liabilities. This is a very strong balance sheet!

What about a chart? Looking at the "Point & Figure" chart on Activision from Stockcharts.com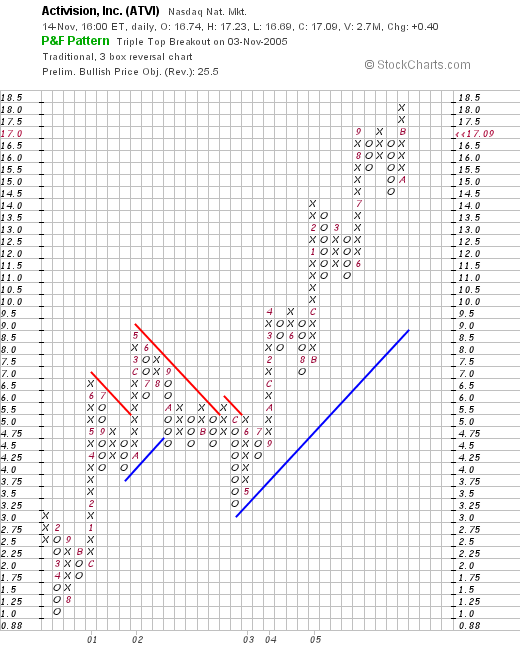 We can see what looks like to me to be a very strong price appreciation in ATVI stock. Since April, 2000, when the stock bottomed at around $1/share, the stock has moved almost perfectly higher to the current $18.50 level.

So what do I think about these two stocks? Well, they are a bit too speculative for me :(. First of all, both of them reported losses in the latest quarter. I am extremely "picky" about stocks, and insist on expanding profits in the latest quarter. In addition, MCZ is a "penny stock" trading under $1/share. This makes it also quite speculative. As far as ATVI goes, the company in the latest quarter showed a sharp drop in revenue, showing the cyclical nature of these game companies, but did raise guidance. Of the two ATVI appears to be a higher "quality" selection, but neither fit my criteria here. That doesn't mean that they aren't going to possibly appreciate in price. It just means that it didn't make my cut.

Thanks so much for writing. Good luck with your stocks and keep me posted as to how everything turns out. I hope my discussion was helpful for you! If you have any other questions or comments, please feel free to leave them on the blog or email me at bobsadviceforstocks@lycos.com. I cannot get to every email or comment, but I shall try to get to as many as possible, commenting usually right on the blog.

Bob


Posted by bobsadviceforstocks at 10:38 PM CST |
Post Comment
|
Permalink
Updated: Monday, 14 November 2005 10:44 PM CST