November 18, 2005 Brady Corp. (BRC)
Hello Friends! Thanks so much for stopping by and visiting my blog,
Stock Picks Bob's Advice
. As always, please remember that I am an amateur investor, so please remember to consult with your professional investment advisors prior to making any investment decisions based on information on this website.

Last night, I was thinking of putting Brady (BRC) on the blog, but it was late and I put it off for another time. Today, Brady was once again on the
list of top % gainers on the NYSE
today, and I have another chance to list the stock here on Stock Picks! Brady closed today at $38.90, up $1.60 or 4.29% on the day. I do not own any shares or options in this stock.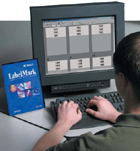 According to the
Yahoo "Profile" on Brady
, the company "...engages in the manufacture and marketing of identification solutions and specialty materials worldwide."
What drove the stock higher Thursday, was the
announcement of 1st quarter 2006 results
after the close of trading on Wednesday. For the quarter ended October 31, 2005, sales rose 16.1% to $232.6 million vs. $200.4 million in the same quarter last year. Net income climbed 48.3% to $30.2 million or $.60/diluted "Class A" share, compared with $20.4 million or $.41/share in the same quarter last year. In addition, the company
raised guidance for the rest of 2006
. The combination of a strong earnings report combined with raised guidance was enough, as is often the case, to push the stock strongly higher!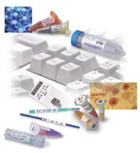 Looking at the
Morningstar.com "5-Yr Restated" financials
, we can see the relatively steady growth in revenue (except for a dip in revenue from $545.9 million in 2001 to $517.0 million in 2002) from $545.9 million in 2001 to $816.4 million in 2005. Earnings during this same period have been a bit erratic but have increased from $.59/share in 2001 to $1.64/share in the trailing twelve months (TTM). During the past few years, free cash flow has also expanded from $43 million in 2003 to $97 million in the TTM.
The balance sheet per Morningstar looks adequate if not overwhelmingly strong; showing $80.1 million in cash, and $222.3 million in other current assets, fairly evenly balanced against $160.8 million in current liabilities and $192.1 million in long-term liabilities.
Reviewing
Yahoo "Key Statistics" on Brady
, we can see that this is a large mid cap stock with a market capitalization of $1.92 billion. The trailing p/e is a very reasonable 23.66 with a forward p/e (fye 31-Jul-07) of 17.84. The PEG is a bit rich at 1.48.
Per
Fidelity.com eresearch website on BRC
, Brady is in the "Specialty Chemicals" industrial group. Within this group, Brady is priced midway among its peers. At the top of this group is Monsanto (MON) with a Price/Sales ratio of 3.2. This is followed by Sigma-Aldrich (SIAL) at 2.8, Cabot Microelectronics (CCMP) with a price/sales ratio of 2.5, and Brady (BRC), midway at 2.3. Below Brady is Lubrizol (LZ) at 0.7, and Lyondell (LYO) at 0.4.
Going back to Yahoo, we can find that there are 49.34 million shares outstanding and as of 10/11/05, there were 2.70% of the float out short amounting to 1.32 million shares or 5.6 trading days of volume. This looks significant to me!
The company
does
pay a small dividend of $.52/share yielding 1.40%. In addition, the company last split its stock in January, 2005, with a 2:1 split.
And the chart? Looking at a
"Point & Figure" chart from Stockcharts.com
: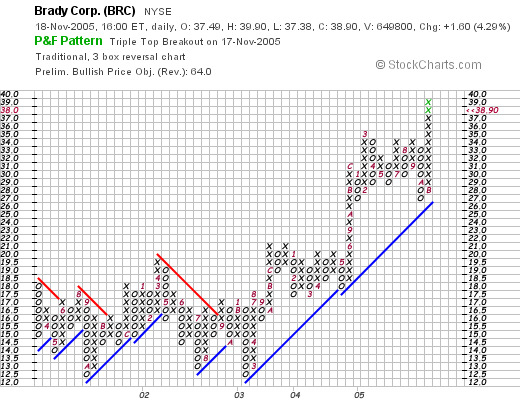 The graph looks quite nice to me. The stock was trading sideways through much of 2001 and 2002, and into early 2003. After bottoming at $12.50 in February, 2003, the stock has been moving higher steadily, staying above its "support line".

So what do I think? Well, the latest quarter was superb, the company also raised guidance, the Morningstar report looks strong, and the chart is excellent. Valuation is reasonable with a moderate p/e, PEG and Price/Sales. I just am not buying any shares as I haven't received a buy signal with any of my 19 holdings, although KYPH and SBUX are both getting close :).

If you have any comments or questions, please feel free to email me at bobsadviceforstocks@lycos.com.

Bob


















Posted by bobsadviceforstocks at 6:17 PM CST |
Post Comment
|
Permalink
Updated: Saturday, 19 November 2005 1:07 PM CST