"Revisiting a Stock Pick" Bentley Pharmaceutical (BNT)
Hello Friends! Thanks so much for stopping by and visiting my blog
Stock Picks Bob's Advice
. As always, please remember that I am an amateur investor, so please remember to consult with your professional investment advisors prior to making any investment decisions based on information on this website.

Reviewing the
list of top % gainers on the NYSE
, the place where I like to begin my search for picks for this blog, I came across Bentley Pharmaceuticals (BNT) which closed at $17.92, up $2.02 or 12.70% on the day. I do not own any shares nor do I have any options on this stock.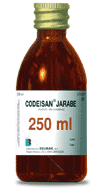 Bentley is an old pick of mine, having
posted Bentley (BNT) on Stock Picks Bob's Advice
on October 3, 2003, a bit over two years ago when Bentley was trading at $15.69/share. Since that original post, Bentley has only appreciated $2.23 (only a little more than today's move) or 14.2% since posting.
According to the
Yahoo "Profile" on Bentley
:
Bentley Pharmaceuticals, Inc. operates as a specialty pharmaceutical company. It focuses on developing, licensing, and sale of generic and branded pharmaceutical products and active pharmaceutical ingredients, and the manufacturing of pharmaceuticals for others; and research, development, and licensing/commercialization of advanced drug delivery technologies and pharmaceutical products. Bentley pharmaceuticals manufactures and markets approximately 120 pharmaceutical products for various dosage strengths and product formulations of approximately 30 chemical entities in four primary therapeutic areas: cardiovascular, gastrointestinal, neurological, and infectious diseases; as well as markets over-the-counter products.
On November 2, 2005, BNT (which is now on the NYSE)
announced 3rd quarter 2005 results
. Revenue for the quarter ended September 30, 2005, came in at $23.5 million, a 30% increase over the $18.1 million reported in the prior year. Net income grew 76% to $2.5 million or $.11/diluted share.
How about longer-term? Taking a look at my next favorite place to find information, Morningstar.com, in particular reviewing the
"5-Yr Restated" financials on Bentley
, we can see a beautiful picture of increasing revenue from $19 million in 2000 to $86.6 million in the trailing twelve months (TTM).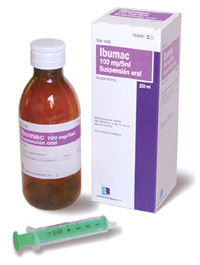 Earnings during this same period have improved from a loss of $(.06)/share in 2000 to earnings of $.36/share in the TTM.
Free cash flow, while erratic, has improved from $(2) million in 2002 to $2 million in the TTM. The balance sheet, as reported on Morningstar.com, appears solid with $37 million in cash, enough to cover both the $31.5 million in current liabilities
and
the $4.9 million in long-term liabilities. The company is also reported to have an additional $41.4 million in other current assets.
How about valuation? Looking at
Yahoo "Key Statistics" on Bentley
, we can see that this is a small cap stock (under $500 million in market capitalization) with a market cap of only $391.39 million. The trailing p/e is a bit rich at 43.81, but the forward p/e is better at 32 (fye 31-Dec-06). However, growth going forward is so great that the PEG comes in at 0.94.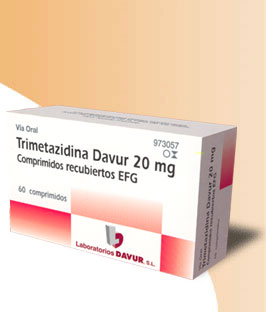 Using the
Fidelity.com eResearch website
, we can see that Bentley has been assigned the "Drug Delivery" industrial group. Within this group, the Price/Sales ratio is rather reasonable. Topping the group is Alkermes (ALKS) with a Price/Sales ratio of 15.1, then Nektar Therapeutics (NKTR) at 11.2, ELAN (ELN) at 9.6, then Bentley (BNT) at 4.1, Biovail (BVF) at 4.0 and Andrx (ADRX) at 1.2.
Going back to Yahoo for some additional numbers, we can see that there are only 21.84 million shares outstanding. Currently, there are 1.46 million shares out short with a short ratio (10/11/05)
get this
of 34.4! In other words, it would take SEVEN WEEKS of five days/week trading volume just for the shorts to cover this relatively illiquid stock. If I use my modest 3 day short ratio rule, this is one of the biggest short ratios I have ever found on this blog....and it looks pretty significant to me. I wouldn't want to be short shares right now with the stock climbing and very few shares available to buy back. Just my opinion though :).
No cash dividend is reported, and the last stock split was actually a
reverse
1:10 split in July 25, 1995.
What about the chart? If we look at a
"Point & Figure" chart for Bentley
: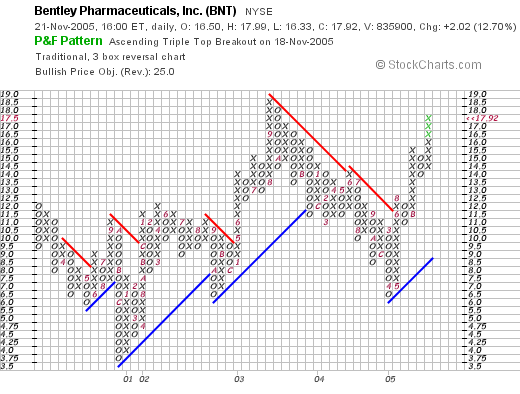 We can see what looks like a fairly nice move higher from a low of $3.75 in Decmber, 2000, to a high around $18.50 in September, 2003. However, the stock broke down at that point trading all the way down to $7.00 in April, 2005, until moving higher recently, breaking through resistance in June, 2005 at $12.50, and trading higher to the current level. The stock looks short-term to be moving ahead, but long-term, has been a rather unimpressive stock price move.

So what do I think? Well, if I had sold my HIBB earlier, I might be buying some of these shares today. However, I shall be waiting to see what is moving tomorrow to pick a stock, if I do. Otherwise, the recent quarterly report was solid; by the way, this company does most of its sales in Spain, the Morningstar.com report looks great, and valuation is reasonable with a PEG under 1.0 and a Price/Sales in the middle of the group. The chart, however, looks just fair.

A real wild-card, imho, is the HUGE short-interest. This data is a bit stale, and I don't really know how many shares are out short as I write, but think about how many shares were out short...and the time it would take to cover. Might be a bit of a squeeze going on.

Anyhow, thanks for visiting here. If you have any questions or comments, please feel free to email me at bobsadviceforstocks@lycos.com or leave your words right here on the blog!

Bob