November 22, 2005 Morningstar (MORN)
Hello Friends! Thanks so much for stopping by and visiting my blog,
Stock Picks Bob's Advice
. As always please remember that I am an amateur investor, so please remember to consult with your professional investment advisors prior to making any investment decisions based on information on this website.

This afternoon, I was busy with my stocks in my trading portfolio with COO being sold on bad news, and CDIS and QSII having quarter positions sold on good news, that is price appreciation. With a second "good news" event, I was entitled to add a position and settled on Morningstar (MORN), which closed at $32.76, up $2.94 or 9.86% on the day. This was enough of a price rise for the stock to make the
list of top % gainers on the NASDAQ
today. I purchased some of these shares for my 20th position in my portfolio.
(It is getting late here in Wisconsin, so let me be a bit brief on this review :)) Let's look at the three basic things that got me interested in this stock: latest quarter, Morningstar.com results, and chart.
1) Latest quarter: On November 9, 2005, Morningstar
reported 3rd quarter 2005 results
. Revenue came in at $56.9 million for the quarter ended September 30, 2005, up 22% from $46.6 million in the same quarter last year. Net income was $7.5 million or $.17/diluted share, up sharply from $4.1 million or $.10/diluted share the prior year. As good as these results were, these results were $.02 shy of
First Call estimates for the quarter
.
2) The Morningstar.com
"5-Yr Restated" financials on MORN
. Here we can see the steady revenue growth from $75.0 million in 2000 to $215.1 million in the trailing twelve months (TTM). Earnings have been a bit erratic but have improved from a loss of $(.75)/share in 2000 to a profit of $.21/share in 2004. The last twelve months show MORN with earnings of $.45/share.
Free cash flow has also been improving, increasing from $11 million in 2002 to $38 million in the TTM.
The balance sheet is solid with $135.4 million in cash and $43.6 million in other current assets, balanced against $102 million in current liabilities and only $5.3 million in long-term liabilities.
3) The chart:
"Point & Figure" chart on MORN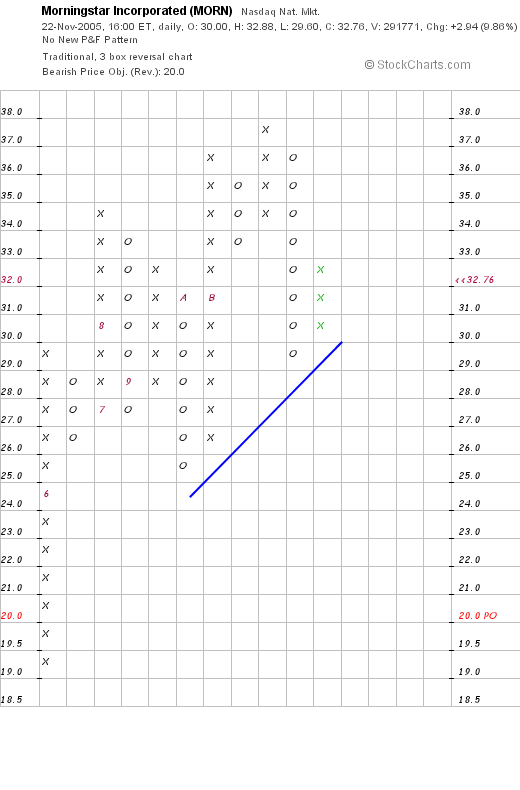 The chart is limited, as the company is a relatively recent IPO. But all-in-all, the graph looks strong with the stock trading above its support line and appearing to be moving higher.

So what do I think? Well, I liked the stock enough that I bought some shares today! I use Morningstar on the blog all of the time. So I am fairly familiar at least with that part of the service. The latest quarter was strong and the "5-Yr Restated" financials were superb.

Thanks again for visiting. If you have any comments, or questions, please feel free to leave them on the blog or email me at bobsadviceforstocks@lycos.com.

Bob