"A stock falls sharply!" Dealing with Jos. A Bank (JOSB)
Hello Friends! Thanks so much for stopping by and visiting my blog,
Stock Picks Bob's Advice
. As always please remember that I am an amateur investor, so please remember to consult with your professional investment advisors prior to making any investment decisions based on information on this website.
A few weeks ago, as part of my portfolio review, I
discussed Jos. A Bank Clothiers (JOSB) on Stock Picks Bob's Advice
. At that time, JOSB was trading at $46.21/share.
I currently own 180 shares of JOSB which closed at $43.06, down $(6.95) or (13.90)% on the day. I originally purchased 240 shares with a cost basis of $31.90 on 4/4/05. I sold 1/4 of my position (I am now planning to reduce this to only 1/6 of a remaining position) when the stock had appreciated 30%. Thus I have 180 shares remaining.
This morning, prior to opening, JOSB
announced November sales results
. Total sales for the month increased 16.1% to $41.9 million, compared with $36.1 million in November, 2004. Comparable store sales were a bit anemic (relatively) at 3.8%; however, combined catalog and internet sales grew 24.3% in the month compared to the same month last year.
The stock responded with a sharp drop today closing at $43.06, down $(6.95) or (13.90)% on the day. Compounding this was the
downgrade by Ryan, Beck & Co. to "Market Perform" from "Outperform"
. The analyst felt that with the weak performance in November, December comps would be difficult especially with last year's 16.2% comparable store sales growth. This month's sales figures compares poorly with
October sales results for JOSB
which were more upbeat showing total sales growth of 28.5% with comparable store sales increasing 16.2% and combined catalog and internet sales increasing 19.5% over the prior year period.
So how does my "strategy" deal with this 'mini-meltdown'? Recall that my 180 shares were purchased 4/4/05 with a cost basis of $31.90. With JOSB closing at $43.06, that still finds me with a gain of $11.26 or 35.3%. I sold my first batch of JOSB, 60 shares representing 1/4 of my 240 share position, on 6/7/05 with a proceeds/share of $41.62 representing a gain of $9.72 or 30.5%. Since I have sold one portion of my position at a 30% gain, my planned sale of the remaining shares would be at break-even on the downside, or a 1/6 (!) position sale if the stock appreciates to a 60% gain level or at $51.04.
Does the news represent something really significant or is this a bit overblown? I always reserve the right to unload shares of stock if something bad on a fundamental basis has occurred in any or all of my stocks. But is this result really fundamentally terrible? Recall that sales actually grew, not shrank, and that same store sales which are down from their torrid pace, are still showing positive growth with a 3.8% same store sales figure. In addition, the increase in catalog and internet sales of 24.3% was actually
higher
than the prior month's results. In my mind, the stock decline was overdone, but I shall respond to the market, depending on how the stock actually performs.
And did the chart actually 'break down' after this sell-off? Let's take a look at an updated
"Point & Figure" chart from Stockcharts.com on JOSB
: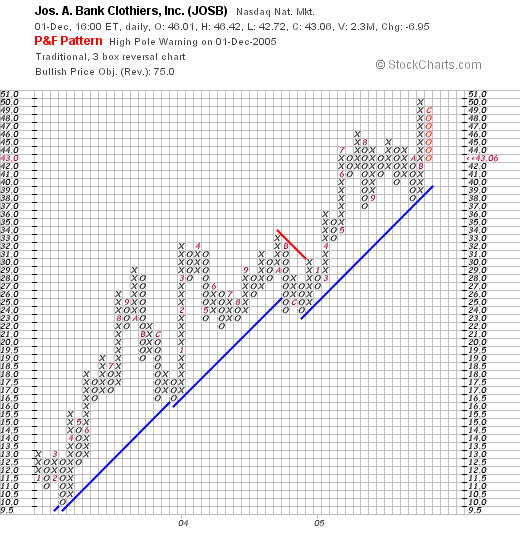 We can see that at least through today's closing trades, JOSB has preserved its strong upward-biased stock chart. The retracement today, keeps the stock above the support level, and I don't at this time anticipate the stock actually breaking down in price!

Thanks so much for stopping by! Each of us must decide how we are going to trade our stocks and investments. As for me, I shall listen to the stock market and let the market decide when I need to be in and out of the market!

If you have any questions or comments, please feel free to email me at bobsadviceforstocks@lycos.com or just leave them right on the blog.

Bob