"Weekend Trading Portfolio Analysis" Quality Systems (QSII)
Hello Friends! Thanks so much for stopping by and visiting my blog,
Stock Picks Bob's Advice
. As always, please remember that I am an amateur investor, so please remember to consult with your professiional investment advisors prior to making any investment decisions based on information on this website.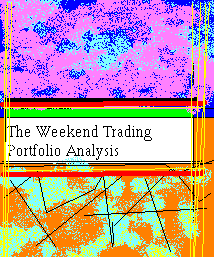 If you are a regular reader here, you will know that I try to do several different things with Stock Picks. I have been writing up different stocks that I think are attractive and deserve consideration, I have been reviewing those picks, and I have also been sharing with you my own trading action and holdings to allow you to have a sort of "virtual reality" of stock market investment decisions from the perspective of an amateur investor. This weekly entry on "portfolio analysis" is a discussion of the actual holdings in my "trading account" done alphabetically. Last week I
discussed Progress Software on Stock Picks Bob's Advice
. Going alphabetically, today I shall take a look at my strongest holding in my portfolio, Quality Systems (QSII).
I currently own 44 shares of Quality Systems (QSII) which closed December 2, 2005, at $84.08/share. These shares have a cost basis (cost adjusted for stock splits and commissions) of only $15.50. Thus, I have an unrealized gain of $68.58 or 442.5% since these shares were purchased 7/28/03. As per my former trading system (I am now planning to sell only 1/6 of remaining positions), I sold 1/4 positions of my original 300 shares multiple times. In fact, I have sold shares nine times (!), with proceeds totalling $17,718.97, and I still have 44 shares remaining. (My original QSII position was for 300 shares purchased at $30.95 (not adjusted for stock splits), with a total cost of $(9,298.70)) Unfortunately, with my 1/4 sale rate, the position has been dwindling; thus, I have readjusted my sales to 1/6 positions, and I believe the bulk of the positions will remain intact.
When will I be selling next? Well with nine sales, that means I have sold portions at 30%, 60%, 90%, 120%, 180%, 240%, 300%, 360%, and 450%. Thus, my next sale would either be on the upside at a 540% gain (6.4 x $15.50 = $113.50) or on the downside, at a 225% gain (1/2 of the top gain sale of 450%) or 3.25 x $15.50 = $50.38.
Quality Systems (QSII) has been an early selection for this stock blog, having been
discussed on Stock Picks Bob's Advice on 7/28/03
. Shortly after writing up QSII, I was sold on the prospects, and made my purchase. I discussed the
purchase of QSII on Stock Picks Bob's Advice on 7/28/03
. I have, and I continue to strive to achieve trading transparency in my own stock holdings and trades!
Let's take another look at this stock and this company.
Quality Systems is in the electronic medical record (EMR) business. According to the
Yahoo "Profile" on Quality Systems
:
Quality Systems, Inc. and its wholly owned subsidiary, NextGen Healthcare Information Systems, engage in the development and marketing of healthcare information systems that automate medical and dental group practices, community health centers, physician hospital organizations, management service organizations, and dental schools. Its software systems include general patient information, appointment scheduling, billing, insurance claims submission and processing, managed care plan implementation and referral management, treatment outcome studies, treatment planning, drug formularies, electronic patient records, dental charting, and letter generation.
Let's take a look at the latest quarterly result for QSII. On November 3, 2005,
QSII reported 2nd quarter 2006 results
. Revenues came in at $29.5 million, up 39% from $21.2 million reported during the same quarter last year. Net income was reported at $5.8 million, a 56% increase over net income of $3.7 reported the previous year same period. Fully diluted eps also climbed 54% to $.43/share, up from $.28/share the previous year. These were certainly solid results.
While looking at the news for the earnings report, I noted that there has been a recent Piper Jaffray analyst downgrade from "outperform" to "market perform". As
reported
:
Piper Jaffray analyst Sean W. Wieland downgraded the company to "Market Perform" from "Outperform," and said in a client note that subsidiary Nextgen will "have to work harder to maintain its historic growth rate." The analyst also saw growing competitive pressure from Allscripts Healthcare Solutions, a provider of clinical software for doctors.

Over the past two years, the analyst wrote, Quality Systems saw its year-to-year earnings grow an average of 51 percent. This, he added, may be tough to maintain, and deceleration over the next two years to a 30 percent level is likely.

To maintain growth, the analyst wrote, the company would have to "aggressively grow" its sales force, which now stands at 38 people.

The stock, he added, "has already priced in much of the anticipated growth in the next 12 months, with no room for error."
It is always important to take analysts assessments into consideration. But it doesn't sound like it would be too hard to grow a sales force that stands at only 38 people. But this information needs to always be considered when evaluating a stock!
Let's take a look at the Morningstar evaluation for a 'long-term' perspective. Looking at the
Morningstar.com "5-Yr Restated" financials on QSII
, we can see the perfect progression of revenue from $39.3 million in 2001 to $104.6 million in the trailing twelve months (TTM). Earnings per share have also grown perfectly from $.29/share in 2001 to $1.48/share in the TTM. Free cash flow has been positive and steadily growing with $12 million in 2003, $16 million in 2004, $20 million in 2005, and $24 million in the TTM.
The balance sheet as reported by Morningstar is also gorgeous with $63.1 million in cash alone, enough to pay off 1 1/2 times the combined $40.7 million in current liabilities
and
the $3.2 million in long-term liabilities combined. In addition, Morningstar reports $45.2 million in other current assets.
What about valuation? Looking at
Yahoo "Key Statistics" on Quality Systems
, we can see that this is a mid cap stock with a market capitalization of $1.11 billion. The trailing p/e is 56.62 (it was only in the mid 20's when I purchased shares) and the forward p/e is still a rich 39.11. However, with the steady and rapid growth anticipated, the PEG comes in at 1.39, just a bit over 1.0, my "perfect" growth valuation.
Insofar as the Price/Sales ratio is concerned, looking at the
Fidelity eResearch website
, we find that Fidelity assigns Quality Systems to the "Healthcare Info Svcs" Industrial Group. Within this group, QSII is priced richly relative to the other companies similarly assigned. Topping this list is Merge (MRGE) with a Price/Sales of 13.6, followed by Quality Systems (QSII) at 10.9, further down is Cerner (CERN) at 3.6, ECLIPSYS (ECLP) at 2.6, IDX Systems (IDXC) at 2.4, and Emdeon (HLTH) at 2.3. Thus, by this parameter, QSII is also priced richly.
Going back to Yahoo for some additional statistics, we find that there are only 13.20 million shares outstanding. Of these, as of 11/10/05, there were 1.17 million shares out short representing 14.30% of the float or 5.5 trading days of volume. Clearly, the short-sellers are not convinced that this stock can continue its meteoric rise, however, in the meantime, these sellers may need to scramble if QSII continues to pump out positive reports and their bet starts costing them dearly. In my view, anything over a 3 day short ratio should be considered bulllish, assuming no apparent bad news that has been recently reported.
The stock does not pay a regular dividend and the last stock split was a 2:1 on March 28, 2005.
What about the chart? Looking at the
"Point & Figure" Chart on QSII from Stockcharts.com
: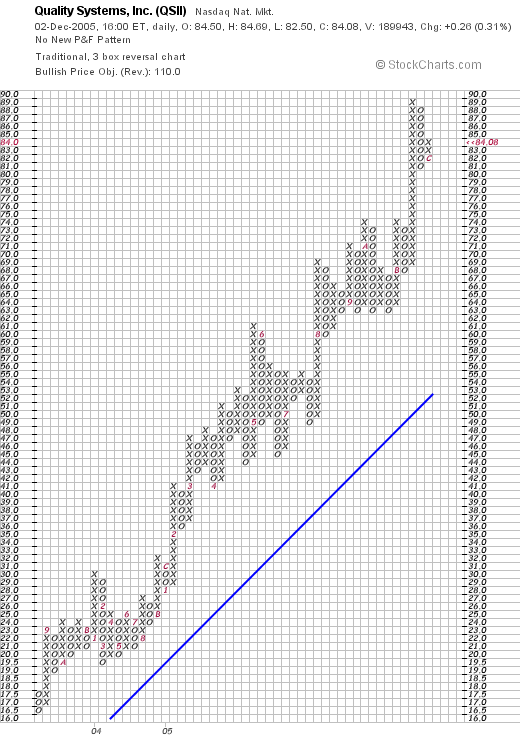 You can see the virtually uninterrupted ascent of this stock from August, 2003, (about the time I purchased shares!) to its current level. This is a phenomenal chart of incredible strength! What can I say, I own the stock and I love it!

So what do I think? Except for the valuation issues, this stock is terrific. This stock is no longer undiscovered, and you do need to pay top dollar to buy shares. Would I buy shares at this price? Well, if it made the top percentage gainers list, I wouldn't hesitate if I had a buy signal from my own portfolio. Meanwhile, I shall sit back and try to sell of the small position I have remaining at a slower rate.

Thanks so much for stopping by! If you have any comments or questions, please email me at bobsadviceforstocks@lycos.com, and you can find my podcast on iTunes. Just search under "Podcasts" for "Stock Picks" and I should pop right up!

Bob