"Weekend Trading Portfolio Analysis" St Jude Medical (STJ)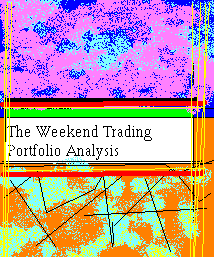 Hello Friends! Thanks so much for stopping by and visiting my blog,
Stock Picks Bob's Advice
. As always, please remember that I am an amateur investor, so please remember to consult with your professional investment advisors prior to making any investment decisions based on information on this website.
It's the weekend, and in fact, it's the New Year's Eve weekend! Time for partying and for resolutions. I know there are many things I can do to improve myself this upcoming year. I hope that we all are able to fulfill our own resolutions and find good health and happiness in 2006!

This year I have been using the weekend as a time to take a look at my actual holdings in my trading portfolio. I do this to share with you what I actually own, in addition to the many stocks I like to discuss. And it is also gives me a chance to review my holdings in a more analytic fashion than I might otherwise be doing.
St Jude Medical (STJ) is a special stock for me especially in regards to this blog. On May 12, 2003, I made my very
first
post on this stock website and discussed St Jude Medical. This is what I
wrote
:
May 12, 2003 St Jude Medical
This is one I picked up today. STJ is the stock symbol. I do not as I write and publish this own any shares. Am thinking about suggesting this to my stock club. Company had a great day today with a nice move on the upside. Last Quarter was good and the past five years have been steady growth. Closed at $55.30 up $2.92. So the daily momentum helped it make the list.
I
"Revisited" St Jude (STJ)
on April 20, 2005, when STJ was trading at $39.67.

I currently own 180 shares of St Jude Medical (STJ) which were acquired 10/15/03 with a cost basis of $28.90. STJ closed on 12/30/05 at a price of $50.20, for a gain of $21.30 or 73.7% since my original purchase. As is my strategy, I have sold portions of my STJ position as the stock appreciated, selling 30 shares on 1/28/04 at a price of $69.84 (STJ had a 2:1 split on 11/23/04). I sold 60 shares of STJ on 7/20/05 at $46.54. These shares were sold at the 30% and 60% appreciation levels. My next sale will either be back at the 30% level on the downside or at 90% appreciation, when I plan on selling 1/6th of my existing position.
So how is St Jude doing right today? Let's take another look at this stock and see what we can find out.
First, according to the
Yahoo "Profile" on St Jude
, the company
"...engages in the development, manufacture, and distribution of cardiovascular medical devices for the cardiac rhythm management (CRM), cardiac surgery (CS), and cardiology and vascular access (C/VA) therapy areas worldwide. It offers a range of CRM products, such as bradycardia pacemaker systems, tachycardia implantable cardioverter defibrillator systems, and electrophysiology catheters; various CS products, including mechanical and tissue heart valves, valve repair products, and epicardial ablation systems; and C/VA products,that include vascular closure devices, angiography catheters, guidewires, and hemostasis introducers."
And what about the latest quarterly result? On October 17, 2005, St. Jude
reported 3rd quarter 2005 results
. Net sales came in at $738 million, up 28% from $578 million the prior year. Net earnings for the quarter came in at $168 million, or $.44/diluted share up from $91 million or $.25/diluted share in the same quarter in 2004. This was a solid quarter imho for St. Jude.

What about the Morningstar.com information? Does that still look encouraging?
Reviewing the
Morningstar.com "5-Yr Restated" financials on STJ
, we can see a beautiful picture of revenue growth from $1.2 billion in 2000 to $2.7 billion in the trailing twelve months (TTM).
Earnings during this time have grown uninterrupted from $.38/share in 2000 to $1.36/share in the TTM. Free cash flow has also grown steadily from $355 million in 2002 to $568 million in the TTM.
The balance sheet shows that STJ has $712.5 million in cash, enough to cover all of the $682.4 million in current liabilities and some of the $243 million in long-term liabilities. In addition to the cash, STJ has $1.3 billion in other current assets, meaning that there is over $1 billion in excess of current assets after covering both the current and long-term liabilities combined. This is a solid balance sheet imho.
And what about a chart? Reviewing the
"Point & Figure" chart on STJ from Stockcharts.com
, we can see a beautiful chart!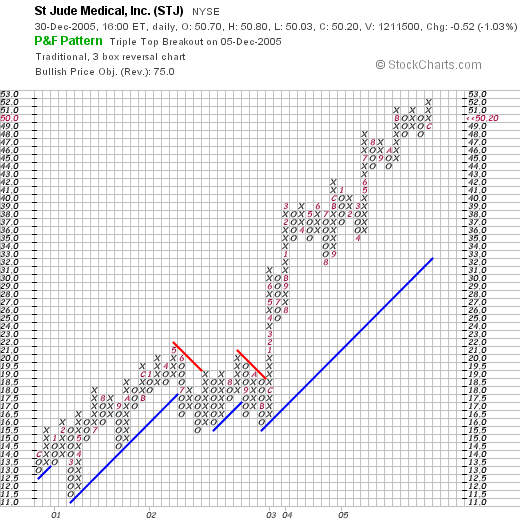 The stock moved strongly higher between March, 2001, when the stock bottomed at around $11.50, then hit resistance around $20 in May, 2002. The stock consolidated until December, 2003, when it broke through resistance at around $18 and has moved steadily higher since.

In summary, St. Jude Medical has been a strong stock in my trading portfolio. I was fortunate to buy shares in October, 2003, prior to the latest strong price move higher. I have sold portions of this stock twice as the stock appreciated in value, and am close to a third sale. The latest earnings report is solid, and the Morningstar.com "5-Yr Restated" page also is very strong. To top it off, the chart looks bullish if a bit over-extended.

Anyhow, that's St. Jude! I don't see any reason to sell off the remaining shares and shall be waiting for the stock to either appreciate to another sale point, or backtrack to a sale point on the downside. The price action will determine my future strategy with this company.

Thanks again for stopping by! If you have any questions or comments, please feel free to leave them on the blog or email me at bobsadviceforstocks@lycos.com. Happy New Year! everyone!

Bob