January 3, 2006 Thoratec (THOR)
Hello Friends! Thanks so much for stopping by and visiting my blog,
Stock Picks Bob's Advice
. As always please remember that I am an amateur investor, so please remember to consult with your professional investment advisors prior to making any investment decisions based on information on this website.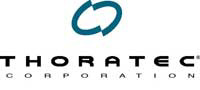 Looking through the
list of top % gainers on the NASDAQ
today, I came across Thoratec (THOR) that is currently trading at $22.52, up $1.83 or 8.84% on the day. I do not own any shares nor do I have any options on this stock.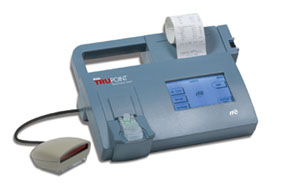 According to the
Yahoo "Profile" on THOR
, the company
"....manufactures circulatory support products for use by patients with congestive heart failure. The company operates in two segments, Cardiovascular and International Technidyne Corporation (ITC). The Cardiovascular segment develops, manufactures, and markets medical devices used for circulatory support products, which include ventricular assist device for the short-term and long-term treatment of congestive heart failure, as well as vascular graft products for use as a shunt between an artery and a vein. It offers a product portfolio of implantable and external circulatory support product devices, including the Thoratec Implantable Ventricular Assist Device, a biventricular implantable blood pump; the HeartMate Left Ventricular Assist System (LVAS), an implantable device for mid to long-term cardiac support for those patients ineligible for heart transplantation; and the HeartMate II, an implantable LVAS consisting of a miniature rotary blood pump that is designed to provide long-term support."
Taking a look at the latest quarterly result, the company
announced 3rd quarter 2005 results
on October 25, 2005. Sales for the quarter ended October 1, 2005, grew 20% to $48.8 million vs. $40.7 million in the prior year. GAAP net income was $3.1 million or $.06/diluted share, up from a loss of $(398,000) or $(.01)/diluted share in the same period the prior year. The company also announced that, according to the report, "...will achieve or exceed the high end of these ranges." regarding prior guidance. In other words they reported a solid earnings report and raised guidance.
How about longer-term? Taking a look at the
"5-Yr Restated" financials on THOR from Morningstar.com
, we can see a steady increase in revenue from $83.4 million in 2000 to $195.2 million in the trailing twelve months (TTM).
Earnings during this period have been a bit erratic, as we often see with small companies, but have increased from a loss of $(.04)/share in 2003 to $.22/share in the TTM. The company has increased the # of shares outstanding from 33 million in 2000 to 52 million in 2001, but has not expanded the float since, with 51 million shares outstanding in the TTM.
Free cash flow has improved from $(5) million in 2002, to $12 million in 2004 and $34 million in the TTM.
The balance sheet looks solid with $184.4 million in cash, enough to cover the $30.2 million in current liabilities and most of the $204.1 million in long-term liabilities reported on Morningstar. In addition, the company has an additional $88.7 million in other current assets.
What about valuation numbers? Looking at
Yahoo "Key Statistics" on THOR
, we can see that this is a mid cap stock with a market capitalization of $1.14 billion. The trailing p/e is rich at 100.85 (the company is just turning profitable) with a forward p/e (fye 01-Jan-07) of 46.85. The PEG is also a bit steep at 2.07 (5 yr expected).
According to the
Fidelity.com eResearch website
, Thoratec is in the "Medical Instruments/Supplies" Industrial Group. Within this group, the Price/Sales of THOR is near the top at 5.5. At the top of this group is Alcon at 9.5, Guidant at 5.9, then Thoratec at 5.5, Stryker at 3.9, Boston Scientific at 3.2, and Baxter Intl at 2.4.
Looking at other key statistics from Yahoo, we can see that the company has 50.63 million shares outstanding. Currently there are 3.60 million (11/10/05) shares out short representing 8% of the float or 6 trading days of volume (the short ratio). This is significant imho and may be supporting the price rise. No cash dividend is reported. And no stock splits are noted on Yahoo.
What about a chart? Taking a look at a
"Point & Figure" chart from Stockcharts.com on THOR
, we can see a very volatile graph with the company now just once again breaking out to the upside. This correlates with their financial fortunes, if you review the Morningstar.com earnings trends.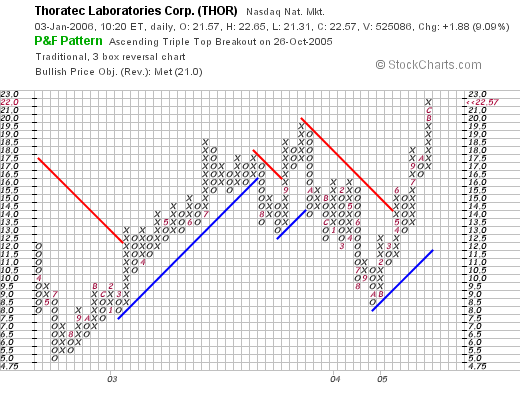 So what do I think? This is a very interesting stock that deserves to be on our blog. They have great earnings, revenue growth, have an interesting product, and might well be an acquisition target of a company like Medtronics (MDT). I do NOT have any kind of inside information on anything like that. But wouldn't it make a nice fit in a company that works with defibrillators and other heart products?

Anyhow, that's the pick for the morning. Of course, since I just sold a stock at a loss, I am NOT in the market to buy anything. But if I were, this might be the kind of stock I would be buying! Thanks again for visiting. Please feel free to comment on the blog or email me at bobsadviceforstocks@lycos.com if you have any questions!

Bob