January 3, 2006 Neoware Systems (NWRE)
Hello Friends! Thanks so much for stopping by and visiting my blog,
Stock Picks Bob's Advice
. As always, please remember that I am an amateur investor, so please remember to consult with your professional investment advisors prior to making any decisions based on information on this website.

With indications that the Fed might be soon over its series of rate tightenings, the stock market moved strongly higher in the late portion of the session. Looking through the
list of top % gainers on the NASDAQ
, I came across Neoware, which has been showing up not infrequently on the gainers list the last several trading sessions. Neoware (NWRE) closed at $25.63, up $2.33 or 10.0% on the day. I do not own any shares nor do I have any options in this company.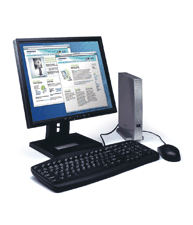 According to the
Yahoo "Profile" on Neoware
, the company
"...provides software, services, and solutions to enable thin client appliance computing, an Internet-based computing architecture targeted at business customers. Its software and management tools secure and manage a smart thin client appliances that utilize the open, industry-standard technologies used to create alternatives to full-function personal computers and green screen terminals used in business."
Looking for the latest quarterly report, Neoware
reported 1st quarter 2006 results
on November 2, 2005. Revenue grew 63% to $26.5 million from $16.3 million in the prior year same period. GAAP net income for the quarter was $1.84 million or $.11/diluted share, up from $1.39 million or $.09/diluted share in the same quarter last year.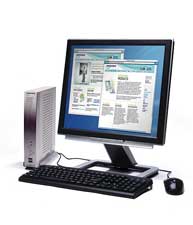 Looking longer-term at the
Morningstar.com "5-Yr Restated" financials on NWRE
, we can see the beautiful progression in revenue from $17.7 million in 2001 to $89.0 million in the trailing twelve months (TTM).
Earnings during this period have been a bit erratic, increasing from $(.05)/share in 2001 to $.48/share in the TTM. The total number of shares have also increased somewhat from 10 million in 2001 to 16 million in the TTM.
Free cash flow has been positive but not increasing with $10 million reported in 2003, and $8 million reported in the TTM.
The balance sheet, as reported by Morningstar.com, appears solid to me with $44.1 million in cash alone, enough to cover both the $16.4 million in current liabilities and the $1.4 million in long-term liabilities almost 2 1/2 times over! In addition, Morningstar reports NWRE with $24.2 million in other current assets.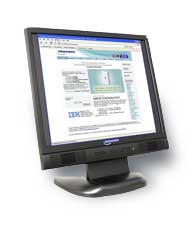 Taking a look at
Yahoo "Key Statistics" on Neoware
for some additional valuation numbers on the company, we can see that this is a small cap stock with a market capitalization of only $417.9 million. (I am using the
Ameritrade definition for a Small Cap stock
, which is under $500 million in market cap, with mid cap being from $500 million to $3 billion, and Large cap being over $3 billion. The market capitalization is calculated by multiplying the current market price by the number of outstanding shares.
The trailing p/e is rich at 52.85, with a forward p/e (fye 30-Jun-07) of only 30.15 and a PEG of 1.34. Thus, even though the p/e is quite high, the rapid growth anticipated will be bringing it down fast enough that the PEG is not really that high at all.
Looking at the Price/Sales ratio, and comparing it to its Industrial Group of "Networking and Communication Devices" according to the
Fidelity.com eResearch website
, we find that Neoware is actually moderately priced by this parameter. Neoware (NWRE) has a Price/Sales ratio of 4.3, midway in the group led by Sycamore Networks (SCMR) at 15.4, Juniper Networks (JNPR) at 7, Blue Coat Systems (BCSI) at 5.4, then Neoware (NWRE) and Cisco (CSCO) at 4.3, and 3Com (COMS) at 2.1.
Looking at some additional statistics from Yahoo, we find that there are 16.31 million shares outstanding with 1.73 million (as of 11/10/05) our short representing 10.80% of the float or only 3.7 trading days. This is a bit significant (using my arbitrary 3 day rule) but is not overwhelming.
What about the chart? Taking a look at the
"Point & Figure" chart on NWRE from Stockcharts.com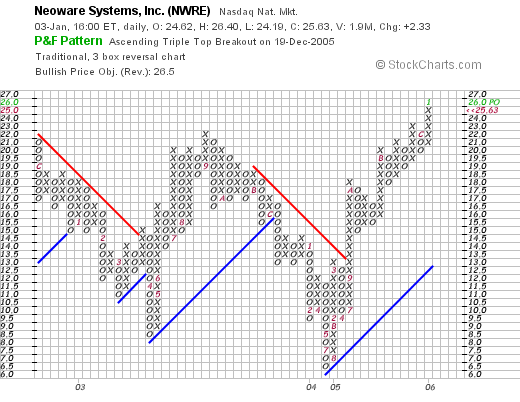 We can see that the chart has been very erratic, trading down to support levels and up to resistance levels several times, and only since about July, 2005, the stock has been trading steadily higher as it broke to the upside. The stock chart looks strong short-term but not particularly overvalued.

So what do I think? Well this is an interesting small cap stock. The steady revenue growth is impressive. As often is the case, as I have found, earnings are more erratic in many small companies. However, at least for the last few years, the company is showing steady growth. Free cash flow is positive and the balance sheet is quite solid. The company has plenty of cash. In addition, the PEG is just over 1.0, and the Price/Sales ratio is towards the bottom of its group. The chart looks strong as well.

If I were in the market to be buying shares, this is the sort of company that I would be buying. However, I actually sold a stock at a loss today (BCSI) and thus am once again sitting on my hands, waiting for a partial sale at a gain instead to signal me to be out in the market buying a new position.

Thanks so much for stopping by! If you have any questions or comments, please feel free to leave them on the blog or email me at bobsadviceforstocks@lycos.com.

Bob