"Revisiting a Stock Pick" HealthExtras (HLEX)
Hello Friends! Thanks so much for stopping by and visiting my blog,
Stock Picks Bob's Advice
. As always, please remember that I am an amateur investor so please remember to consult with your professional investment advisors prior to making any investment decisions based on information on this website.

Yesterday evening I was sitting with my friends at my stock club and Scott, a good friend of mine, suggested we as a club buy some shares of HealthExtras (HLEX). This stock is an old favorite of mine, and actually was third stock I discussed on this blog when I listed
HealthExtras (HLEX) on Stock Picks Bob's Advice
on May 14, 2003 when it was trading at $5.70. Our club
did
buy 300 shares this morning and thus I have a proportional ownership in those shares. I did
not
expect that I would be writing up the stock today! A great pick Scott! HLEX made the list of
top % gainers on the NASDAQ
today when it closed at $30.51, up $3.28 or 12.05% on the day. This stock is now up $24.80 or 435% ahead of the pick price from back in May, 2003!
According to the
Yahoo "Profile" on HealthExtras
, the company
"...provides pharmacy benefit management services and supplemental benefit programs primarily in the United States. The company's pharmacy benefit management services include benefit plan design and consultation; formulary administration; formulary compliance and therapeutic intervention programs; retail pharmacy network contracting and administration; decision support and data analysis services; flexible, customized reporting available via secure Internet connection; and contracted mail order pharmacy."
Taking a look at the latest quarterly results, on October 25, 2005, HLEX
reported 3rd quarter 2005 results
. For the quarter ended September 30, 2005, revenue totaled $166.8 million, a 16% increase over the prior year same quarter revenues of $143.2 million. Net income came in at $6.3 million or $.15/share, up 46% from the same quarter last year when net income was $4.3 million or $.12/share.
How about longer-term? Looking at the
Morningstar.com "5-Yr Restated" financials on HLEX
, we can see that revenue has grown steadily and impressively from $43.9 million in 2000 to $666.5 million in the trailing twelve months (TTM).
Earnings, as is often the case in these small companies, have been a bit more erratic, but have increased from a loss of $(.62)/share in 2000 to $.55/share in the TTM. Free cash flow has also fluctuated but has improved from a negative $(2) million in 2002 to $16 million in the TTM.
The balance sheet as reported by Morningstar.com looks solid with $78.5 million in cash, more than enough to cover the $72.6 million in current liabilities. Adding the left-over $6 million to the $75.6 million in other current assets, allows us to easily cover the $14.0 million in long-term liabilities and still have plenty of cash left-over.
What about some valuation statistics on this company? Taking a look at
Yahoo "Key Statistics" on HLEX
, we find that this is a mid-cap stock with a market capitalization of $1.2 billion. The trailing p/e is a bit rich at 55.88, and the forward p/e (fye 31-Dec-06) isn't much better at 39.12. Still, the company is growing briskly, and the PEG isn't that bad at 1.61.
Taliesin East by Frank Lloyd Wright, Spring Green, Wisconsin


Using the Fidelity.com eResearch website, we can see that HealthExtras has been assigned into the group of "Insurance Brokers". Within this group, HLEX appears to be fairly valued in regards to the Price/Sales ratio. At the top of this group is Willis Group Holdings (WSH) with a Price/Sales ratio of 2.6. National Financial Partners (NFP) follows at 2.6 as well, and Hilb Rogal & Hobbs Co. (HRH), comes in at 2.1. Next is HealthExtras (HLEX) at a Price/Sales ratio of 1.7, and at the bottom of this group is Marsh & McLennan (MMC) at a Price/Sales ratio of 1.4.

Going back to Yahoo for some additional numbers, we find that the company has 39.48 million shares outstanding. Of these, 1.64 million shares are out short as of 11/10/05 representing 3.2 trading days of volume. No cash dividend and no stock splits are reported on this Yahoo report.

What about a chart? Taking a look at the "Point & Figure" chart on HLEX from Stockchart.s.com: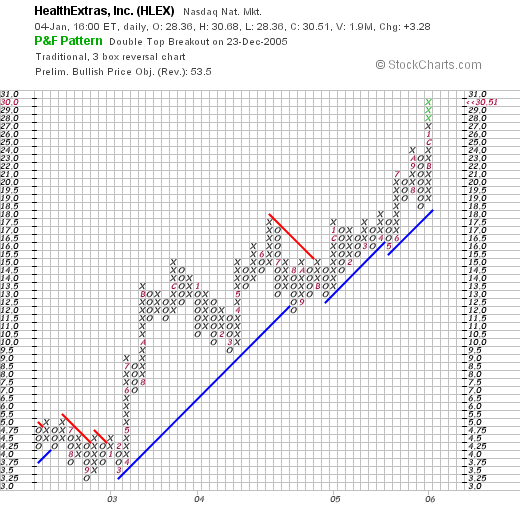 We can see that this stock which was going nowhere through much of 2002, took off in April, 2003, breaking-out to the upside. The stock has never looked back as it climbed steadily to the current level of $30.08.

So what do I think? Well, I liked the stock back in 2003 and like it almost as much right now! Scott, that was a great stock pick for our club! The earnings report was solid, the revenue pattern of growth is exciting, while earnings growing strongly recently, has been a bit erratic in the past. Free cash flow is nicely positive and the company has a solid balance sheet. Valuation-wise, the P/E is a bit rich and the PEG is about 1.6 (with 1.0 being a fair value). The Price/Sales ratio, however, suggests a company with reasonable valuation. Time will tell I guess!

Thanks so much for stopping by and visiting! If you have any comments or questions, please feeel free to email me at bobsadviceforstocks@lycos.com.

Bob