January 6, 2006 AngioDynamics (ANGO)
Hello Friends! Thanks so much for stopping by and visiting my blog,
Stock Picks Bob's Advice
. As always, please remember that I am an amateur investor, so please remember to consult with your professional investment advisors prior to making any investment decisions based on information on this website.

Earlier today I had the good fortune of hitting a sale point on my Meridian Biosciences (VIVO) stock and I sold a 1/6th of my position at a 120% gain. Besides being a terrific performer for me, this sale was also a "signal" that I use in my portfolio management strategy of 'listening to my portfolio' to decide whether to be adding to equity or moving from equity into cash. Since I am below my 25 maximum positions then this sale at 'good news' meant that I could add a new position. And that nickel started burning a hole in my pocket right away!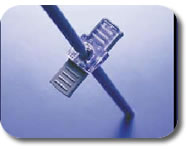 Earlier today, Angiodynamics (ANGO) was on the
list of top % gainers on the NASDAQ
, and meeting most of my criteria, I went ahead and purchased 240 shares of this stock at an average cost of $26.22 in my Trading Account. By the end of the day, even though ANGO closed strongly higher, other stocks had squeezed this one off the list. ANGO closed at $26.28/share, up $2.09 or 8.64% on the day.
And what
does
ANGO actually do? According to the
Yahoo "Profile" on AngioDynamics (ANGO)
, the company
"...engages in the design, development, manufacture, and marketing of medical devices for the minimally invasive diagnosis and treatment of peripheral vascular disease. Its products include angiographic catheters, hemodialysis catheters, plasma thromboplastin antecedent dilation catheters, thrombolytic products, image-guided vascular access products, endovascular laser venous system products, and drainage products.
And the latest quarterly results? On December 19, 2005, ANGO
reported 2nd quarter 2006 results
. Net sales for the quarter ended November 26, 2005, grew 30% to $18.7 million, up from $14.4 million in the same quarter the prior year. Net income for the quarter came in at $1.7 million or $.13/diluted share, up 60% in net income from $1.04 million the prior year, and up 44% in diluted earnings per share from $.09 in the same quarter last year.
And how about longer-term results? Reviewing the
Morningstar.com "5-Yr Restated" financials on AngioDynamics
, we can see the steady growth in revenue from $23.4 million in 2001 to $63.6 million in the trailing twelve months (TTM).
Earnings reports start in 2005 (AngioDyanmics had an IPO at $11 in 6/2004), and show that ANGO earned $.37/share in 2005 and $.41/share in the TTM. Free cash flow has been improving with $(3) million in 2003, improving to $1 million in 2004, $3 million in 2005 and $4 million in the TTM.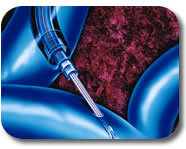 The balance sheet as reported by Morningstar.com appears solid to me with $28.8 million in cash alone reported, enough to cover both the $6.4 million in current liabilitis
and
the $2.9 million in long-term liabilities approximately 3x over! In addition, the company is reported to have $22.2 million in other current assets.
What about valuation? Looking at
"Key Statistics" on AngioDynamics from Yahoo
, we can see that this is a small cap stock with a market capitalization of only $321.43 million. The trailing p/e is a rich 58.79, and the forward p/e (fye 28-May-07) is still a bit rich at 36.50. However, with a strong "5 yr expected" earnings growth, the PEG comes in at 1.27, not much over 1.00.
Within the industrial group of "Medical Instruments/Supplies", AngioDynamics (ANGO) comes in somewhere in the middle of the pack in terms of the Price/Sales ratio according to the
Fidelity.com eResearch website
. At the top of the list is Alcon, with a Price/Sales ratio of 9.9, followed by Guidant (GDT) at 6.1, then AngioDynamics (ANGO) at 4.9, Stryker (SYK) at 3.9, Boston Scientific (BSX) at 3.3, and Baxter Int'l (BAX) at 2.4.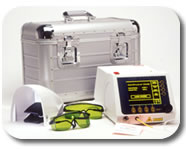 Looking back at Yahoo for some additional numbers, we find that there are 12.23 million shares outstanding. Of these, as of 11/10/05, there were 195,920 shares out short representing 2% of the float or 2 trading days of volume (the short ratio). This doesn't look like a lot of shares out short as of the last report available on Yahoo.
The company does not pay a dividend and no stock splits are reported.
And how about a chart? Looking at a
"Point & Figure" chart on AngioDynamics from Stockcharts.com
, we can see that this stock traded as high as $15.5 in June, 2004, and then traded lower to $9.00/share in October, 2004. Since that period of time, the stock has been steadily moving higher in a saw-tooth pattern with higher lows and now has broken out higher at the $27 region. The chart looks strong to me, yet not over-extended in valuation.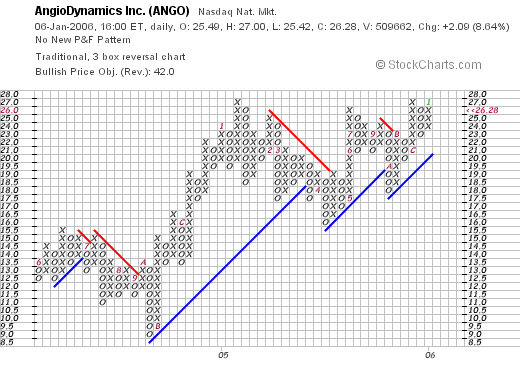 So what do I think? Well as you know I liked the stock enough to buy some shares! The stock made a nice move higher today, has a great latest quarterly report, a nice Morningstar.com report which except for the limited time period of earnings reported, shows strong and steady revenue growth, growing earnings, increasing free cash flow, and a solid balance sheet. Valuation-wise the p/e is rich but the PEG suggests that the stock isn't as over-valued as one might think. And the Price/Sales ratio is midway in its group. Technically, the stock chart looks strong with the stock showing price momentum towards a higher price, with what appears to be a measured appreciation.

Anyhow, that's the rest of the story as Paul Harvey might say! If you have any questions or comments, please feel free to leave them on the blog or email me at bobsadviceforstocks@lycos.com.

Bob