Nike (NKE) A Reader Writes "The Nike buy was on the advice of my broker. And it made me vera vera nervous."
Hello Friends! Thanks so much for stopping by and visiting my blog,
Stock Picks Bob's Advice
. As always, please remember that I am an amateur investor, so please consult with your professional investment advisors prior to making any investment decisions based on information on this website.
I had a nice letter from a Xanga reader "Y" who writes:
I am sitting here, waiting for the chair-thrower to come on, eating spaghetti out of the pan. At least it's homemade. Bob, I was thrilled to read this: "Don't stick to any specific strategy. Use all strategies." Because I've begun to trade faster. And lose faster :) Today I bought Nike, after selling off my mutual funds that hadn't done much for me lately. The Nike buy was on the advice of my broker. And it made me vera vera nervous. Because I didn't take the time to research it. I just trusted his advice. He said get in at 85 something and get out at 88 or 90. He read me the chart for the last few months and by the time I said okay it had gone up to 86 something. I had to meet a friend for lunch and prayed the whole time I was gone it wouldn't go up. Or down. How do you leave the house? Do you trade over the phone?

I took some off the top yesterday AND today. I took 1/6th off Starbucks and Vertex. The other theory of yours I am using is this idea that you buy a stock when it is soaring. I didn't like that idea because it seemed so after-the-fact but for the short term it makes sense to me.

So I watched the chairs fly. And, as I checked back to see what his yesterday's picks had done, I saw a uniform rise of two points. No matter what the percentage, if it was 60 last night, by closing today it was 62. How do you say that? Is that points or something else? Anyway, the only way to win at that game is to go online and place your buy after the show. But don't the -- And I can never keep these straight -- I think the bid is the buy, doesn't that get jacked up because of his show? So by morning you're probably getting it at 61 and selling it at 62 because it probably drops the next day. Maybe not. Have you tracked his picks?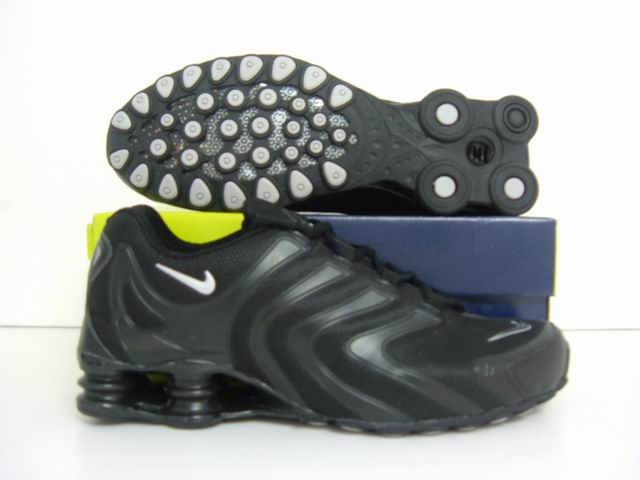 Wow! That was a whole lot of a comment. Let me try to address what you have written and then take a short look at Nike (NKE).
I believe that Jim Cramer, the "chair-thrower" is a bright guy. He does his homework. He has some interesting ideas. But it isn't my style.
You write that you have begun to trade "faster", "And lose faster :)". That isn't what I would call a good idea! One of the things I strongly believe is that if you have made a sale at a loss, sit on your hands and don't reinvest that money until you have sold a portion of a stock at a gain.
And do not arbitrarily sell this and buy that. Have a plan, an approach to your portfolio, even if you have a broker assisting you with all of this, which I fully support.
I don't believe in getting into a stock at say 85 and get out at 90. That isn't my approach at all. I don't get out of a stock completely unless something goes
wrong
not
if something goes
right
. I believe in bailing out of a stock on "bad news". That may be something fundamentally wrong that is announced by the company, or it may be just that price performance lags and the stock hits one of my sale points on the downside. You know about those. If you don't I can explain again another time.
So I would hope that you would build a portfolio of the finest companies on Wall Street. And that you hold those stocks until your ripe old age. That at least is my goal. I am always prepared to unload a company that fails to perform properly, but I don't want to punish a strong stock by selling all of it just because it went up a few points.
By the way, I do leave the house. I generally trade online. When I am on vacation, I do tend to be a pain to the rest of my family and look for a laptop or a quick WiFi connection in my hotel room. I don't own a laptop now, but two of my kids do!
I think it is a good idea to peel off some of your gains like you have done. Don't just do it arbitrarily as you go forward in the future, but use these sales as signals to add positions. And I don't just buy stocks when they are "soaring". They may be pretty high, that is a CANSLIM attitude about buying stocks at new highs, but what I am looking for is stocks that are
gaining
not soaring. Those stocks that are moving higher out of proportion to the rest of the stock market. That is where I start my search for new stock picks.
So what to do about Kramer? Watch and enjoy. But don't try to get into that pack. Think about the three hundred or so "pilgrims" who got trampled in the latest Saudi Arabian disaster in Mecca. You don't want to go into a mob and try to buy a stock fighting other investors who don't necessarily have any individual understanding of stocks but who are tuned into the latest chair-throwing episode.
You will have a better chance at making a profitable trade buy examining stocks in a quiet environment, thinking on your own, consulting with your professional advisor, and developing your own strategy for investing. You are welcome to adopt any part of mine, or use Cramer's ideas, or anyone else's. And finally, I don't have the time to track his picks. And he probably doesn't track mine either :).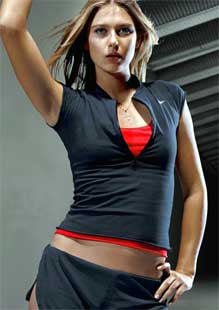 But let's take a look at Nike and see what I think about how it fits into my particular perspective on stocks. Always remember, I am completely unable to say whether Nike is going to go up or down in price. But maybe I can tell you whether this stock fits into my perspective of investing decisions. I do not own any shares of Nike nor do I have any options on this stock.
O.K. Nike. Nike (NKE) closed at $86.20, down $.11 or 0.13% yesterday (January 13, 2006).
What do they do? Looking at the
Yahoo "Profile" on Nike
, we see that the company
"...and its subsidiaries engage in the design, development, and marketing of footwear, apparel, equipment, and accessory products worldwide. It designs athletic footwear for running, cross training, basketball, soccer, sport inspired urban shoes, and children's shoes. The company also offers shoes and sports apparel for tennis, golf, baseball, football, bicycling, volleyball, wrestling, cheerleading, aquatic activities, hiking, outdoor activities, and other athletic and recreational uses primarily under the 'NIKE' brand name. In addition, it sells sports inspired lifestyle apparel, as well as athletic bags and accessory items. Further, NIKE sells a line of performance equipment, including golf clubs, sport balls, eyewear, timepieces, electronic media devices, skates, bats, gloves, swimwear, cycling apparel, children's clothing, school supplies, and eyewear. Additionally, the company sells a line of dress and casual footwear, apparel and accessories for men and women."
Latest quarter? On December 20, 2005, Nike
reported 2nd quarter 2006 results
. Sales grew 10% to $3.5 billion, from $3.1 billion. Profits climbed 15% to $301 million, and they earned $1.14/share up from $.97/share the prior year. This was $.11 ahead of analysts expectations. It is always better to surprise on the upside than to disappoint on the downside!
However, the company
did
signal a cautionary note:
"But Nike said currency exchange rates "significantly reduced growth" in future orders, which increased 2.5 percent to $5.2 billion compared to the same period last year."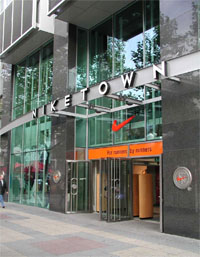 So while it was a nice report with growing revenue and earnings and the company did exceed expectations, the cautionary note is enough to give an investor at least a little bit of a pause. I am sure the market has absorbed that news and is already looking beyond that issue.
How about longer-term? Taking a look at the
Morningstar.com "5-Yr Restated" financials
, we can see that revenue has grown steadily from $9.5 billion in 2001 to $13.7 billion in 2005 and $14.0 billion in the trailing twelve months (TTM).
Earnings have been a bit erratic, dropping from $2.44 in 2002 to $1.77 in 2003. However, since that time they have grown strongly to 44.48 in 2005 and $4.88 in the TTM.
Free cash flow also looks nice with $736 million in 2003 increasing to $1.2 billion in the TTM.
The balance sheet is also solid with $1.9 billion in cash and $4.8 billion in other current assets. This easily covers both the $2.2 billion in current liabilities and the $.9 billion in long-term liabilities combined with over $3.5 billion left over!
Let's take a look at some valuation numbers.
Looking at
Yahoo "Key Statistics" on NKE
, we find that this is a large cap stock with a market capitalization of $22.35 billion. The trailing p/e doesn't look bad at 17.01, and the forward p/e (fye 31-May-07) is even nicer at 14.91. The PEG which considers the future growth rate compared to the p/e is nice at 1.14, with 1.0 being ideal.
According to the
Fidelity.com eResearch website
, Nike is in the "Textile-Apparel Footwear/Accessories" industrial group. Topping out this group in terms of Price/Sales is Coach (COH) with a ratio of 7.1. This is followed by a bunch of companies grouped closely, starting with Nike at 1.6, Timberland at 1.5, Wolverine World Wide at 1.3 and Reebok at 1.0. Thus by this parameter as well, Nike doesn't look too over-valued.
Some other numbers: Nike has 259.3 million shares outstanding. Currently there are 3.45 million shares out short (12/12/05), representing 1.80% of the float. This doesn't look to be much of a factor.
The stock does pay a small dividend of $1.24/share yielding 1.40%. The last time the stock split, per Yahoo, is 10/24/96, when Nike distributed shares for a 2:1 stock split.
What about the chart? Looking at the
"Point & Figure" chart on Nike
we can see that the stock has been trading strongly higher since February, 2003, when it broke out of a "triangle formation" at around $43 and traded sharply higher since that time to its current levels around $86. This is a very strong graph imho.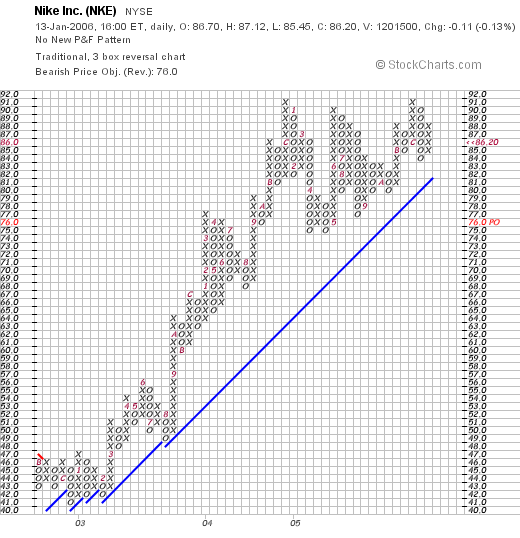 So what do I think? Well, first of all I hope I answered your questions on Cramer. I am actually a fan of his and I like to watch his show. If nothing else to see what he is thinking about things. Sometimes his ideas and mine coincide and that is a plus imho, like when he also like Palomar (PMTI). But I don't trade based on his recommendations. I have my own system.

As far as Nike is concerned. It looks to be a great stock. I just wouldn't be in it "for a trade" as they say in the business. This is investable material and you might just want to do what I do (?) and sell your gainers slowly and partially and sell your losers completely and quickly!

Thanks again for writing. Keep me posted on how things work out and if you or anyone else have questions or comments, please feel free to leave them on the blog or email me at bobsadviceforstocks@lycos.com.

Bob