"Weekend Trading Portfolio Analysis" Ventana Medical Systems (VMSI)

Hello Friends! Thanks so much for stopping by and visiting my blog,
Stock Picks Bob's Advice
. As always, please remember that I am an amateur investor, so please remember to consult with your professional investment advisors prior to making any investment decisions based on information on this website.
It is the weekend and I would like to continue to review the stocks in my
Trading Portfolio
. These are the real holdings in my trading account, stocks that I have picked and purchased based on my trading strategies on this blog. Two weeks ago I
reviewed Meridian Biosciences (VIVO) on Stock Picks Bob's Advice
, today I am at the bottom of my list alphabetically and would like to take a look at Ventana Medical Systems (VMSI).

Ventana was an early pick of mine on this blog. I
posted Ventana Medical Systems (VMSI) on Stock Picks Bob's Advice
on December 23, 2003, when it was trading at $39.80. Ventana had a 2:1 split March 15, 2005, giving me an effective stock pick price of $19.40. VMSI closed at $41.42 on 1/27/06, giving my pick an appreciation of $22.02 or 113.5% since my selection.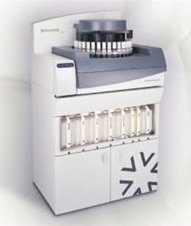 I currently own 225 shares of Ventana (VMSI) which were acquired 4/16/04 at a cost basis of $23.47/share. With yesterday's (1/27/06) closing price of $41.42, these shares currently have an unrealized gain of $17.95 or 76.5% since my purchase of these shares.
Since it is my strategy to sell gaining stocks slowly and partially at pre-determined appreciation levels, I have already sold portions of my VMSI holding at the 30% and 60% levels. My next planned sale of a 1/6th of my remaining shares on the upside would be at a 90% appreciation level or 1.90 x $23.47 = $44.59. On the downside, since I like to allow my shares to retrace only 50% of the highest sale point on a decline, I plan on selling all remaining shares if the stock should drop back to the 30% gain level or 1.30 x $23.47 = $30.51.
Let's take a closer look at this stock.
First of all, let's review their business. As described by the
Yahoo "Profile" on Ventana
, the company
"...engages in the development, manufacture, and marketing of instrument-reagent systems that automate slide staining in anatomical pathology and drug discovery laboratories worldwide. Its clinical systems are used in anatomical pathology labs in analyzing human tissue to assist in the diagnosis and treatment of cancer and infectious diseases. The company's drug discovery systems are used by pharmaceutical and biotechnology companies to accelerate the discovery of new drug targets and to evaluate the safety of new drug compounds."
And how about the latest quarterly result?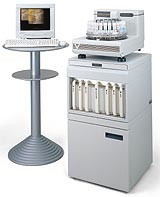 On October 21, 2005, VMSI
reported 3rd quarter 2005 results
. For the quarter ended September 30, 2005, sales came in at $50.7 million, up 29% over the same quarter in 2004. Net income for the quarter was $3.6 million or $.10/diluted share, compared with net income of $4.1 million or $.11/diluted share last year. This
was
a drop in net income for the company and is not my preferred result. If this is repeated, it certainly would be a consideration to sell the stock on fundamental weakness.
And how about longer-term? Looking at the
Morningstar.com "5-Yr Restated" financials
, revenue has grown steadily from $71.1 million in 2000 to $166.1 million in 2004 and $192.9 million in the trailing twelve months (TTM).
Earnings have also grown steadily from a loss of $(.93)/share in 2000 to $.59/share in 2004 and $.64/share in the TTM.
Free cash flow is positive and growing from $5 million in 2002 to $21 million in 2004 and $27 million in the TTM. The balance sheet as presented by Morningstar.com also looks solid with $47.7 million in cash, enough to cover both the $42.3 million in current liabilities and the $2.4 million in long-term liabilities combined. In addition, Morningstar reports an additional $58.4 million in other current assets.
How about valuation?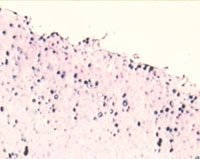 Reviewing
Yahoo "Key Statistics" on Ventana
, we find that this is a mid-cap stock with a market capitalization of $1.50 billion. The trailing p/e is rich at 64.72 and the forward p/e is also a bit steep (fye 31-Dec-06) at 40.21. The PEG (5 yr expected) is a bit high as well at 1.77.
According to information on the
Fidelity.com eResearch website
, Ventana is in the "Medical Instruments/Supplies" industrial group. Within this group, the stock is also richly valued with a Price/Sales ratio of 7.9. This is only exceeded by Alcon (ACL) at 9.4. Other stocks in the group include Guidant (GDT) with a Price/Sales ratio of 6.7, Stryker (SYK) at 4.4, Boston Scientific (BSX) at 2.8 and Baxter (BAX) at 2.4.
Returning to Yahoo for some additional numbers on this company, we find that there are 36.12 million shares outstanding with 2.58 million shares out short representing 8.10% of the float or 7.9 trading days of volume (the short ratio). Using my 3 day cut-off for significance, we can see that there are a lot of short-sellers on this stock. If the company comes in with a strong quarterly report for the quarter, this may mean the shorts will be squeezed. However, with a weak report, the shorts will be vindicated. In any case, they will need to buy back the shares.
No cash dividend is paid and the last stock split, as noted above, was a 2:1 split in March, 2005.
And how about a chart? Looking at a
"Point & Figure" chart on Ventana (VMSI) from Stockcharts.com
: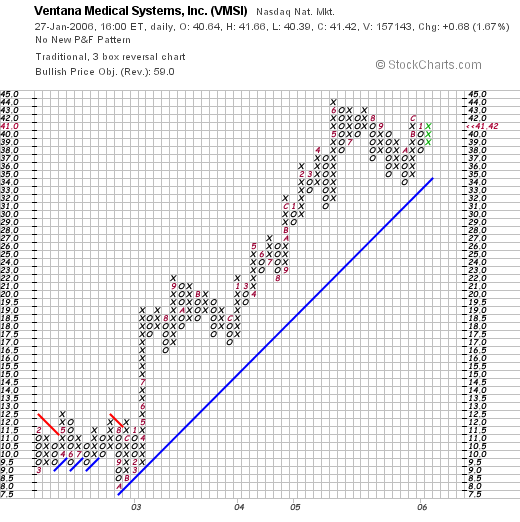 We can see that the stock was trading sideways between February, 2002, and October, 2002, when it was trading in a range beteween $8.00 and $12.00. However, in January, 2003, the stock broke through resistance and has been heading higher since, currently at the $41.42 level. Overall, the graph looks strong to me!

So what do I think? Well I like the stock well enough to own it. The Morningstar.com report is quite strong as is the chart. However, the latest quarter had a glimpse of weakness with the earnings down a tad from the prior year. In addition, the standard measurements of valuation, such parameters as the P/E, PEG, and the Price/Sales ratio all look a bit pricey. I am awaiting the earnings for the final quarter of the year. If these are strong, we may see a nice price appreciation with the large number of short sales outstanding.

Thanks so much for visiting. If you have any comments or questions, please feel free to leave them on the blog or email me at bobsadviceforstocks@lycos.com.

Bob

p.s.: Next week I shall be starting over once again at the top of the list of stocks in the trading portfolio!











Posted by bobsadviceforstocks at 12:43 PM CST |
Post Comment
|
Permalink
Updated: Saturday, 28 January 2006 1:19 PM CST