January 30, 2006 FMC Technologies (FTI)
Hello Friends! Thanks so much for stopping by and visiting my blog,
Stock Picks Bob's Advice
. As always, please remember that I am an amateur investor, so please remember to consult with your professional investment advisors prior to making any investment decisions based on information on this website.

Earlier today, my position in Jos. A Bank (JOSB) hit a sale point and I sold 1/6th of my position at a 60% gain target. This entitled me to purchase a new position as I am under my 25 position maximum. Looking
today
through the
list of top % gainers on the NYSE
, I came across FMC Technologies (FTI) which closed at $51.30, up $2.47 or 5.06% on the day. Before the close, I purchased 160 shares at $52.30 of FTI.
Let's take a closer look at this stock and see how it fits into my strategy on this blog.
According to the
Yahoo "Profile" on FMC
, the company
"...engages in the design, manufacture, and servicing of machinery and systems for the energy, food processing, and air transportation industries. It operates in four segments: Energy Production Systems (EPD), Energy Processing Systems (EPS), FoodTech, and Airport Systems."
What drove the stock higher today was an
announcement about 4th quarter profits
that was released by the company prior to trading. The company basically announced that it was raising guidance on the fourth quarter. The street liked what it 'heard' and the stock took off in price! My purchase was actually mid-day and as the market moved into the afternoon, both the overall stock averages as well as FTI stock pulled back by the time of the close to $1 under my own purchase price.
And how did the company do in the latest announced quarter? On November 1, 2005, FTI
announced 3rd quarter 2005 results
. Revenue grew 11% to $776 million, from $700 million the prior year same quarter. Diluted earnings per share increased over 100% to $.65/share, up from $.32/share the prior year.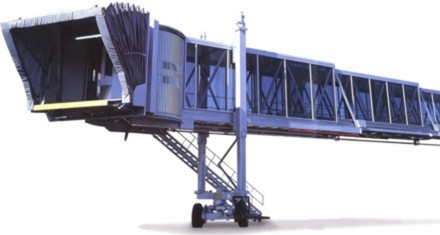 And what about longer-term results? Looking at the
Morningstar.com "5 Yr Restated" financials on FMC Technologies
we
see that the company had $2.1 billion in revenue in 2002, $2.3 billion in 2003, $2.8 billion in 2004 and $3.1 billion in the trailing twelve months (TTM).
Earnings have improved from a loss of $(2.03) in 2002, to $1.03 in 2003, $1.68 in 2004, and $1.88 in the TTM.
Free cash flow has been positive but erratic with $51 million reported in 2002, $85 million in 2003 and $8 million in the TTM.
The balance sheet as reported on Morningstar.com appears solid with $139.6 million in cash and $1.2 billion in other current assets. This is plenty to cover both the $991.3 million in current liabilities and the $276.2 million in long-term liabilities.
How about valuation questions? Looking at
Yahoo "Key Statistics" on FMC Technologies
, we find that this is a large cap stock with a market capitalization of $3.53 billion. The trailing p/e is reasonable at 27.39, with the forward p/e (fye 31-Dec-06) even nicer at 22.40. The PEG is reported at 1.99, a little rich.

Looking at the
Fidelity.com eResearch website
for an assessment of relative Price/Sales valuations, we find that the company is in the "Oil & Gas Equipment/Services" industrial group. Within this group, FTI is at the bottom of the list for the Price/Sales ratio coming in at 1.1. Leading this list is Schlumberger (SLB) at 5.8, BJ Services (BJS) at 4.1, Baker Hughes (BHI) at 3.7, Cooper Cameron (CAM) at 2.4, and Halliburton (HAL) at 2.0.
Going back to Yahoo for some additional statistics, we find that there are 68.85 million shares outstanding, with 3.05 million of them out float. This represents 4.50% of the float or 4.9 trading days of volume. Thus, using my 3 day rule of significance, this is a bit of a significant short interest in this stock. No cash dividend is paid, and no stock splits are reported on Yahoo.
What about a chart? Looking at a
"Point & Figure" chart from Stockcharts.com on FTI
: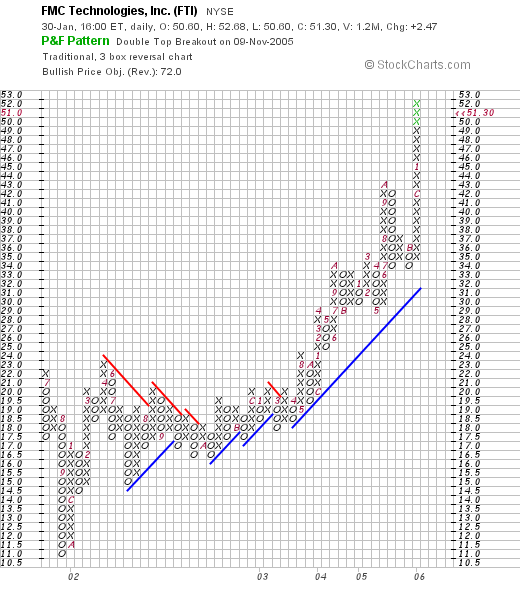 The chart shows the stock moving sideways from $W22.00 in July, 2001, to a low of $11.00 in September, 2001. The stock subsequently consolidated and then started moving higher after breaking through resistance at April, 2003, to its current price level at $51.30. The stock chart looks strong if a tad overextended at its current level.

So what do I think? Well, first of all, the company had nice news today boosting estimates for the latest quarter. The p/e isn't bad but the PEG at 2.0 isn't any bargain. The Price/Sales ratio is quite reasonable it its industrial grouping. The rest of Morningstar.com is strong with steady revenue and earnings growth, positive if not growing free cash flow, a decent balance sheet and a nice chart are other positive factors.

In fact, I liked the stock so much I bought some shares! Regards. If you have any questions or comments, please feel free to leave them on the blog or email me at bobsadviceforstocks@lycos.com.

Bob