Vasco (VDSI) A Reader Writes "I have a stock I would like your opinion on."
Hello Friends! Thanks so much for stopping by and visiting my blog,
Stock Picks Bob's Advice
. As always, please remember that I am an amateur investor so please remember to consult with your professional investment advisors prior to making any investment decisions.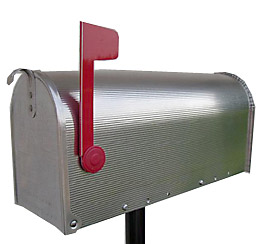 I always enjoy receiving mail from readers of my blog and listeners of my podcasts. Please remember that I am not qualified to give you individualized advice; for that you should consult with your professional investment advisor. But when somebody suggests a stock name, I can tell you how it might fit into my own perspective, not whether it would be a good investment or not.
Sean G. was kind enough to write:
Bob,

I am a huge fan, thank you for helping a novice investor like myself.
I have learned so much in just a short time of following your
website and pod transmissions.

I have a stock I would like your opinion on. Vasco (vdsi) I feel I
have made the mistake of getting emotionally attached to it, and need
your objective rational opinion. I currently own 11,500 shares with n
average cost basis of 10.70

Thank you so much for your time,

Sean G.
First of all, thank you for your kind words. Always take what I write with a grain of salt as I am truly an amateur investor! However, it is nice to think that my writing has helped you in your understanding of the stock market. I hope that you continue to learn and share your thoughts here with our readers as well.
Let me take a lood at Vasco (VDSI) for you. Personally, I have never owned any shares and in fact have not come across this company prior to your email.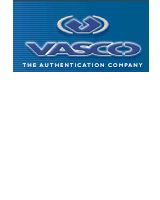 Let's take a closer look at this company. First of all the stock closed at $10.75 yesterday.
The "Profile": Per
Yahoo
, the company
"...engages in the design, development, marketing, and support of open standards-based hardware and software security systems that manage and secure access to information assets worldwide. Its identity authentication products enable secure financial transactions to be made over private enterprise networks and public networks, such as the Internet."
And how was the latest quarterly result? This was a little harder to track down, but as expected, I found the latest result on the
Vasco company website
. For the third quarter of 2005, revenue climbed at impressive 79% to $13.3 million from $7.4 million in 2004. Net income was $1.8 million or $.05/diluted share, an increase of $601,000 or 52% from the $1.2 million or $.03/diluted share in 2004. These certainly were strong results!
How about longer-term? Looking at the
Morningstar.com "5-Yr Restated" financials on VDSI
, we can see that while revenue growth was flat between 2000 at $21.5 million through 2002 when it was only $17.4 million, the company then has been growing its revenue steadily to $29.9 million in 2004 and $46.4 million in the trailing twelve months (TTM).
Earnings have also been improving from a loss of $(.20)/share in 2002, they turned profitable at $.09/share in 2004 and came in at $.14/share in the TTM.
Free cash flow looks ok with $(3) million in 2002, improving to $3 million in 2004, and only $1 million in the TTM.
Balance-sheet-wise, the company looks solid with $11.7 million in cash and $11.2 million in current liabilities and only $.2 million in long-term liabilities. In addition, the company has $12.4 million in other current assets. Thus, this looks fine as well.
What about valuation? Looking at
Yahoo "Key Statistics" on VDSI
, we see that the company has a market cap of only $388.24 million making it a small cap stock. The trailing p/e is quite rich at 71.87, the forward p/e is a bit better at 37.17 (fye 31-Dec-06) and the PEG is also a bit rich at 1.60.
Reviewing the
Fidelity.com eResearch website information
, we can see that the company, as expected, is in the "Security Software & Services" Industrial Group. Within this group VDSI is fairly richly valued with a Price/Sales ratio of 8.7. Exceeding this is Check Point Software (CHKP) at 9.2. Other stocks in the group include McAfee (MFE) with a ratio of 4.0, RSA Security (RSAS) at 3.5, Safenet (SFNT) at 3.3, and Aladdin Knowledge System (ALDN) at 3.1. Thus, by this measure the stock also looks a bit expensive.
Going back to Yahoo for some more information, we find that the company has 36.02 million shares outstanding. Currently there are 3.23 million shares out short representing 12.40% of the float or 7.9 trading days of volume. This is bullish using my 3 day rule with a lot of shares that have been shorted that need to be covered. The "squeeze" that might result will come from a release of good earnings. Otherwise, if the earnings fall short, the stock is fairly richly valued and may be vulnerable to a correction.
What about the chart? If we take a look at the
Vasco "Point & Figure" chart from Stockcharts.com
, we can see that the stock was trading very weakly from January, 2001, when it was at the $8.50 level, down to a low of $.25/share in February, 2003. Since that time, the stock broke through resistance in April, 2003, and has been trading strongly higher to its current level of about $10.77. The chart looks strong to me as well.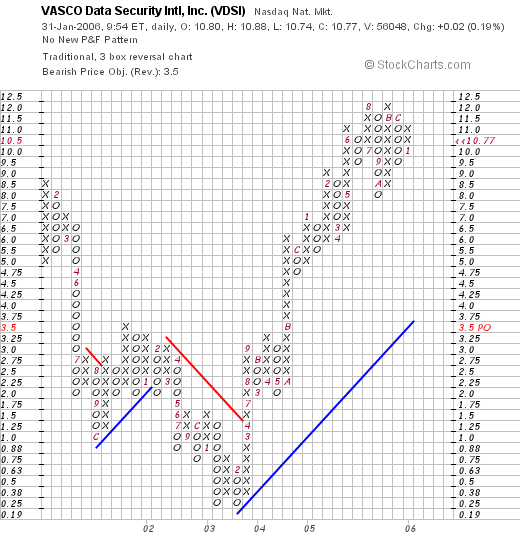 So what do I think? Well, the latest quarterly report was exceptional, the Morningstar.com evaluation looks nice, and the chart looks strong. I also like the large number of shares out short on this stock.

On the downside, valuation is rich with both a steep p/e and Price/Sales ratio as well as a PEG of around 2.0. However, if the stock can come in with another superb earnings report, the short sellers may need to "eat crow". (I hope I used that slang correctly!) Time will tell I guess.

The only thing missing from my perspective, is that this stock wasn't on the top % gainers list and I didn't sell any stock at a gain, otherwise with the stock over $10, I might be tempted to buy as well.

Will this stock turn out to be a good investment for you? I hope so for your benefit. If I were owning shares, I still would hold to my 8% loss limit and also keep to my targeted sales at gains. Good luck and let me know how it all turns out. In any case, please remember that I am an amateur investor, so please consult with professionals. Anytime you invest in small cap stocks like this, there is always increased risk, as well as increased potential for the individual investor.

I cannot answer all of the email that I receive, but if you have a comment or question, please feel free to leave them on the blog or email me at bobsadviceforstocks@lycos.com.

Bob