Relm Wireless (RWC) A Reader Writes "...I'm curious to hear your thoughts on this stock."
Hello Friends! Thanks so much for stopping by and visiting my blog,
Stock Picks Bob's Advice
. As always, please remember that I am an amateur investor, so please remember to consult with your professional investment advisors prior to making any investment decisions based on information on this website.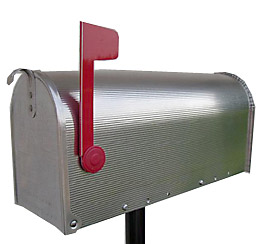 I very much enjoy receiving comments and questions for readers. When a reader asks me about a particular stock that they have found, I must assume that they have purchased shares in that stock, so please be aware of that possibility. On the other hand, I also sometimes write about stocks that I own, so always take that into consideration whenever I write about stocks!
I received a nice letter last night from a reader that I would like to share with you and comment on. If you have questions or comments, please feel free to leave them on the blog or email me at bobsadviceforstocks@lycos.com. Please give me a name and a location and if you do own some shares of the stock, please let me know so that our readers can also take that into consideration. Unfortunately, I cannot answer or comment on all of the email and comments I receive, but I shall try to get to as many of these as possible.
In any case, this is the letter I received:
Bob,

I really love reading your site and have learned a lot in doing so. In doing some personal stock research I came upon RWC (Relm Wireless) and I'm curious to hear your thoughts on the stock. I understand it may not be a perfect macth for you, or that you may not be on the market for a new stock. Nonetheless, looking forward to hearing your thoughts.

Thanks,
Maryanne
Maryanne, thank you for your kind words. I cannot predict what any particular stock will do, but I can tell you if it sort of fits into our strategy on this website. I hope my discussion is helpful to you in this regard.

Let's take a closer look at Relm (RWC) and see what we can find. I do not own any shares of this stock and do not have any options. In fact, I have never even heard of this company until Maryanne wrote me a letter about it last night.
First of all as I write this morning, RWC is trading at $10.25, down $(.2501) or (2.38)% on the day.
And what does this company do? According to the
Yahoo "Profile" on Relm
, the company
"...engages in the design, manufacture, and marketing of wireless communications products primarily in the United States. Its products include two-way radios, repeaters, base stations, and related components and subsystems, which are sold under the brands BK Radio, RELM, and Uniden. The company sells its products in the government and public safety market, and the business and industrial market."
And the latest quarterly result? On November 1, 2005, the company
announced 3rd quarter 2005 results
. Sales grew 46.6% to $7.6 million from $5.2 million in the year-ago same period. Net income came in at $1.2 million or $.09/diluted share, up from $.5 million or $.04/diluted share the prior year same period. So far so good!
How about longer-term? Looking at a longer-term picture with the
Morningstar.com "10-Yr Income" statement on RWC
, we actually see a
dismal
picture of declining revenue from $68.7 million in 1996 down to a low of $16.0 million in 2002. However, since that time, revenue has been increasing steadily to $20.7 million in 2004 and $25.1 million in the trailing twelve months (TTM).
If we look at our usual
"5-Yr Restated" financials on RWC from Morningstar.com
, things don't look quite as gloomy at all. The company, at least short-term, does appear to be turning around. Revenue
did
drop from $22.8 million in 2001 to $16.0 million in 2002 as we noted, but then increased to $19.7 million in 2003, $20.7 million in 2004 and $25.1 million in the TTM. Time will tell if the company can regain its previous revenue picture.
Similarly, earnings did drop from a loss of $(.27)/share in 2000 to a low of $(.47)/share in 2002, but have been improving since then to $.09/share in 2003, $.65/share in 2004 and $.69/share in the TTM.
Free cash flow has been nil, but at least not negative with $1 million in free cash flow in 2002, increasing to $2 million in 2004, but back to -0- in the TTM.
The balance sheet is solid with $2.4 million in cash reported by Morningstar.com balanced against $1.8 million in current liabilities and $0 in long-term liabilities. In addition, Morningstar reports the company with $12.4 million in other current assets.
How about valuation? Looking at
Yahoo "Key Statistics" on Relm
, we can see that this is a very small company with a market capitalization of only $134.4 million. The trailing p/e isn't bad at 15.99, but the forward p/e comes in at 19.34--leading me to suspect that this figure hasn't been updated on Yahoo due to the small size of the company and probably the infrequent analysts estimates. Sometimes companies this size don't even have analysts following their progress! Even so, the PEG comes in at 0.98, making this a good value based on growth and earnings performance.
According to the
Fidelity.com eResearch website
, this company is in the "Electronic Equipment" Industrial Group. The company, even though the PEG is nice, has a Price/Sales ratio of 5.6, which is at the top in terms of valuation of this group from this perspective. Other stocks in the group include DTS with a Price/Sales ratio of 4.2, Avid at 2.7, Harman International at 2.4, EchoStar at 1.6, and Sony at 0.7.
Going back to Yahoo we can see that there are only 13.11 million shares outstanding with 290,740 shares out short, representing only 2.5% of the float or 1 trading day of volume. This doesn't appear to be a factor. Yahoo reports no cash dividends and the last stock split was actually a reverse 1:6 stock split 6/17/91.
What about the chart? Taking a look at the
"Point & Figure" chart on RWC from Stockcharts.com
: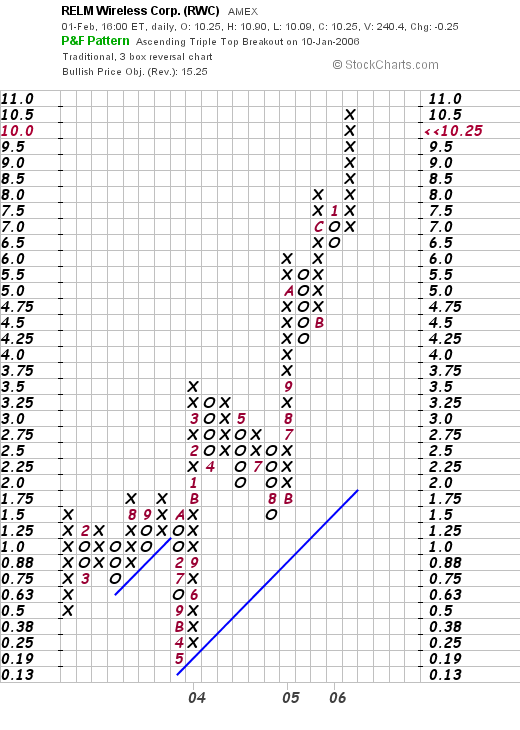 We can see that the stock was trading lower between January, 2003, when it was at $1.50, down to a low of $.19/share in May, 2003. The stock has moved strongly higher since to the current $10.25 level.

So what do I think? Well, it is a bit speculative for my taste :). Although I have purchased similar speculative stocks. I do like the latest quarterly report, the Morningstar.com report is also adequate. However, the steady drop in revenue the past 10 years is of some concern to me but it appears that the company is on the right track. Valuation-wise the p/e and the PEG are nice and the Price/Sales ratio is a bit rich. The chart is strong, the balance sheet is excellent, and the free cash flow is nil.

Could this be a winner for you? Perhaps. If it were on the top % gainers list, and I had some money to be buying some shares, I would be looking at a stock like this :). Good-luck and let me know how you do with this and if you did purchase some shares.

Bob