February 8, 2006 Stamps.com Inc. (STMP)
Hello Friends! Thanks so much for stopping by and visiting my blog,
Stock Picks Bob's Advice
. As always, please remember that I am an amateur investor so please remember to consult with your professional investment advisors prior to making any investment decisions based on information on this website.

Sometimes even a "dot.com" stock makes it to the list here on Stock Picks! I was looking through the
list of top % gainers on the NASDAQ
today and came across Stamps.Com Inc. (STMP) which had a nice day today, closing at $30.99, up $5.82 or 23.12% on the day. I do not own any shares nor do I have any options on this company.
According to the
Yahoo "Profile" on STMP
, the company
"...provides Internet-based postage solutions. It operates in three segments: Internet Postage Service, PhotoStamps, and Online Store. The Internet Postage Service segment offers service, which enables users to print information-based indicia, or electronic stamps, directly onto envelopes or labels using ordinary laser or inkjet printers. The PhotoStamps segment allows consumers to turn digital photos, designs, or images into valid US postage. The Online Store segment sells NetStamps consumables, including labels, shipping labels, Internet postage labels, dedicated postage printers, label inkjet and laser toner cartridges, scales, and other mailing and shipping-focused office supplies.
What drove the stock higher today was the
announcement of 4th quarter 2005 results
. For the fourth quarter ended December 31, 2005, revenue was $20.6 million, a 76% increase over the prior year same quarter result. GAAP net income was $4.1 million or $.17/diluted share, up 176% vs. last year's result of $1.46 million or $.06/diluted share. This result beat expectations and Stamps.com
raised guidance
, as reported:
"Looking ahead, Stamps.com sees 2006 earnings of 53 cents to 63 cents a share, or 65 cents to 75 cents a share excluding stock-based compensation costs. Analysts project earnings of 63 cents a share."
And how about longer-term results? Looking at the
Morningstar.com "5-Yr Restated" financials on STMP
, we find that revenue grew slowly between 2000 and 2002 when it increased from $15.2 million to $16.3 million. Since 2002, revenue growth has accelerated to $38.1 million in 2004 and $53 million in the trailing twelve months (TTM).
The company has been gradually reducing its losses, decreasing from $(9.08)/share in 2000 the $(.21)/share in 2004. The company turned profitable in the TTM reporting $.34/share in earnings.
Free cash flow, while dropping from $1 million in 2002 to a negative $(6) million in 2003, turned positive at $1 million in 2004 and increased to $9 million in the TTM.
The balance sheet as reported by Morningstar.com is solid with $38.6 million in cash and $4 million in other current assets giving STMP a current ratio of 6 considering the $6.8 million in current liabilities. Morningstar does not report any long-term liabilities for this company.
And how about some valuation numbers for this company? Looking at
Yahoo "Key Statistics" on STMP
, we can see that Stamps.com is a mid-cap stock with a market capitalization of $721.94 million. The trailing p/e is a very rich 93.06, but with the rapid growth, and the forward p/e of 52.53 (fye 31-Dec-06), the PEG works out to a more reasonable 1.58.
According to the
Fidelity.com eResearch website on STMP
, the company is in the "Catalog/Mail Order Houses" industrial group. Within this group, at least according to the Price/Sales figure, the company is also richly valued, leading the entire group with a price/sales figure of 11.3. The next stock in the group is much lower, Coldwater Creek (CWTR) at 2.7, followed by J Jill (JILL) at 1.1, ValueVision (VVTV) at 0.7, Insight Enterprises (NSIT) at 0.3, and PC Connection (PCCC) at 0.1.
Going back to Yahoo "Key Statistics" for some additional numbers on this company, we find that there are only 23.30 million shares outstanding with 12.46 million of them that 'float'. The short interest, as of 1/10/06, stood at 2.28 million shares or 7.7 trading days of volume. This looks significant to me and may well be the cause of the sharp price rise today on good earnings news.
The company does not pay a cash dividend and the last stock split was a reverse 1:2 paid on 5/12/04.
And what does the graph look like? Looking at a
"Point & Figure" chart on STMP from StockCharts.com
: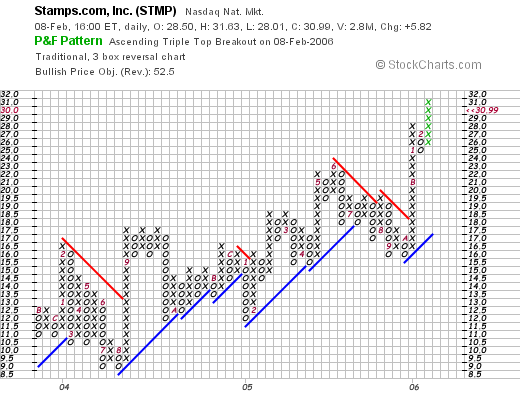 We can see the stock has an interesting chart, with an increasing 'saw-tooth' like pattern of gradual increases in price from the $8.50 level in August, 2004, to the current level of $30.99. The stock chart looks strong and not over-extended to me!

In summary, this is a very small company with what appears to be a niche product. The latest quarterly report was strong with outstanding growth in revenue and earnings and the company beat expectations. In addition, the company raised guidance on the upcoming year's earnings. A nice report overall.

The Morningstar.com report shows that revenue has recently been growing and the company has just turned positive. The balance sheet is strong as well. Valuation, however, is a bit rich, with a sky-high Price/Sales number, and a P/E in the 90's. The PEG, however, is just a shade over 1.5.

I am not in the market to be buying any stocks, but if I were, this is the kind of stock I might very well be purchasing. Thanks for visiting and please drop me a line if you have any comments or questions.

Bob