A Reader Writes "I woke up yesterday and saw everything in the red..."
Hello Friends! Thanks so much for stopping by and visiting my blog,
Stock Picks Bob's Advice
. As always, please remember that I am an amateur investor so please remember to consult with your professional investment advisors prior to making any investment decisions based on information on this website.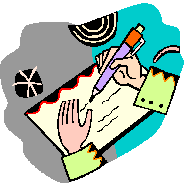 Earlier today, I had a comment from a frustrated reader who left a comment on my Xanga "shadow" blog where I also post comments. She was trying hard to learn how to invest and was coming up empty. She wrote:
I sat here for a good while, trying to think of how to say this. I lost my confidence today. That's what it is. When I woke up and saw how everything was back up, including the two stocks I should have held onto, I realized I had no business betting like this. Because that's all it is. An hour after I sold Bristol Meyers they came out with this new drug that Cramer was raving about. Only he was promoting a small biotech, as I recall. At his Harvard thing he told some kid to get rid of Bristol Meyers. The next day I looked at the five-year chart and it was right where it had been five years ago. The reason I sold Nokia was because I went through hell with that stock. My broker bought it for both my accounts. Because I didn't establish a new starting price, I didn't notice when it had gone down 8%. It's back up today and the news was that it had some great new contract in the UK.

I'm working as hard and as fast as I can to learn this stuff but these were all about bad timing. Mine. I went to look at my portfolio, to see what I had started out with. I'm embarrassed to say I have managed to lose 10,000 in five years, just in my IRA. And what really pisses me off is that my broker is mainly responsible for that. I could forgive myself but he should know better.

When I thought about how frugally I am trying to live now and how I just picked up the phone today and bought 6,000 worth of Packeteer, I think I must be crazy. I really thought I had a feel for what was going on in the market. When I woke up yesterday and saw everything in the red, I thought this was it. All those people pulling their money out fooled me. I thought I knew what was going on but I don't. And it's paralyzing.
Let me first say that I am glad that you wrote all of this today. I am unhappy that you are experiencing much of the angst of investing. The pain and depression when stocks decline and the euphoria when they climb higher. I also experience many of those things as well as the self-doubt that comes with wrong decisons.
Investing is not about confidence. Investing is about the ability to analyze and divorce oneself from one's emotions and make decisions.
It is almost impossible not to look back at stocks that you have sold and then kick yourself when they climb higher without you. It is better not to look back too often :).
It is difficult to learn new methods of investing. To change from a portfolio of good old fashioned blue chips to little companies one has never heard of.
But it doesn't have to be about gambling.
Gambling is about putting money down and having random events occur, hoping that one random event will lead to a big payout or "jackpot". Investing is about buying a piece of a company. But it is only gambling when one is arbitrarily picking stocks without any foundation to expect performance.
And when a stock climbs, I do not particularly require it to go up forever. I sell portions of stock rather quickly to hedge that investment, to reduce my risk exposure. And when a stock declines below my purchase price, I sell it quickly to avoid a small loss becoming a large loss. And within my own portfolio, I listen to the market, and as stocks are sold on bad news, I move funds into cash. And when stocks appreciate on good news, I move cash into equities. This isn't gambling. This is thinking, observing and acting.
As for your purchase of Packeteer. I also own the stock. I suspect you purchased shares to follow my investment decision. That's ok with me. But you need to think about your plans for each of your investments before you even make the purchase. You need to be prepared for terrible bear markets which will ravage your investment values, and for the more common bull markets where values will skyrocket. I have learned long ago that there is nothing shameful about taking small profits, or admitting small mistakes with sales. I am not interested in gambling. You know I don't go for the homeruns. I go for the base hits. Sometimes I am surprised how well some of my selections have done. But I am far from perfect myself.
Paralyzing? That's the worse thing in the world when dealing with investments. It is far better to realize that with a trading strategy, one is never paralyzed. The actions of the market dictate ones trades.
Please find a broker you are comfortable with. If you don't like your current broker, shop around. Do not gamble with your investments. If my ideas are too radical, well slow down and just buy one or two of what I do, and get used to it.
My strategy is unproven. It might even be unprofitable over the long-term. You know I don't think so but I don't really know! I am not a financial advisor, so take everything I write with a grain of salt. Meanwhile, hang in there. Don't panic. Don't be paralyzed. But think about your breathing. Think about the universe. Slow down and develop a plan for each of your investments. And when the time comes to act on them, do not hesitate. With every decision you make, comes added confidence in your ability to decide!
Bob