February 9, 2006 Akamai Technologies (AKAM)
Hello Friends! Thanks so much for stopping by and visiting my blog,
Stock Picks Bob's Advice
. As always, please remember that I am an amateur investor, so please remember to consult with your professional investment advisors prior to making any investment decisions based on information on this website.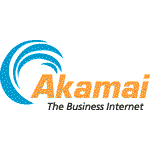 I was looking through the
list of top % gainers on the NASDAQ
this evening and came across Akamai Technologies Inc. (AKAM) which closed at $26.01, up $4.01 or 18.23% on the day. I do not own any shares nor do I have any options on this stock.
According to the
Yahoo "Profile" on Akamai
, the company
"...provides services for the delivery of content and business processes over the Internet for businesses, government agencies, and other enterprises. It offers services and solutions for content and application delivery, application performance services, on demand managed services, and business performance management services based on its technological platform, EdgePlatform."
Once again we can see that it was the latest
earnings report
that drove the stock higher today. After the close of the market yesterday, the company announced 4th quarter 2005 results. Revenue for the quarter ended December 31, 2005, came in at $82.7 million, a 9% sequential increase in revenue, and a 44% increase over the fourth quarter 2004 revenue of $57.6 million. Net Income (GAAP) was $25.8 million or $.16/share. This was a large increase from the prior year's figure of $13.4 million or $.10/diluted share. In addition, as reported this morning, the company is optimistic about 2006. It was
reported that
"The company's revenue in 2005 totaled $283 million, up 35 percent from 2004. Akamai expects at least $360 million in revenue this year."
Things appear to be looking up for Akamai!
How about longer-term? Reviewing the
Morningstar.com "5-Yr Restated" financials on Akamai
, we can see that revenue, except for a dip between 2001 and 2002, has otherwise been steadily increasing from $89.8 million in 2000 to $210 million in 2004 and $258 million in the trailing twelve months (TTM).
Earnings have only recently turned positive with losses of $(10.07)/share in 2000, dropping to a low of $(23.59)/share in 2001, then gradually decreasing, until turning positive in 2004 at $.25/share, and $2.09/share in the TTM.
Free cash flow which also was negative at $(73) million in 2002, improved to $(19) million in 2003, then turned positive at $39 million in 2004 and $45 million in the TTM.
AKAM, according to Morningstar.com, has $67 million in cash and $53.1 million in other current assets. Balanced agains the $57.9 million in current liabilities this gives us a "current ratio" of greater than 2:1. In addition, there are enough current assets, to start paying down the $211.5 million in long-term liabilities.
Reviewing
Yahoo "Key Statistics" on Akamai
, we find that this is actually a large-cap stock with a market capitalization of $3.95 billion. The trailing p/e is cheap at 13.04, but the forward p/e is 37.70. The company is anticipated to be growing its earnings fast enough that the PEG is a moderate 1.64.
According to the
Fidelity.com eResearch website
, AKAM is also the 'priciest' of the stocks in the "Internet Software & Services" Indsustrial Group. The company has a Price/Sales ratio of 13.7, only exceeded by Salesforce.com with a ratio of 16.7. These two are followed by eBay at 12.7, Symantec at 6.3 and Internet Security Systems at 3.2.
Going back to Yahoo, we can see that there are 151.98 million shares outstanding at 136.47 milllion of them float. Of these shares, 8.09 million are out short as of 1/10/06, representing 3.8 normal trading days of volume. This number is even less if we take the average of 3.9 million share daily the past 10 days. Thus the large spike in volume with the stock price surge may well be an indication of short-sellers scrambling to cover their shares. No cash dividend and no stock dividend are reported on Yahoo.
What about a chart? Looking at a
"Point & Figure" chart on Stockcharts.com
: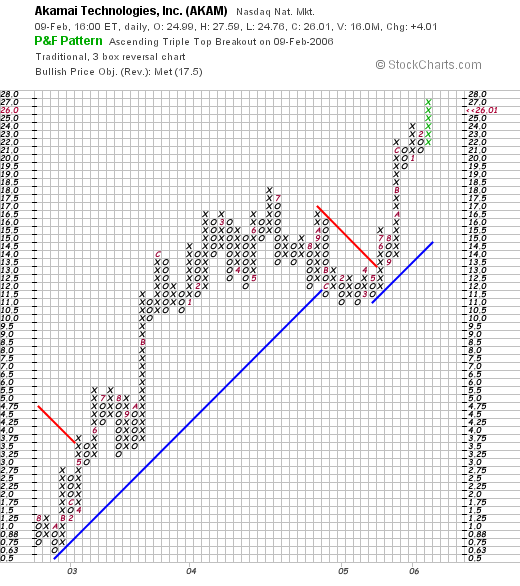 We can see that the stock has traded sharply higher from August, 2002, when the stock was traidng at $.65/share, to the current level of $26.01. The company did break down below support in May, 2005, but quickly bounced back, breaking through resistance in May, 2005, and moving solidly higher.

So what do I think? Let's summarize. Today the stock moved strongly higher (and is moving a few cents higher in after-hours trading as well.) The company reported a solid earnings report and raised guidance for 2006. Morningstar looks nice, although the company did only recently turn positive, losses are one thing I would like to avoid. Earnings, revenue, and free cash flow are showing nice improvements the past few years. However, valuation is a bit rich with a big Price/Sales ratio. The P/E isn't cheap but the PEG is better at 1.64.

Anyhow, these are the things I like to look at before "picking" a stock. The company fits in well on this blog and if I were in the market to be buying a positions, this is the kind of stock I might be able to buy.

Please feel free to drop me a line at bobsadviceforstocks@lycos.com if you have any questions or comments. Also, please feel free to comment right on the blog if that is your preference.

Bob